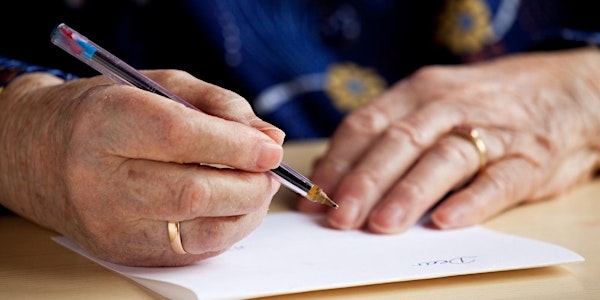 Guided Autobiography for Seniors
Join Us for an Unforgettable Journey of Self-Discovery Workshop by SAGE Counselling Centre.
Refund Policy
Contact the organiser to request a refund.
Eventbrite's fee is nonrefundable.
About this event
GAB for seniors is an 8+1 workshop where you write and share your story in a safe environment. Each week, the facilitators will send you a thematic list of sensitizing questions to evoke your deep-seated memory. You are to pen down your thoughts and to share your story during the session. As you narrate your story, you will get undivided attention from the participants. This whole process is therapeutic and can be heart-warming.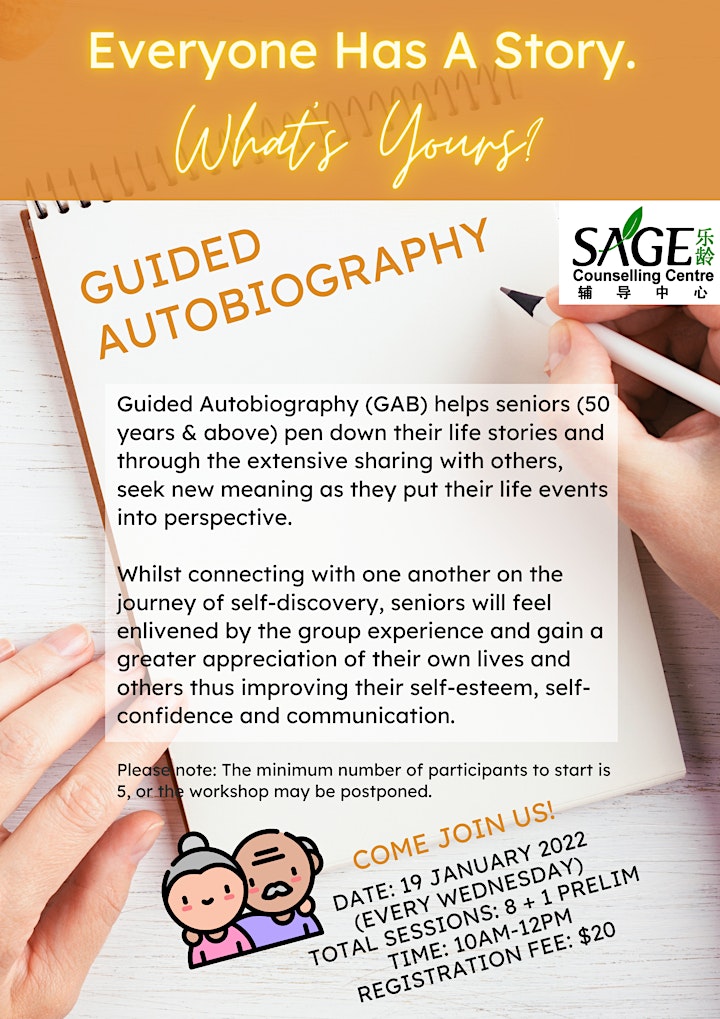 Schedule:
19/1/22 10am - 11.30am Preliminary - admin & information
26/1/22 10am - 12nn Week 1
9/2/22 10am - 12nn Week 2
16/2/22 10am - 12nn Week 3
23/2/22 10am - 12nn Week 4
2/3/22 10am - 12nn Week 5
9/3/22 10am - 12nn Week 6
16/3/22 10am - 12nn Week 7
23/3/22 10am - 12nn Final Week - Sharing and Feedback
Registration Fee: $20 for the entire workshop.
The maximum number of participants for this online workshop is 10. Participants will be accepted on a first-come, first-serve basis when the completed Formal Registration Form is received.
Please note: The minimum number of participants to start is 5, or the workshop may be postponed.
What to Expect:
The sessions will be facilitated by counsellors in a safe and non-judgemental environment. Participants are encouraged to write out a 2 page story and share on the themes introduced in the sessions. What and how to share is entirely at your disposal. The idea is for one to write, share and be listened to within the group.
You do not need to be an expert in story writing. This is also not a writing class. Primarily, you write for yourself and perhaps leaving a legacy for your loved ones. Through the process of writing and sharing, we hope that you will gain new meaning and acceptance to your past life events. As you hear the stories of others, you will appreciate the other participants life journey and build new bonds with one another.
Requirements:
Willingness to Write and Share in a Small Group Safe Environment
Computer with Web Camera, Speaker and Smart Phone
Valid Email
Logistics - writing and drawing materials