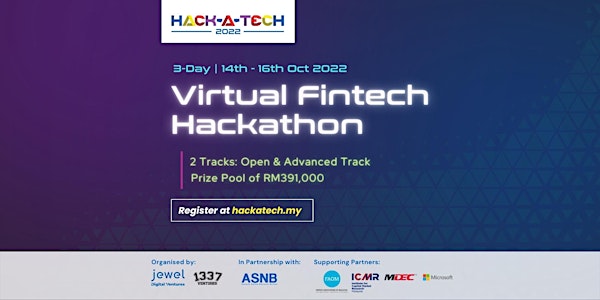 Hack-A-Tech 2022 - Virtual Hackathon
Join the Hack-A-Tech 2022 Virtual Hackathon, an exciting fintech challenge taking place from 14th - 16th Oct 2022, with prizes up to RM391K.
About this event
The Hack-A-Tech 2022 is a 3-Day Hackathon organised by Jewel Digital Ventures in collaboration with Amanah Saham Nasional Berhad (ASNB) and 1337 Ventures. We are in search of technical and business experts interested in coming up with innovative and disruptive Fintech ideas to solve key problem statements that could help mass Malaysians.
Through this hackathon, you will learn more about the state of the industry through training workshops and speaker sessions, ideate using the Design Thinking methodology, and hack across a 3-Day weekend to create a solution that addresses one of the listed problem statements. You could win up to RM391,000 in cash prizes for the top teams.
Learn more at hackatech.my.
Hack-A-Tech Schduele
1st October 2022 - Registration Closing
10th - 13th October 2022 - Training Workshops
14th - 16th October 2022 - The 3-Day Virtual Hackathon
17th - 25th October 2022 - Announcement of Finalists
29th October 2022 - Demo Day
What to expect at the Hackathon
You're required to build an innovative solution solving one of the key problem statements listed above. The key deliverables required for each track are listed below.
Open Track: Participants will be required to submit a Presentation deck and Mock Up at the end of the 3-Day Hackathon
Advanced Track: Participants will be required to submit a Proof-of-Concept and/or Working Prototype at the end of the 3-Day Hackathon
Who Should Join?
Students, developers, product managers, and entrepreneurs are all welcome to participate in this Hackathon!
How to join
Register at https://airtable.com/shrDr9F57Uh4ursCA
For more information about Hack-A-Tech visit hackatech.my.
For inquiries, email us at hackathon@jeweldv.com.