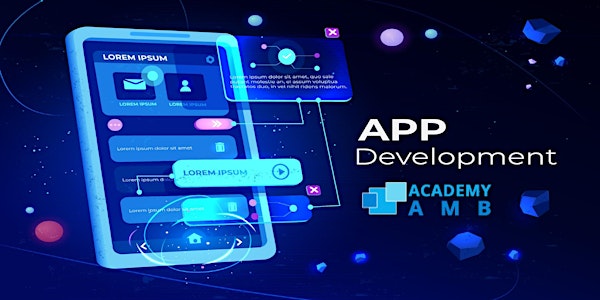 Hands - On Money Making Mobile Apps Workshops - (KL / Selangor)
Location
AMB Academy
7 Jalan 3/4c
Desa Melawati
Kuala Lumpur, Wilayah Persekutuan KL 53100
Malaysia
Are You Having Problem Building Your Own Mobile App Because of Expensive Programmers? Discover How To Build Your Own App In 90 Minutes ...
About this event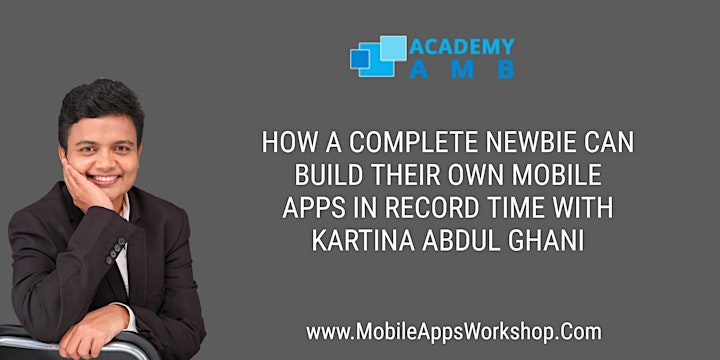 Must bring your laptop! You will create UP & RUNNING MOBILE APPS in your smart phone in this 4 HOURS FOC hands-on workshop!
You want to build apps but don't know IT.
You want to have more sales & charge premium while spending less time In development of mobile apps.
You want to build apps but don't want to to learn coding or programming at all.
You want to quickly publish your apps into the market without wasting time.
You want to produce a working app fast enough to stand out from your competitors.
You want to check & test out app's potential in delivering your products & services to your client at low cost
You want to lower your risk in creating & testing to satisfy your curiosity whether apps can help your business grows.
You want to make more sales without increasing hours of work with your own mobile apps.
You want te independent of third-party programmers.
Easy to use Drop & Drag App Builder that save 90 percent of your time turning one customer into 7 customers per week.
You want to take advantage of this boosting app industry without wasting sourcing for programmers.
You want to boost & enhances opportunity to diversify your portfolio in mobile apps development
You want to service clients that want you to do everything and don't want you to pay lots of money.
You want to save development time and Published to 3 different Platform – IOS, Android & Progressive Web App (PWA) in one single app development
You want to create more apps fast with less time; resulted in more clients & income.
You want to build unlimited amount of Native Android & IOS apps!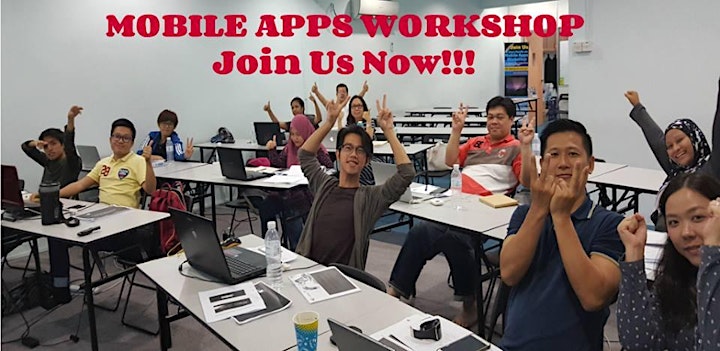 Warning:
THIS COULD CREATE MASSIVE TURNING POINT IN YOUR LIFE!!
You can stay in the rat race OR break free and create that fulfilling &
WEALTHY LIFE you've always wanted!
YOU CHOOSE…
This could be your answer to:
How YOU Can Create Multiple Streams of Income
Develope Your Own Customized Apps For Your Own Business
Quit Your Job & Earn a Good Income From Home
An Extra 5-Figure Income to Do Things You Love
Endless Possibilities For YOU & Your Loved Ones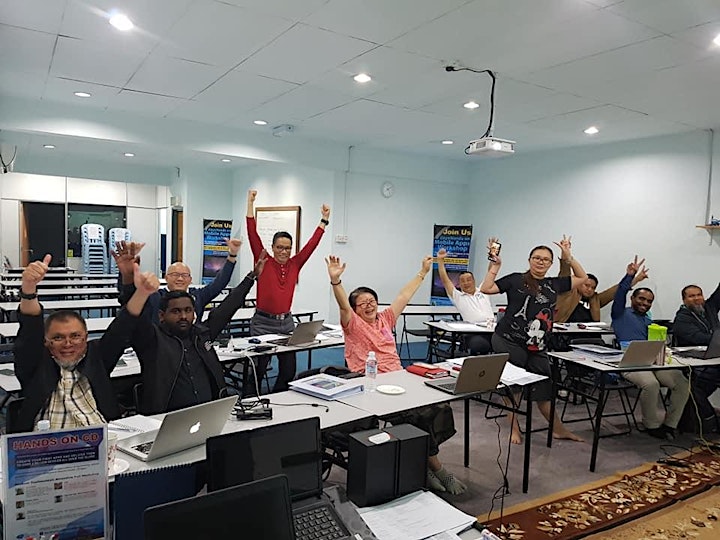 We are good at creating Mobile Apps and to date, we have sold so many Apps on the market place and earn a regular Monthly Passive Income that is many times more than the average monthly income of most people.
If you are interested to explore how you could receive more income, we welcome you to this rare Hands-on Apps Creating Session where you can build a functional app within this short period. It's easy & no program knowledge required!
You need to bring:
A smartphone or tablet
A Laptop for actual practical
A Mouse as its easier to create apps using a mouse
Who should attend?
You who want more income, more time freedom, more choices in life
You who want to bring your business into the mobile digital marketing
You who want to create a home-based business
You who want to explore changing career
You who are curious at how apps are built & created
Actual value of this Introductory Workshop is RM497. Its yours for FREE... REGISTER NOW BEFORE WE START CHARGING BACK FOR OUR INTRODUCTORY MOBILE APPS WORKSHOP
▓ Sharings from our INTRO Workshop Participants ▓
"Informative session on future of apps and how to build".- MITCH DOWSON - July 2022
"For Preview I Give 5 Star. and Input Explanations & Happy - For Next Step" MOHAMAD JAMRI MOHAMAD SIDEK - July 2022
"Pn. Kartina has clearly explained about the programme. WELL DONE".- RAVI RAMASAMY (RAYMOND) - July 2022
"Hi, My name is John Richard Kumar, just finished my first day exposures with Kartina today... Glad to be involved in the process of moving forward.. All the best to all... Thanks".- JOHN RICHARD KUMAR - December 2019
"Hi, My name is John Richard Kumar, just finished my first day exposures with Kartina today... Glad to be involved in the process of moving forward.. All the best to all... Thanks".- JOHN RICHARD KUMAR - December 2019
"I not yet start anything. But I share my class experience from Kartina with my friend. 6 of them really excited. I can say Kartina really make something happen. Just only we need to move our first step....".- CHEF KENN - December 2019
"Thanks for an eye opening talk yesterday. Much appreciated".
- Hafeez - November 2019
"Kartina, the intro training is a great session. Sharing is the best way to go in this era and if we do it sincerely is the noble way to success. I decided to start my journey with you. However I am a complete fool in IT (except for using excel & whatsaap la...) and I a slow learner as age is catching".
- Ray - October 2019
"I got exposure to lot of knowledge about Mobile App. Frankly speaking, I didn't know and have no idea at all how creating mobile app can earn money. I always thought we should have coding skills. This workshop really give me a new pespective and thinking in this industry. Will consider to further invlove in this industry".
- NG LI KOON (EVERLYN) - October 2017
"Penerangan yang sangat bagus bersama sama maklumat terperinci. Peluang untuk menjana pendapatan dengan hanya duduk di rumah dan ketika masa lapang. Terima kasih atas perkongsian dan semoga segala usaha kita akan diberkati oleh Allah".
- NORAHMAD YAHYA - October 2017
"1) Understand about mobile apps development and potential.
2) Practical exercise shows the ease of developing a mobile app.
3) Comfortable Venue & friendly trainer".
- ARTHUR CHAN TEY PO - October 2017
"The preview workshop is nice and simple. Ms Kartina is friendly and informative about this app creating business. I am exposed to apps creation today as I have no idea about it at all at first. Would consider this as my future career".
- LEE SHEN MENG - February 2016
"Very nice presentation slides
Very good intro to mobile apps creation
Very comfortable venue
- light snacks and drinks provided
- prayer room
- clean toilet
Tutor is very nice and highly experience
Overall very satisfied - no commemt
Looking forward to attend the full
workshop"
- FADZLEY RAHMAN - March 2016
" Previews are easy to understand with step step by step guide by Kartina. Especially I do not have any IT / Programminv knowledge"
-NICK TAN - March 2016
" Gila Beb! Kursus pukul 3 petang mesti mengantuk punya. Tapi bila start kursus, dah terlebih excited pulak. Lupa pasal mengantuk. Tak sabar nak join next class. Syabas Cik Kartina"
- SAARI BAHAROM, Feb 2016
"Very interesting topic and easy to learn"
- MOHAMAD RIZUAN SHAH, Feb 2016
" Thank you for sharing the info and knowledge on mobile apps. It is the best thing happen to me to learn and earn passive income thru mobile apps. Pn Kartina already open my mind. I really interested to join the workshop and publish my first mobile app and earn USD daily. Thank you".
- NOR AZAM AZIZ - February 2016
" I am happy to have come across and attended your workshop and I sincerely appreciate the warmth. mode of training, practicality and especially the foresight to learn, practice, reap and harvest the coming trend of "Mobile Apps" Explosion 2012-2022".
"I hope to make good of this opportunity and come out successfully from this transition I have in my life."
- HAMID AHMED MUNEER - January 2016
" Easy to understand and very hands on learning so its not boring".
- AZFAR - January 2016
" Simple, comprehensive and informative for everyone."
- BEH JIE SHEN - January 2016
"Building mobile apps is easier than I thought".
- KEVIN W.CHIU - January 2016
" Useful, understanding of the entire programme".
- IRENE YEONG - January 2016
"Useful insights & friendly coach"
- JAIMIE LEE - January 2016
" After spending 3 hours attending of this preview, I learned a lot on the big potential of money making through making mobile apps. So far, the preview, workshop, trainers & facilities are top notch. I will recommend this preview to all my friends. Thank you for the exposures of the money making opportunities"
- MOHD RAYA - January 2015
" A very comprehensive, step by step and detailed explanation on building apps, great for start ups & beginners or professionals w/o IT technical to build their own apps and earning income through it. These are rated excellent - workshops, trainers, facilities"
- MUHAMMAD SYAFIQ TAY - January 2015
" Awesome workshop! It gives everyone nevertheless if you are a technic or a non technic in regards to the app development industry"
- MUHAMMAD IQBAL KAMARUDDIN - January 2015
"Good preview - easy to understand."
- SHAIKH OMAR- January 2015
"The preview is god & clear. Good environment friendly & Good Facility".
- Ravindren A/L Marimutu - Feb 2015
"I think this workshop is very useful for studet like me to find some side income."
- MOHAMAD FAIZ ABDUL HAMID- Feb 2015
"Good workshop, short & brief but vey fruitful."
- SAIFUL ASYRAF MD IHSAN- Feb 2015
"The workshop is very intensive, clear explanation and cover from zero"
- Steven - Jan 2015
"It was just an awesome talk. I can see a lot of space for me myself and my company to diverse the chances to earn extra income. Thank a lot".
- MUHAMAS AKMAL - Jan 2015
"a) Previews - Good insight on the future of mobile apps.
b) Workshops - shows hw easy it is to create a mobile app.
c) Trainers - very knowledgeable & experience.
d) Facility - Clean & Comfortable".
- RAFIDAH ARIFFIN - Jan 2015
Thank you for the great preview and attractive packages. Very interactive and informative.
- TAN SZE PIN - Sept 2014
"I found that this 3 hours mobile apps workshop preview provides a very practical and hands-on overview into how to create mobile apps easily without programming knowledge & how to monetize on it. Kartina knows her stuff well".
- RAY LEE - Sept 2014
"In my opinion Kartina is a dedicated teacher, she aspires us to learn and be involves in creating mobile apps. She is always ready to listen and help us. I have attended her preview sessions last month Aug 2014 and move on to subscribe and she has never given up to support me in my small business app. I appreciate her efforts and hopefully be able to master the mobile apps and publish soon".
- JACQUELINE YONG - Sept 2014
"I gain much knowledge on how to build mobile apps without knowing how to do programming. Programming your own mobile apps are very tedious. You have to learn a lot on new things if you want to do apps programming. By using this App Builder will save a lot of time".
- SHAMSUL AKMAL - Sept 2014
"This workshop has been an eyeopener. Truly inspiring and very insightful into the app market. Definitely a workshop to attend in order to gain more knowledge and insight into the app market. Truly glad, I was able to come across the workshop".
- MOHD MAAFUZ HOSSAIN - Sept 2014
"Gain knowledge and information on how apps is making fantastic amount of money".
- ALVIN LAW - Sept 21st 2014
"It is very good,informative and interactive session. Participants is exposed on the newest trended statistic in apps usage".
- Nur Syazana - Sept 21st 2014
"I do see some benefit in this line of business. Looking forward to working with the genuine expertise ".
- Huda Sohail - Sept 21st 2014
"A very good workshop. Eventhough I came in late. Believe that this was a great talk by Mrs Kartina. I will suggest to friends if they are looking for mobile apps workshop.".
- NOR FARA AZWIN - Sept 21st 2014
"7 star must come again ".
- MOHD INAM - Sept 21st 2014
"Enough to say that this session is an eye opener. This is an opportunity virtually untapped. The presenter has done her job satisfactorily. She has showed me the door, it's just a matter of walking into it. Appreciate it so much".
- AINAN ROAZA ABD RAHIM - Sept 26th 2014
"Very interesting explanation. Easy, clear explanation to follow through".
- MONA JAAFAR - Sept 26th 2014
"Simple and easy tutorial & hands-on to generate apps for android and apple. Great lecture and easy to understand. Great passive income! Thank you!".
- ABDUL HAFIZ- Sept 26th 2014
"What a comprehensive, informative & powerful workshop! Mobile apps is the latest & biggest thing to come. Glad I came. Now to earn from it! ".
- COACH RIZAL,COACH & ACCELERATED LEARNING TRAINING & CONSULTANCY - Sept 26th 2014
"As someone who is quite familiar with the mobile dev scene, I'm pleasantly surprised to learn something in regards to mobile development in a very interesting way. Workshop is done really well and love the personal interaction that the trainer had with the participants".
- SURIAVARMAN- Sept 27th 2014
"I found to be informative and appropriate to learning about the mobile apps. Thank you for sharing tips. Very exciting to learn what opportunities there are. ".
- DHYAANAH LOW- Sept 27th 2014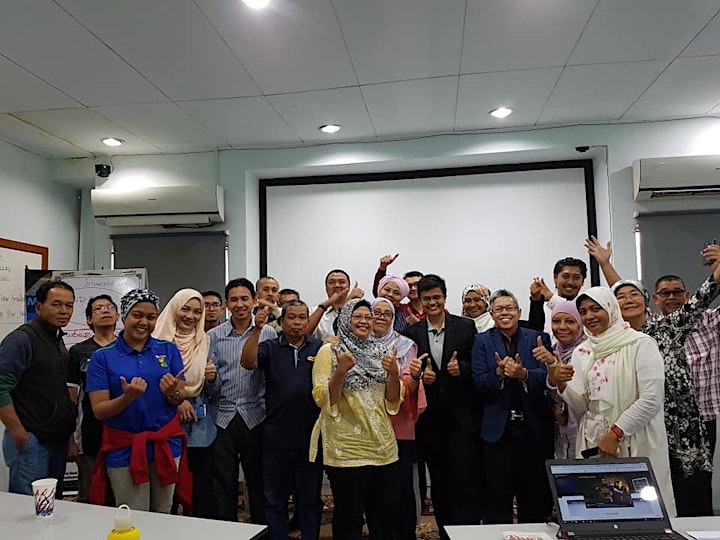 SEATS ARE LIMITED! Reserve your seat(s) early to avoid disappointment!
LOCATION:
AMB Academy, 7-2, Jalan 3/4C, Desa Melawati, 53100 Kuala Lumpur
Main Landmark : Behind Saville@Melawati Luxury Condo, Jalan Klang Gate
Other Landmark : Beside Taman Melawati, 5 mins away from The National Zoo & 5 mins away from Wangsa Maju LRT station
WIFI is provided in our place for effective practical using your laptop.
For Muslims : Praying area is provided in our Desa Melawati training centre. 
WE DO NOT PROVIDE ANY LAPTOP, PLEASE BRING YOUR OWN LAPTOP TO JOIN IN THE PRACTICAL AS YOU WILL CREATE A SIMPLE APP AND VIEW IN YOUR SMARTPHONE IN CLASS.
Please check our lists of dates and register your name.
We have put future dates, and in the event you register our future dates and not the one earliest, please do not worry as we are aware of your actual reservation date. Please come on the dates you registered and not the date on the email that eventbrite send you.
PLEASE LIKE OUR FACEBOOK :
https://www.facebook.com/appsmasterbuilder
Please call : 019-2186767 if you have issues in direction.
Do take note as we start the class, we may not be able to answer your calls, please make your way following the google map & address given as you should be able to find the place.
Please click Google Map link below for directions: