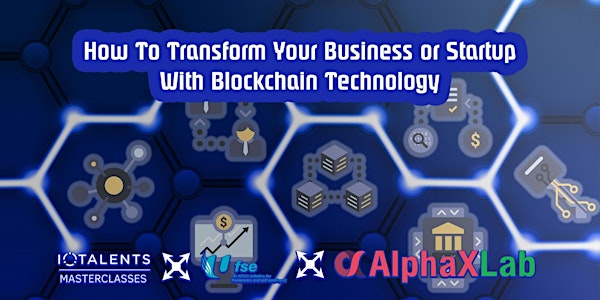 [HANDS-ON Workshop] - Transform Your Business or Startup With Blockchain Technology
When and where
Location
NTUC Centre, 1 Marina Boulevard Room 903 (Level 9) Singapore, 018989 Singapore
Description
Ever wondered about Blockchain? What is it and how does it work? How can it transform my business for the better?
We answer all these questions and more in a special and exclusive evening Masterclass session with Blockchain expert and IT entrepreneur, Jack Hua.
Gain an understanding of blockchain and its uses in industry. Practical and real-life examples of blockchain usage will be demonstrated for attendees to ahve an hands-on experience of what blockchain can do.
Remember to bring your laptop if you want to join in on the Hands-on exercises during the Workshop!


Learn about blockchain technology like you never did before!
Who Should Attend?
Business persons, managers, owners and entrepreneurs

Tech professionals, especialy those seeking to become blockchain specialists

Anyone with an interest in blockchain



What You Will Learn
1) Introductory Primer to Blockchain
Unsure about blockchain technology? Don't understand it? This is the section that will clear your doubts. We go in depth about blockchain technology, what it is and how it being used in business all over the world. Think of it as an introductory primer to blockchain - condensed into 15-20 minutes.
What is Blockchain?

What are the current uses of Blockchain?

How Corporate MNCs are using it

2) Why Blockchain
Get to understand how blockchain has the potential to transform your business or startup for the better. For consumers, blockchains also has the ability to make life more secure and simple. We explore the different ways blockchain can do this and why blockchain is the future.
How is Blockchain relevant to our life?

Understand the importance of Blockchain technology

How to make use of Blockchain technology for your Business or Startup

3) Demonstration and Hands-on Practical Trials
This is the HIGHLIGHT of this event. Somehing that you won't find at other cheaply priced or FOC workshops.
All attendees get the chance to view blockchain technology in action, right before their very eyes. If you prefer a more hands-on approach, we have blockchain-based software on standby for you to try to your heart's content. Learn by DOING, not just seeing.
How to build a Blockchain application

Hands-on of Blockchain Use Cases

Smart Contracts & How to utilise Tokens with Secure Tools

4) Opportunities in Blockchain and Career Guidiance
Blockchain technology has given rise to a whole new breed of programmers, developers and more. With more and more companies using blockchain technology to boost their business, demand for blockchain-trained talents are on the rise. In this section, we tell you what you need to get yourself a start in blockchain development and processing.
A Career in Blockchain Technology

The future of Blockchain and what it can do for you

Blockchain Ecosystem in Singapore
--
Food and drinks will be provided at this event. Do come early to avoid being disappointed as refreshments run out fast!
Speaker Profile
Jack Hua is a serial entrepreneur with experiences with creating and building multiple startups. He led his previous startup (no. 3) to achieving half a million in revenue in its 1st year. He exited the company to build his 4th business, AlphaXLab.
Jack has considerable experience with App & Web Development and currently works with entrepreneurs on their startups and ICO projects. He is now working on these ICO Projects: Sozo, Axcite, AssureAsia, OKMcoin & AladdinCoin, with Startups/SMEs from Singapore & Malaysia. He also serves as a consultant / advisor to several startups in Singapore.
Visit Jack's Linkedin here: https://www.linkedin.com/in/jack-hua
--
Use the code BLOCKCHAIN by 1 July 2018 to get a 33% early bird discount off Public tickets!
NTUC Union and UNetwork members, you get great discounts at great prices! For verification purposes, please email us at hello@iotalents.com with a photo of your Member Card, and we will send you the respective promo code to use!

Not a NTUC Member yet? Sign up here to become a UNetwork member and become eligible to purchase tickets at a greatly-reduced price.