Happiness from Within: In-Person & Live-Streamed Meditation Series
Tuesdays 7.30pm - 8:45pm, Nov 3 • 10 • 17 • 24
About this Event
WE ALL HAVE THE POTENTIAL TO FIND HAPPINESS FROM WITHIN - a happiness that doesn't depend upon the circumstances around us, and that will endure through all situations however challenging. But why is it so difficult for us to do this? The answer is because we habitually succumb to negative ways of thinking that consume our mind and destroy our inner peace. The key to finding this happiness therefore is understanding more deeply how our mind works.
In this series of classes we will be exploring particular mental states that cause us to suffer, and methods to overcome them. Class dates and topics include:
3 Nov - Anger
10 Nov - Desirous Attachment
17 Nov - Pride
24 Nov - Jealousy
Class Fee
Class fee: $15 per class or $48 for the entire series (20% discount).
KMC Singapore is a registered charity under the name of "Odiyana Buddhist Meditation Society" in Singapore. All class fees & donations go directly towards the International Temples Project, whose mission is to build spiritual sanctuaries worldwide.
Other Information
In each class a different aspect of meditation and Buddhism is explained
Classes are self-contained so you can attend any week
Classes begin with a simple guided breathing meditation followed by a teaching and a second guided meditation based on the topic of the evening
No previous experience is required, everybody is welcome
Advance booking is required for this class
Please note that online classes are intended for residents of Singapore only. If you have booked an online class you will receive the viewing link at least 24 hours prior to the scheduled start time, and classes remain available for you to watch as many times as you like for 7 days after the scheduled start time.
About the Teacher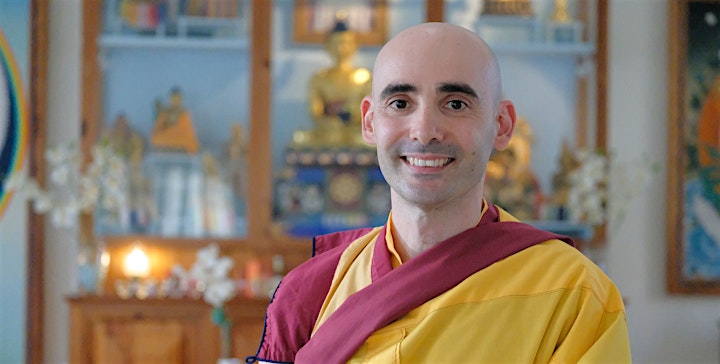 Kelsang Rabka was appointed as the Resident Teacher of KMC Singapore in mid 2020. He is an Australian Buddhist monk who has been studying and practicing Kadampa Buddhism with Venerable Geshe Kelsang Gyatso Rinpoche and his senior disciples for over 12 years, and has taught both in Australia and the UK.
The clarity and warmth in his teachings has helped many students experience the practical benefits of modern Kadampa Buddhism in their daily lives.