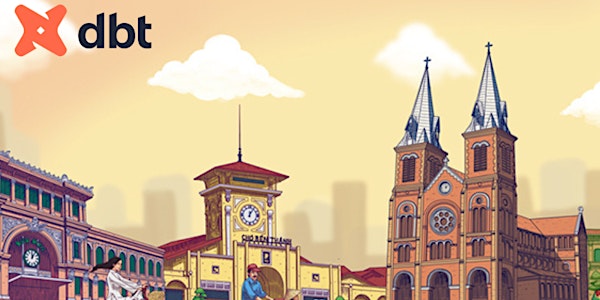 HCM City dbt Meetup #2 (data analytics Meetup)
When and where
Location
UOA TOWER 18th floor, 06 Tân Trào HCMC, Thành phố Hồ Chí Minh 700000 Viet Nam
About this event
🔥We are excited to bring HCM-based & nearby folks from the dbt Community together! Looking forward to the upcoming HCM-dbt-meet-up #2
Expect a happy hour, some bites, refreshments, and good vibes!!! 🥘🍕🥤
🏠Venue: Chotot Office - UOA Tower, Floor 18, 06 Tan Trao, Tan Phu Ward, District 7, HCMC
🤝Organizer: Joon Solutions
📝Agenda
9:00 - 9:30: Registration
9:30 - 9:45: Welcome remarks
9:45 - 10:15: Talk 1 (25 min + 5 min QA)
10:15 - 10:45: Talk 2 (25 min + 5 min QA)
10:45 - 11:00: Closing remarks
11:00 - 11:30: Group photo + Networking
🗣️Presentation #1 (Tentative): Building data-driven organization: lesson learned
Description: Data is considered a new kind of resource in the 20th century and provides an additional competitive edge to those who can leverage it effectively. McKinsey Global Institute says that data-driven organizations are 23 times more likely to acquire customers, 6 times as likely to retain customers, and 19 times as likely to be profitable. Therefore a lot of organizations are investing their resources in data infrastructure, analytics, and people to achieve this milestone. In this talk, I will share the lesson learned, experience collected so far during the journey of building the data-driven organization at Chotot. The sharing aims for practical applications and is designed for data professionals, managers, senior leaders who want to embed data deeply in their organization
Data Evolution at Chotot
Factors of building data driven organization and lesson learned
Direct impact of Data on business
Speaker bio: Thien Pham, Senior Data Science Manager at Chotot
---
🗣️Presentation #2: Is your dbt project following good practices? A check using dbt evaluator package
Description:
Common Pain points building dbt project
Directory Structure
Data Accuracy (Missing tests)
Outdated documentation
Intro to dbt-project-evaluator package
Benefits
Demo
How Infinite Lambda project is applying this package
Speaker bio: Thu Huynh - Tech Lead I Analytics Engineer at Infinite Lambda
---
The doors open at 9 am. Presentations begin at 9:45 am.
Our venue has capacity limits, so please only RSVP if you intend to come and reach out to info@joonsolutions.com or DM in dbt Slack if you need to cancel last minute or change your RSVP status on the Meetup to "Not Going."
***
dbt Meetups are networking events open to all folks working with data! Talks predominantly focus on analytics engineering community experience with dbt, however, you'll catch presentations on broader topics such as analytics engineering, data stacks, data ops, modeling, testing, and team structures.
📣For the best Meetup experience, make sure to join the #local-vietnam channel in dbt Slack (https://slack.getdbt.com/)
Please read the Required Participation Language for In-Person Events with dbt Labs: https://bit.ly/3QIJXFb
---
dbt is an open source command-line tool that speaks the preferred language of data analysts everywhere—SQL. With dbt, analysts take ownership of the entire analytics engineering workflow, from writing data transformation code to deployment and documentation.
Learn more: https://www.getdbt.com/
Learn more about the event host: https://joonsolutions.com/