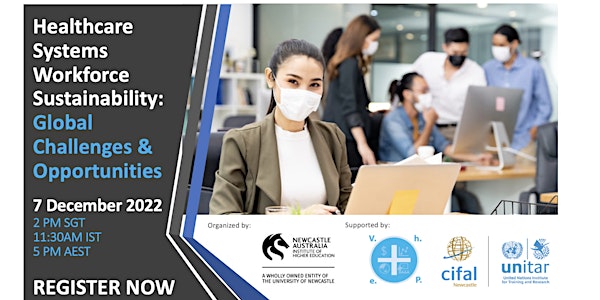 Healthcare Systems Workforce Sustainability: Challenges & Opportunities
Get insights from distinguish speakers in this complimentary seminar that discusses on workforce sustainability for the healthcare sectors.
When and where
Location
Newcastle Australia Institute of Higher Education 100 Victoria Street #13-01/02 Singapore, 188064 Singapore
About this event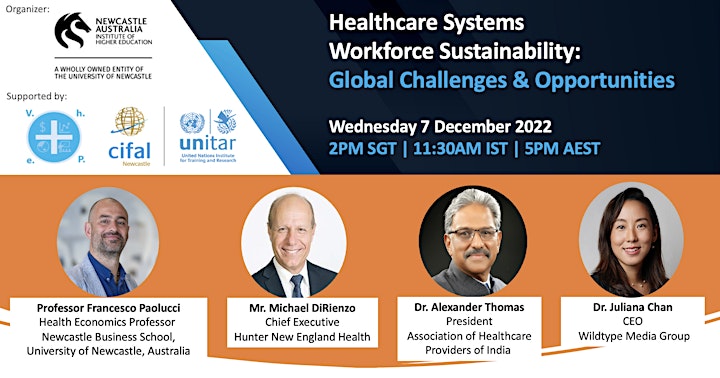 This event is now closed for registration. Please visit Zoom Registration link for webinar details https://uonewcastle.zoom.us/webinar/register/WN_mF3hp_X6T8K-1nc0Ei8KGw
Alternatively, you may watch us live on YouTube from 2pm Singapore time via this link
https://www.youtube.com/watch?v=NBVa5Va5fl8
This complimentary seminar and panel discussion is organised by Newcastle Australia Institute of Higher Education - a wholly owned entity of the University of Newcastle and supported by the Value in Health Economics Policy group (VheP) and CIFAL Newcastle - a United Nations Institute for Training and Research.
Join us for this exclusive session which includes 3 keynote presentations and a panel discussion moderated by Dr. Juliana Chan on the challenges and opportunities of workforce sustainability for the growing demands of the healthcare sector which is made up of organizations that provides medical goods and services to facilitate the provision of healthcare to patients.
Our speakers will share their thoughts based on their extensive leadership experience in academia, public and private sectors and what organizations including governments can do to build a sustainable workforce.
Date: Wednesday, 7 December 2022
Time: 2pm to 4pm SGT/ 1130am to 130pm IST/ 5pm to 7pm AEDT
Venue: 100 Victoria Street, #13-01 National Library Building Singapore 188064
If you wish to join us online, please register via Zoom link here to receive the links prior to the event.
Kindly note your respective local time for the webinar.
Agenda (Times in SGT)
2pm: Registration/ Zoom opens
2.05pm: Welcome by Professor Tony Travaglione – CEO and Pro Vice-Chancellor (Singapore)
2.10pm: Introduction of speakers by Dr Juliana Chan
2.15pm: Speaker 1: Professor Francesco
2.35pm: Speaker 2: Mr. Michael DiRienzo
2.55pm: Speaker 3: Dr Alexander Thomas
3.15pm: Panel discussion + Q&A– moderated by Dr Juliana Chan
3.45pm: Closing + Intro on Health Economics, Management and Policy programs by Professor Francesco
4:00pm: Networking and refreshments for onsite participants
Our moderator and speaker line-up includes:
Dr. Juliana Chan - Founder and CEO, Wildtype Media Group
Professor Francesco Paolucci - Health Economics professor at Newcastle Business School, University of Newcastle, Australia and University of Bologna, Italy
Mr. Michael DiRienzo - Chief Executive of Hunter New England Health
Dr. Alexander Thomas - Founder-Member and President of the Association of Healthcare Providers of India
Profiles:
Dr. Juliana Chan is the founder and CEO of Wildtype Media Group, Asia's leading STEM and healthcare focused media company. She received a BA degree in natural sciences from the University of Cambridge, and a PhD degree in biology from the Massachusetts Institute of Technology. She has four patents, two of which have been licensed to Pfizer for commercialization. She is a Young Global Leader of the World Economic Forum (WEF); using that platform, she strongly advocates for public scientific literacy, diversity and inclusion, and growing the science communication industry in Asia. As a professional keynote speaker and moderator, she moderated three panels at the WEF Annual Meeting in Davos, Switzerland, including WEF's press conference on the COVID-19 global outbreak in January 2020.
Professor Francesco Paolucci is a Health Economics professor at Newcastle Business School, University of Newcastle, Australia (UONA), and the School of Economics & Management, University of Bologna, Italy. He founded UONA very own health economics and policy group: Value in Health Economics and Policy (VheP). VheP comprises of an international community of researchers, consultants, practitioners and industry leaders that focuses on issues related to decision-making, financing and policy-making in healthcare.
As the Chief Executive of Hunter New England Health, Mr. Michael Di Rienzo is responsible for all health services across more than 120 health facilities. He has led the implementation of a range of initiatives that support staff to put patients at the centre of everything they do, provide patient-centred care, and build a positive workplace culture based on Excellence, Every Patient. Every Time.
Dr. Alexander Thomas has served the healthcare sector for over four decades, and holds positions in several national associations that address issues within the healthcare sector and effected far-reaching policy changes within the healthcare landscape. He played a significant part in incorporating healthcare communication, led expert groups on medical education, consultant to the World Bank and serves as an advisor and board member to many reputed healthcare organizations and start-ups. Recently, for his exceptional contribution in protecting the safety and health of the community during times of adversity, Dr. Thomas was awarded the Waterfalls Global Award (2022) by the Government of the United Arab Emirates, one of only 15 global winners.