Multiple Dates
Healthy Workplace Ecosystem Virtual Sessions by The Events Artery
Join us for an exciting calendar of virtual physical activities and virtual workshops this August - complimentary!
About this event
Mode of Event
Sessions will be conducted via Zoom. Registered participants will receive the link to the Zoom session via email upon successful registration.
Kindly scroll to the end of the email, where the links will be reflected under Additional Information.
Do note that slots are limited and available on a first-come-first-serve basis. Only those registered will be admitted.
Duration
1 Hour
Upcoming Sessions
Upcoming Sessions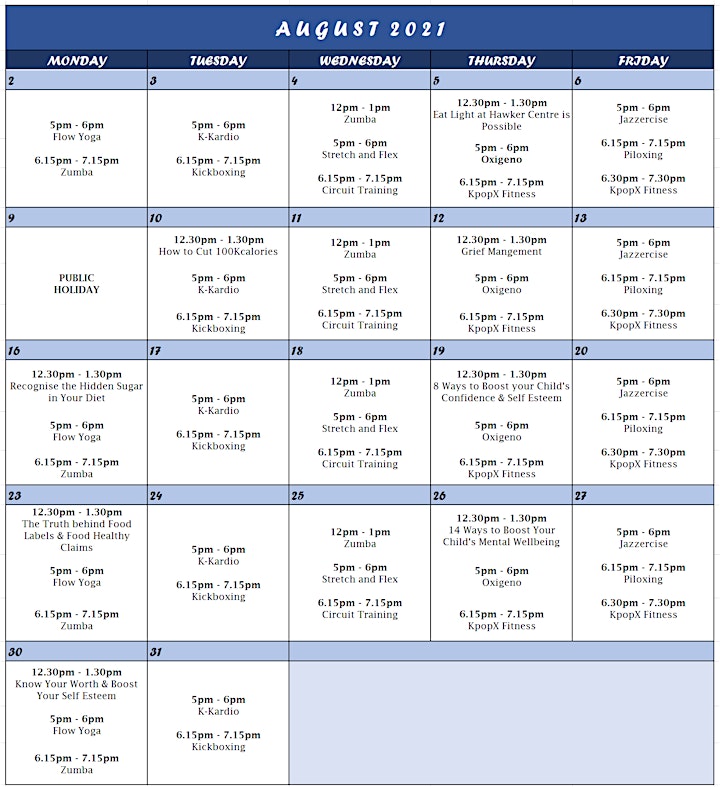 Session Synopses
Workshop (Ticket Category Timings: 12.30 - 13.30)
Eat Light at Hawker Centre is Possible | 5 August 2021 - 80% of Singaporeans eat out at hawker centres more than once a week. While hawker centres are affordable and convenient, they do not always provide the healthiest meals. However, with HPB recruiting hawker centres around the island into the Healthier Hawker Programme, numerous well-loved haunts now feature healthier, low-calorie options too. Join us in finding out which dishes make good lighter choices, so that you can easily make a healthier choice the next time you dine out at the hawker centre!
How to cut 100 calories from Your Meals Everyday | 10 August 2021 - Wanting to lose the last 5kg but simply cannot sacrifice your favorite food? Join us at this workshop as we breakdown simple tips and tricks for you to cut 100 calories from each of your meals while not losing the flavors that you crave!
Grief Management | 12 August 2021 - It is important to have a healthy self-esteem, which leads to a positive outlook in life and accepting yourself for who you are. Join us in this workshop as we dive deeper into the importance of self esteem and simple methods you can implement in your daily lives to improve your overall mental wellbeing.
Recognise the Hidden Sugar in Your Diet | 16 August 2021 - Are all sugars the same? Will sugars from fruits make me gain weight? Join us as we discuss the nutrition and effects on your body of the commonly used sugar such as sugar substitutes, white, raw and brown sugar.
8 Ways to Boost your Child's Confidence & Self-Esteem | 19 August 2021 -Parents play an important role in a child's self esteem. Besides being attentive and regularly praising your child, there are other key factors such as managing expectations and encouraging independence that all parents should take note of. Join us as we learn 8 ways to boost your child's confidence and self esteem in this workshop.
The Truth Behind Food Labels & Food Healthy Claims | 23 August 2021 -There are tens of thousands of products on the supermarket shelves all screaming out for your attention. So, while food labels are not allowed to deliberately mislead, you need to be real smart to navigate the clever designs that highlight only the good points, while drawing the least attention to the not-so-good points. Learn how to decipher food labels in this workshop to help you make better choices at the supermarket!
14 Ways to Boost your Child's Mental Well-being | 26 August 2021 -Keen to find out the right way to ensure that your kids are always happy and healthy? Join us in this workshop as we discuss 14 ways to boost your child's mental well being. From spending quality time and managing your child's stress level to appropriate ways to praise them, parents can better understand the correct methods to a child's development in this workshop.
Know your Worth & Boost your Self-Esteem | 30 August 2021 - Self-esteem is the way we see ourselves and can be shaped by many outside influences. It is time to take back control and realize your individual worth. Everyone can achieve self-confidence and should learn how to successfully find it and own it. Although it can be a bit tricker in adults, all hope is certainly not lost. Join us as we discuss how to go about it in this workshop.
Personal Indemnity Notice
Notice - By participating in this HWE Virtual Workout session, you and any other person(s) participating in this workout together with you, acknowledged that physical exercise can be strenuous and subject to the risk of serious injury, we urge you to obtain a physical examination from a doctor before using any exercise equipment or participating in any exercise activity. You agree that by participating in physical exercise or training activities, you are doing it at your own risk and agree that you are voluntarily participating in these activities.
Consent for data sharing with HPB
I consent to share my personal data and information with Health Promotion Board (HPB), HPB's agents, contractors, vendors or third party service providers/business partners for the purposes of (i) providing me with the services and functions described herein (ii) sending me details of HPB related services and/or programmes which may be of interest to me.
For enquiries, please write to us at healthyworkplace@eventsartery.com or reach us via +65 8200 4167 on weekdays, 10am - 7pm.
Organiser of Healthy Workplace Ecosystem Virtual Sessions by The Events Artery