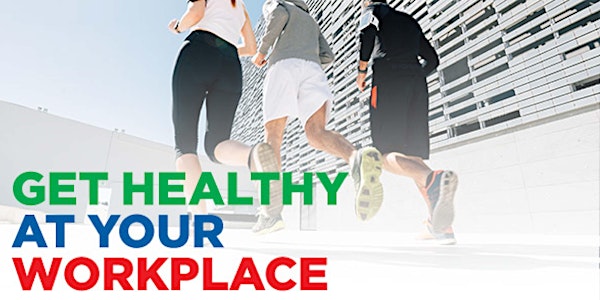 Healthy Workplace Ecosystem Virtual Sessions by The Events Artery
Join us for an exciting calendar of virtual physical activities and virtual workshops this July - complimentary!
About this event
Mode of Event
Kindly note that our registration has been moved to: https://tinyurl.com/hweregistrationform from Sep 2021.
Sessions will be conducted via Zoom. Registered participants will receive the link to the Zoom session via email upon successful registration.
Kindly scroll to the end of the email, where the links will be reflected.
Do note that slots are limited and available on a first-come-first-serve basis. Only those registered will be admitted.
Duration
1 Hour
Upcoming Sessions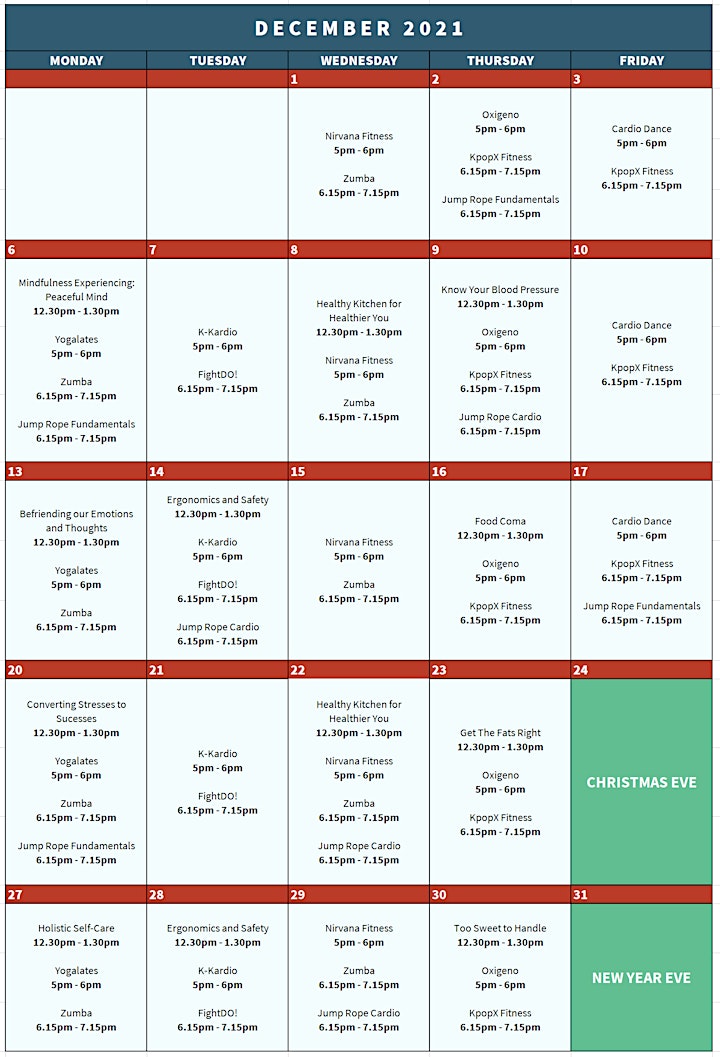 Workshop (Ticket Category Timings: 12.30 - 13.30)
Mindfulness Experiencing: Peaceful Mind | 6 Dec 2021- Find out what is mindfulness and learn tips on how to practise mindfulness for a peaceful mind.
Healthy Kitchen for Healthier You | 8 & 22 Dec 2021- Did you know that the tendency for you to eat a junk food is higher if it is right in front of you as compared to when it is not there at all? Did you know what is the difference between Best Before and Expiry Date? Come and join us in the session to gain tips and knowledge on how you can get your kitchen ready for a fresh new healthy look! In addition, learn about common kitchen hazards and tips on how to keep safe in the kitchen.
Know Your Blood Pressure | 9 Dec 2021- In Singapore, around 1 in 5 adults have high blood pressure. High blood pressure or hypertension is fairly common chronic disease in the community and it is often called a "Silent Killer" because you can have high blood pressure for years without experiencing any symptoms even as it gradually causes damage to your heart, blood vessel and kidney. Join us to learn more about hypertension and lifestyle changes that you can adopt to manage your blood pressure effectively with evidenced-based approach.
Befriending our Emotions and Thoughts | 13 Dec 2021- We can learn to live well despite stress and anxiety by getting to know and managing our emotions and thoughts better. This workshop will explore the connection between our emotions, thoughts and behaviours so we can utilise them in our favour when facing stress and anxiety in life.
Ergonomics & Safety | 14 & 22 Dec 2021- With long working hours and a fast-paced work culture in Singapore, an environment that promotes health and safety at work helps you to live healthily and improve overall wellness! This workshop will provide you with knowledge and practical tips on workplace ergonomics and how to create an ideal workstation. In addition, learn about safety hazards that you never thought about in the office, and how to manage them effectively.
Food Coma | 16 Dec 2021- Have you ever almost dozed off after lunch? Ever wondered why this phenomenon repeats itself? Are you looking at ways to prevent or reduce the effects of post-lunch food coma? Come and join us as we explore the science behind what causes food coma and ways to tackle it!
Converting Stresses to Sucesses | 20 Dec 2021- Do you feel stressed out at work? Learn how you can convert stresses into success in this workshop.
Get The Fats Right | 23 Dec 2021- Are Fats bad for health? Not all the fats are created equal. You may wonder isn't fat bad for you, but your body needs some fat from food. It's a major source of energy. It helps you absorb some vitamins and minerals. Join us to find out more about fats and recognize the good , the bad, and the in-between.
Holistic Self-Care | 27 Dec 2021- Explore practical strategies in looking after and nurturing ourselves in various aspects of life (emotional, physical, social, spiritual professional) for a more balanced and grounded living.
Too Sweet to Handle | 30 Dec 2021- While everyone loves a sweet treat, too much sugar can cause health problems if eaten in excess. Alternatively, many see sweeteners as perfect sugar substitutes, but are they without downsides? Time to find out the truth behind sugar and sweeteners!
Personal Indemnity Notice
Notice - By participating in this HWE Virtual Workout session, you and any other person(s) participating in this workout together with you, acknowledged that physical exercise can be strenuous and subject to the risk of serious injury, we urge you to obtain a physical examination from a doctor before using any exercise equipment or participating in any exercise activity. You agree that by participating in physical exercise or training activities, you are doing it at your own risk and agree that you are voluntarily participating in these activities.
Consent for data sharing with HPB
I consent to share my personal data and information with Health Promotion Board (HPB), HPB's agents, contractors, vendors or third party service providers/business partners for the purposes of (i) providing me with the services and functions described herein (ii) sending me details of HPB related services and/or programmes which may be of interest to me.
For enquiries, please write to us at healthyworkplace@eventsartery.com or reach us via +65 8200 4167 on weekdays, 10am - 7pm.