Join us for an exciting calendar of virtual physical activities and virtual workshops this August - complimentary!
About this event
Mode of Event
Kindly note that our registration has been moved to: https://tinyurl.com/hweregistrationform from Sep 2021.
Sessions will be conducted via Zoom. Registered participants will receive the link to the Zoom session via email upon successful registration.
Kindly scroll to the end of the email, where the links will be reflected.
Do note that slots are limited and available on a first-come-first-serve basis. Only those registered will be admitted.
Duration
1 Hour
Upcoming Sessions
Upcoming Sessions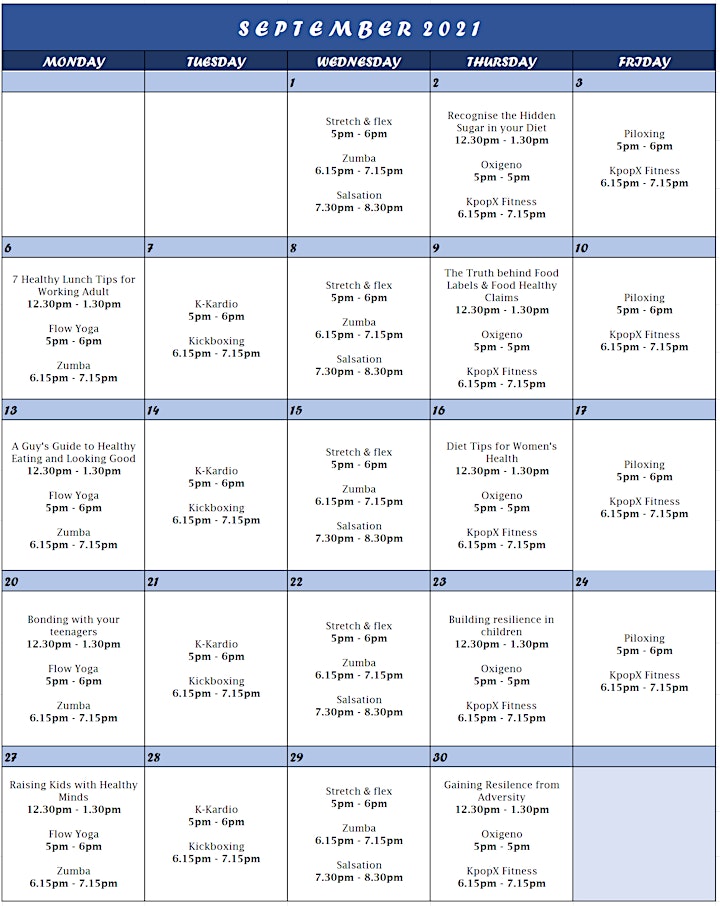 Session Synopses
Workshop (Ticket Category Timings: 12.30 - 13.30)
Recognise the Hidden Sugar in Your Diet | 2 September 2021 - Are all sugars the same? Will sugars from fruits make me gain weight? Join us as we discuss the nutritions and effects on your body of the commonly used sugar such as sugar substitutes, white, raw and brown sugar.
7 Healthy Lunch Tips for Working Adults | 6 September 2021 - Struggling to find healthier options when dining out with your colleagues? Join us for this workshop as we discuss 7 easy ways that you can take to make your next lunch at work a healthier one!
The Truth behind Food Labels and Food Claims | 9 September 2021 - There are tens of thousands of products on the supermarket shelves all screaming out for your attention. So, while food labels are not allowed to deliberately mislead, you need to be real smart to navigate the clever designs that highlight only the good points, while drawing the least attention to the not-so-good points. Learn how to decipher food labels in this workshop to help you make better choices at the supermarket!
A Guy's Guide to Healthy Eating and Looking Good | 13 September 2021 - Can meaty meals, fried food or hawker fare be part of a healthy diet? Join us for this workshop as we discuss how you can make your meals less guilty while not sacrificing the taste!
Diet Tips for Women's Health | 16 September 2021 - As women age, the risk of heart disease and osteoporosis increases, especially after menopause. According to the National Health Survey, about 25 percent of women aged 50-59 have high cholesterol levels which are seven percent higher than males. Join us as we discuss simple tips that you can incorporate into your diet to prevent or slow down the process.
Bonding with your Teenagers | 20 September 2021 - The teenage years of your child are full of changes. Try these positive parenting strategies to strengthen your parent-child relationship during this time. The teenage years are never easy. For your children, these years are full of changes. As they are beginning to assert their independence, you may feel like they are pulling away from you. By making the effort to understand what they are feeling, and the challenges they're facing, you'll feel less frustrated. Your parent-teen relationship will grow stronger too.
Building Resilience in Children | 23 September 2021 - You can't protect your children from all of life's stressful situations but you can sure teach them to roll with the punches and emerge stronger than ever. Has your child ever had a meltdown while struggling to finish his mountain of school work?
Does she feel stressed when faced with an unfamiliar task like a new piano piece? Do negative comments reduce her to tears? As a parent, you probably wish you could help your children cope better with academic pressure, puberty, peer pressure, and even cyberbullying. Later as adults, there'll be other challenging situations such as work stress, deaths of loved ones, or even difficult relationships.
Since we can't eliminate these situations, the best thing to do is to equip our children with resilience, which allows someone to respond positively in stressful situations.
Raising Kids with Healthy Minds | 27 September 2021 - Children's emotional wellbeing is just as important as their physical health. Good mental health helps them develop the resilience to cope with whatever life throws at them and grow into well-rounded, healthy adults. Join us as we dive into the different aspects of children's mental health and some effective ways that parents can take to better tackle any issue that their children face.
Gaining Resilience From Adversity | 30 September 2021 - Having mental resilience means that one is able to bounce back and even thrive in face of extreme difficulty. In this workshop, we will be going through the types of adversity that one might face and the ways you can take to overcome such grief and resilience through several easy-to-learn and apply methods that can help in both your mental and physical health.
Personal Indemnity Notice
Notice - By participating in this HWE Virtual Workout session, you and any other person(s) participating in this workout together with you, acknowledged that physical exercise can be strenuous and subject to the risk of serious injury, we urge you to obtain a physical examination from a doctor before using any exercise equipment or participating in any exercise activity. You agree that by participating in physical exercise or training activities, you are doing it at your own risk and agree that you are voluntarily participating in these activities.
Consent for data sharing with HPB
I consent to share my personal data and information with Health Promotion Board (HPB), HPB's agents, contractors, vendors or third party service providers/business partners for the purposes of (i) providing me with the services and functions described herein (ii) sending me details of HPB related services and/or programmes which may be of interest to me.
For enquiries, please write to us at healthyworkplace@eventsartery.com or reach us via +65 8200 4167 on weekdays, 10am - 7pm.
Organiser of Healthy Workplace Ecosystem Virtual Sessions by The Events Artery