Multiple Dates
Healthy Workplace Ecosystem - Virtual Sessions
Join us in a variety of exciting physical activities and health workshops – all online and complimentary!
About this event
Overview
SNEF, HPB and landlords in the Downtown Business District have been partnering to make workplace health programmes easily accessible to workers. The collaboration aims to establish Healthy Workplace Ecosystems to make healthy living a default.
In view of the current situation, complimentary health programmes are now available online!
Mode
Sessions will be conducted via Zoom. Registered participants will receive the link to the Zoom session via email.
Do note that slots are limited and available on a first-come-first-serve basis. Only those registered will be admitted.
Note: Registration for on-ground sessions will continue to be via the Healthy 365 app.
Duration
1 hour
Upcoming Sessions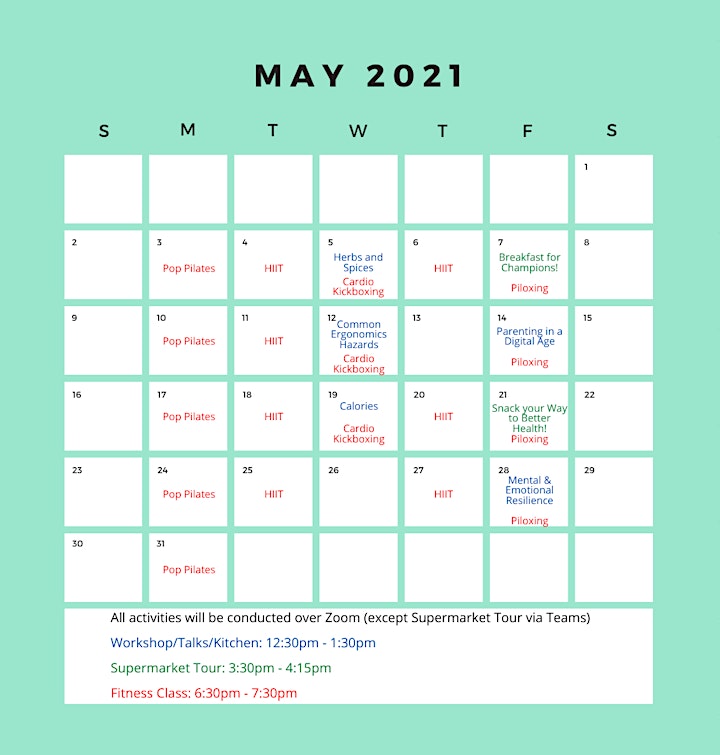 Note:
Schedule and registration for June 2021 virtual sessions will be updated in May 2021. Stay tuned!
Remember to practise safe distancing measures to avoid close contact with others and wear a mask if you need to go out. Maintain good personal hygiene by washing your hands frequently.
Session Synopses
Workshop/Talk/Kitchen/Supermarket Tour
Breakfast for Champions - Having a well-balanced breakfast in the morning can make a difference in health and academic performance. Studies have shown that children who eat breakfast do better in school, have better concentration, perform better in test, have fewer behaviour problems, and feel more energetic. Children who eat breakfast are also more likely to maintain a healthy weight. Join us in this virtual supermarket tour to find out more about how and what you can include in a well-balanced breakfast for your child.
Calories - Join us to learn about healthier snack options and the sinful indulgences which you should be reducing. Come find out how you can make smarter snack choices to ensure that every calorie you ingest is worthwhile.
Common ergonomic hazards found in workstations - Many people assume that working in an office or from home is safe and free from injury. In fact, there are several hazards that office workers face every day. Many ergonomic issues build over time before causing pain and, in most cases, these hazards can be avoided.
Herbs and Spices - Do we use herbs just for its smell? What other health benefits do each of this unique smelling seed, leaves and sticks have for us?
Raising Future-Ready Kids: Mental & Emotional Resilience - We live in an increasingly fast-paced and competitive society often described as a VUCA (Volatile, Uncertain, Complex, Ambiguous) world, where the pressure to succeed and perform can leave our children feeling panic-stricken and overwhelmed. How can we nurture our child's psychological resilience to better manage stress? Be empowered to emotionally coach your child towards a positive and healthy attitude for learning and living!
Raising Future-Ready Kids: Parenting in a Digital Age - ConRaising digital natives requires a different set of parenting skills. Learn how to connect with your child through technology and to collaborate with them on setting effective boundaries for media consumption and nurturing healthy expectations amidst cultural pressures.
Snack your Way to Better Health! - We cannot deny that in the recent years, the selection of convenience foods has increased. From the chicken nuggets in the frozen section to sweet potato chips at the snack section, we are spoilt for choices and as busy parents, convenience foods may often be the go-to choice for most when we want a quick fix for our child. However, sad to say although convenience foods has completely help change most of our lives in some way, they have receive a bad reputation for being undesirable for health. So, the dying question we have all been asking - Are they REALLY unhealthy?
Fitness
Cardio Kickboxing - Cardio-kickboxing is an integration of kickboxing techniques and fitness concepts that keeps you on your toes with a great workout. Combining hand-eye coordination, core control and powerful movements, join us to improve your agility, reflexes and stamina.
HIIT - High-Intensity-Interval-Training (HIIT) is a training technique in which you give all-out through quick, intense bursts of exercise, followed by short and active recovery periods. This type of training gets and keeps your heart rate up and burns more fats in less time.
Piloxing - A fusion of both boxing and pilates, Piloxing improves your cardiovascular strength, sense of balance, posture and strengthens your muscles.
Pop Pilates - POP Pilates® is an incredible fusion of ab-chiseling and total body defining moves choreographed to upbeat music. This intense and fun mat-based workout challenges you to rhythmically flow from one exercise to the next, developing a rock solid core while leaving no muscle untouched. This format takes classical Pilates to the next level like you've never seen before!
Personal Indemnity Notice
By participating in this HWE Virtual Workout session, you and any other person(s) participating in this workout together with you, acknowledged that physical exercise can be strenuous and subject to the risk of serious injury, we urge you to obtain a physical examination from a doctor before using any exercise equipment or participating in any exercise activity. You agree that by participating in physical exercise or training activities, you are doing it at your own risk and agree that you are voluntarily participating in these activities.
Personal Data Protection Notice
Personal Data will be collected and protected by SNEF.
Personal Data will be used, transferred and retained only for administrative purposes of Healthy Workplace Ecosystem virtual sessions at the Downtown Business District.
Images and videos will be captured during the conduct of the event.