Sales Have Ended
Registrations are closed
The registration for this session has closed. You may wish to register for ther other available sessions.
Sales Have Ended
Registrations are closed
The registration for this session has closed. You may wish to register for ther other available sessions.
Join us in a variety of exciting physical activities and health workshops – all online and complimentary!
About this Event
Overview
SNEF, HPB and landlords in the Downtown Business District have been partnering to make workplace health programmes easily accessible to workers. The collaboration aims to establish Healthy Workplace Ecosystems to make healthy living a default.
In view of the current situation, complimentary health programmes are now available online!
Mode
Sessions will be conducted via Zoom. Registered participants will receive the link to the Zoom session via email.
Do note that slots are limited and available on a first-come-first-serve basis. Only those registered will be admitted.
Note: Registration for on-ground sessions will continue to be via the Healthy 365 app.
Duration
1 hour
Upcoming Sessions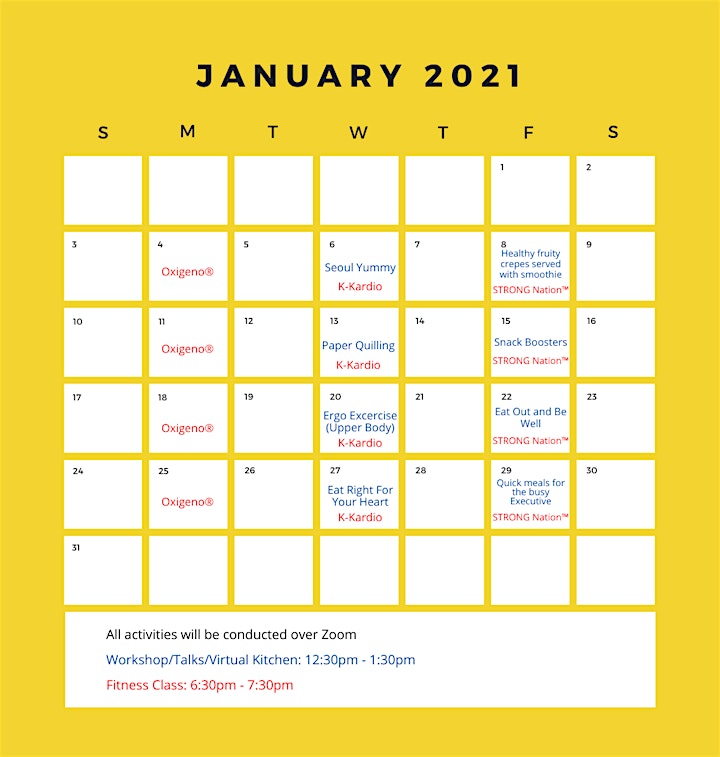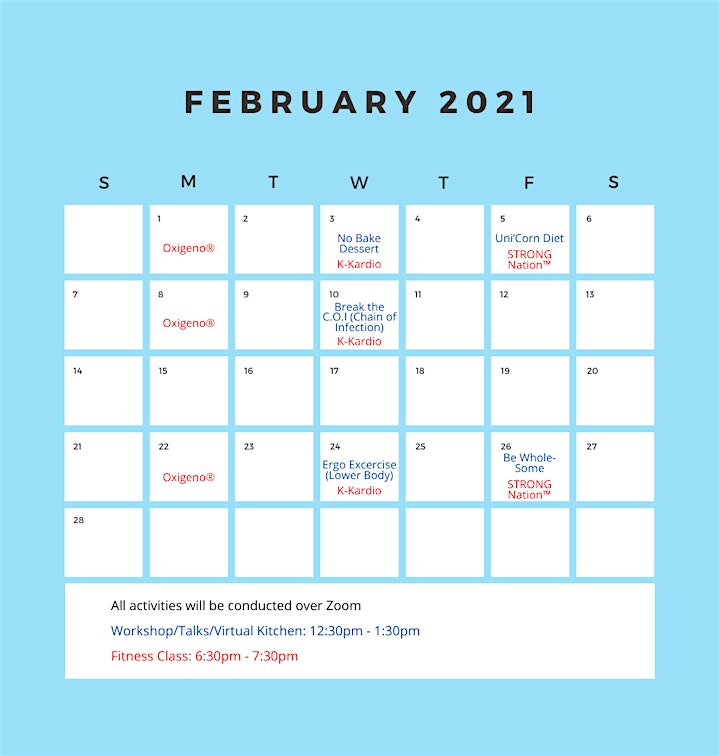 Note:
Schedule and registration for March 2021 virtual sessions will be updated in February 2021. Stay tuned!
Remember to practise safe distancing measures to avoid close contact with others and wear a mask if you need to go out. Maintain good personal hygiene by washing your hands frequently.
Session Synopses
Workshop/Talk/Kitchen
Be Whole-Some - No grain, no gain. Learn to cook your wholegrain the superlicious way and yield the goodness in every mouthful. Have your wholegrains and be awesome with our wholesome cooking class!
Break the C.O.I (Chain of Infection) - Prevention is key. Learn more about infectious diseases, such as the flu, and preventive measures to avoid infections so as to protect yourselves and your loved ones. Participants will get a better understanding on the chain of infection, preventative measures to avoid infection, and antimicrobial resistance and why it is important.
Eat Out and Be Well - Do you struggle to eat healthily amidst your busy schedule? You need not sacrifice your time for healthy eating as it can be done easy and conveniently. Join us to learn more about useful tips for dining out and ideas to prepare simple, healthy yet delicious meals!
Eat Right For Your Heart - Learn about the relationship between nutrition and high blood cholesterol. What is the food that you should avoid? Find out what are the dietary approaches to prevent your blood cholesterol level from rising.
Ergo Exercise (Lower Body) - Knees and Ankles are the joints that are subject to common injuries due to stress and resistance that being place on the joints. Sprains, strains, overuse, wrong exercise technique, ligaments tear are the most common injuries. All these can be prevented by bringing down your body weight if you are overweight, increase muscle strength around the joints, improve sense of balancing and stability can help to lower risk of injuries. In this workshop, you get to learn the proper technique of strengthening your knees and ankle muscle around the joints. This set of exercises can be done in the office, home or outdoor.
Ergo Exercise (Upper Body) - Shoulder pain involves any pain in or around the shoulder joint. The shoulder joint is the most mobile joint in the human body. Any swelling, inflammation, tearing, bony changes causes by overuse, wrong exercise technique, tight muscle, hyperflexible, arthritis, will cause pain when a person tries to move the arm in an overhead / reach up position, behind back, or straightening arm in front. Shoulder Pain / injury can be prevented through regular strengthening, stretching and doing some shoulder joint stability work. In this workshop, you will get to learn what are the 'Dos' and 'Don'ts' Exercises and take home a series of strengthening and stretching exercises.
Healthy fruity crepes served with smoothie - These fruity crepes are rich in vitamins and minerals and they are perfect for those who are always on-the-go! Serve with smoothie and you are all set to go. Learn to make crepes and smoothie for your loved ones now!
No Bake Dessert - Simple and easy recipes to follow this summer, without the fuss and buzz of an oven. All you need is a mixer and you are all geared to whip up an irresistible dessert! Join us, to get a feel of it yourself!
Paper quilling - Join us in a therapeutic activity of creating intricate pop-up designs by shaping paper quills. Through this session, you will learn that just like paper quilling where the papers undergo pressure to form a beautiful end product, the challenges in life shape you into a better person.
Quick meals for the busy Executive - There is no need to short-change yourself with unsatisfying and unappetising lunches just because you are packed in schedule! Pack your meals with nutrients the way you pack your schedule now.
Seoul Yummy - Seoul in love with Korean dramas? Always wanted to indulge in oppa's favourite dishes from back home? Join us as you learn to cook simple yet Seoul yummy Korean recipes high in fibre and vitamins! Bibimbap is a perfect balanced bowl put together using steamed rice, sautéed vegetables and sunny side up, all mixed up together and Ho Baechu is a refreshing cabbage roll packed with vitamin C!
Snack Boosters - Do you have a tendency to snack in office? Have you eaten snacks that make you feel sluggish? Learn how to choose snacks that are pack with nutrients and low in calories. Most importantly you can sneak a snack and still eat within your caloric requirement! Join us for a snack attack as you battle to create a power packed snack!
Uni'Corn Diet - It was believed that the 'alicorn' - horn on the unicorn held medicinal and magical properties. Delve no more as we discover the magic of corn and eat our way to better health, unicorn or not.
Fitness
K-Kardio - A fitness party to K-Pop music hits that incorporates cardio elements for an intense yet fun workout! Suitable for everybody with or without dance background, as long as you love moving to Kpop hits!
Oxigeno® - OXIGENO® is a Body & Mind program based on Pilates, Yoga and Functional Training with which flexibility, strength and mobility are improved through a series of harmonious and flowing movements intimately connected to breathing. Through soft and calming music, the body and mind are relaxed to connect with the inner self, reaching a state of peace and serenity. OXIGENO® is a way to a better quality of life. Mat or large towel is required.
STRONG Nation™ - STRONG Nation™ combines high intensity interval training with the science of Synced Music Motivation. In every class, music and moves sync in a way that pushes you past your perceived limits, to reach your fitness goals faster.
Personal Indemnity Notice
By participating in this HWE Virtual Workout session, you and any other person(s) participating in this workout together with you, acknowledged that physical exercise can be strenuous and subject to the risk of serious injury, we urge you to obtain a physical examination from a doctor before using any exercise equipment or participating in any exercise activity. You agree that by participating in physical exercise or training activities, you are doing it at your own risk and agree that you are voluntarily participating in these activities.
Personal Data Protection Notice
Personal Data will be collected and protected by SNEF.
Personal Data will be used, transferred and retained only for administrative and marketing/publicity purposes of Healthy Workplace Ecosystem events at the Downtown Business District.
Images and videos will be captured during the conduct of the event.