Sales Have Ended
Registrations are closed
The registration for this session has closed. You may wish to register for ther other available sessions.
Sales Have Ended
Registrations are closed
The registration for this session has closed. You may wish to register for ther other available sessions.
Join us in a variety of exciting physical activities and health workshops – all online and complimentary!
About this Event
Overview
SNEF, HPB and landlords in the Downtown Business District have been partnering to make workplace health programmes easily accessible to workers. The collaboration aims to establish Healthy Workplace Ecosystems to make healthy living a default.
In view of the current situation, complimentary health programmes are now available online!
Mode
Sessions will be conducted via Zoom. Registered participants will receive the link to the Zoom session via email.
Do note that slots are limited and available on a first-come-first-serve basis. Only those registered will be admitted.
Note: Registration for on-ground sessions will continue to be via the Healthy 365 app.
Duration
1 hour
Upcoming Sessions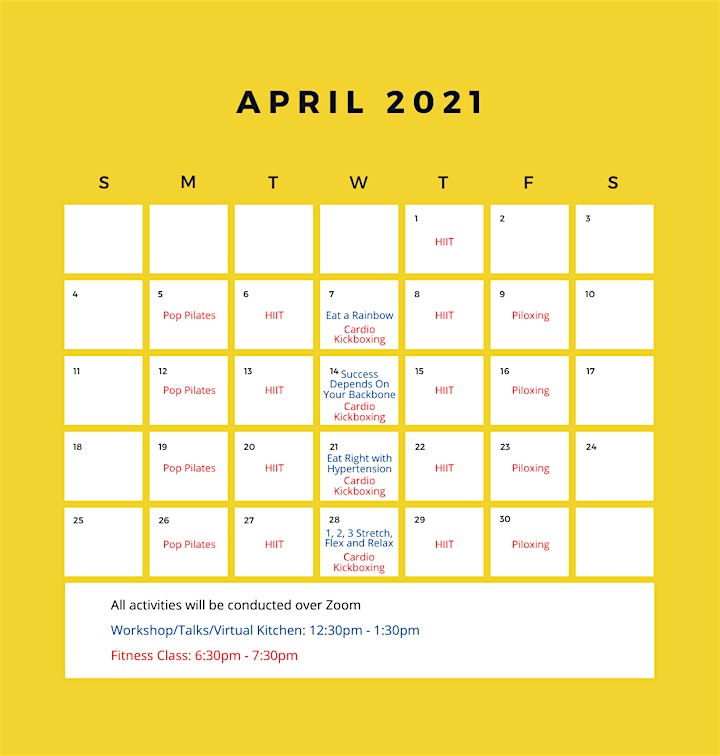 Note:
Schedule and registration for May 2021 virtual sessions will be updated in April 2021. Stay tuned!
Remember to practise safe distancing measures to avoid close contact with others and wear a mask if you need to go out. Maintain good personal hygiene by washing your hands frequently.
Session Synopses
Workshop/Talk/Kitchen
1, 2, 3 Stretch, Flex and Relax - Is your body often feeling tense? Do you feel a twinge here and there after spending long hours in front of the computer or at your work desk? Through this workshop, learn how to release and unlock the tensions with movements.
Eat a Rainbow - Eat your way to a pot of good health and colour your plate the au natural way.
Eat Right with Hypertension - Do you know that hypertension is a common health issue among Singaporeans? Learn to identify foods that specifically cause an impact to our health. Prevention is better than cure!
Success Depends On Your Backbone - Figuratively and quite literally, our success depends on our backbone. For most people, we spend more time sitting than any other daily activities, therefore, incorrect sitting posture can increase the risk of health issues, which in turn affects the quality of our lives. Fortunately, all these can be prevented if we adopt the right posture as early as possible. In this interactive workshop, you will learn how to adopt better posture and organise your workstation to help reduce the risk of ergonomic injuries.
Fitness
Cardio Kickboxing - Cardio-kickboxing is an integration of kickboxing techniques and fitness concepts that keeps you on your toes with a great workout. Combining hand-eye coordination, core control and powerful movements, join us to improve your agility, reflexes and stamina.
HIIT - High-Intensity-Interval-Training (HIIT) is a training technique in which you give all-out through quick, intense bursts of exercise, followed by short and active recovery periods. This type of training gets and keeps your heart rate up and burns more fats in less time.
Piloxing - A fusion of both boxing and pilates, Piloxing improves your cardiovascular strength, sense of balance, posture and strengthens your muscles.
Pop Pilates - POP Pilates® is an incredible fusion of ab-chiseling and total body defining moves choreographed to upbeat music. This intense and fun mat-based workout challenges you to rhythmically flow from one exercise to the next, developing a rock solid core while leaving no muscle untouched. This format takes classical Pilates to the next level like you've never seen before!
Personal Indemnity Notice
By participating in this HWE Virtual Workout session, you and any other person(s) participating in this workout together with you, acknowledged that physical exercise can be strenuous and subject to the risk of serious injury, we urge you to obtain a physical examination from a doctor before using any exercise equipment or participating in any exercise activity. You agree that by participating in physical exercise or training activities, you are doing it at your own risk and agree that you are voluntarily participating in these activities.
Personal Data Protection Notice
Personal Data will be collected and protected by SNEF.
Personal Data will be used, transferred and retained only for administrative purposes of Healthy Workplace Ecosystem virtual sessions at the Downtown Business District.
Images and videos will be captured during the conduct of the event.