Looking for a mutually beneficial relationship with other business person and potential clients. A safe business network for women.
About this event
NOTE: This online meeting will be conducted BOTH ONSITE & "LIVE" via Zoom. That is why you need to Register with your accurate particulars in order to access the link.
What's The Big Deal of Business Networking
Business networking benefits are the intangible GAINS made by communicating with other professionals in or relating to YOUR industry.
It is the networking EFFORTS of a business owner that yields the MOST results in small businesses.
NOW IS THE BEST TIME TO MEET AND NETWORK AGAIN.
Businesses has evolved from competing to complimenting.
Do you have a power team to compliment your business?
Who can you work with to bring value to your respective customers?
As entrepreneurs, we have the courage to take Risk but we are also Responsible and Resourceful.
Some of us may be at the junction of feeling exhausted, burnout or even starting to doubt your dream & Calling due to the tremendous waves of obstacles & challenges you are facing!
Maybe you have been working alone, a "Solopreneur" and you have reached the stage where you know you really need to build a power team to scale your business to the next level.
Build your power team with HER Courage Biz Network.
COME, glean from the wealth of experiences, insights & wisdom from Elim & Ian.
Prepare your questions to seek their advise during this casual panel discussion and rare mentoring opportunity!
Who Is This For
FEMALE Entrepreneurs
You have a strong business brand and need exposure
You want to promote your brand but fears and limiting beliefs are stopping you from taking the next step
You want to build credibility and trustworthiness
You want to inspire and impact a community
You want to become a Courageous Business Leader of Significance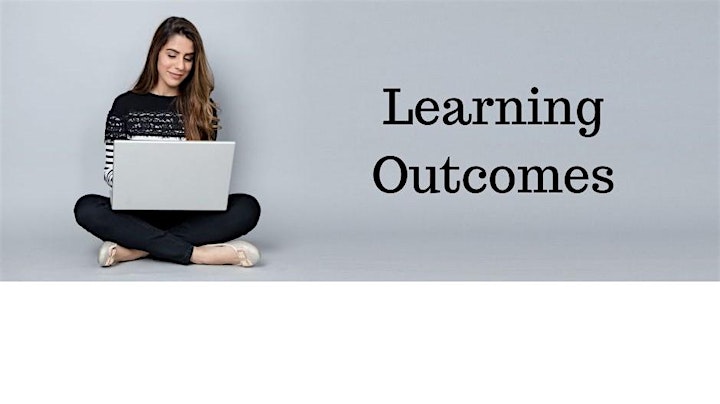 You will be able to establish your branding and communicate your business profile
You will be able to build power teams as you collaborate with others
You will be able to network and build meaningful business relationships
You will meet Business leaders as they impart their knowledge & experiences.
The Speakers
Elim Chew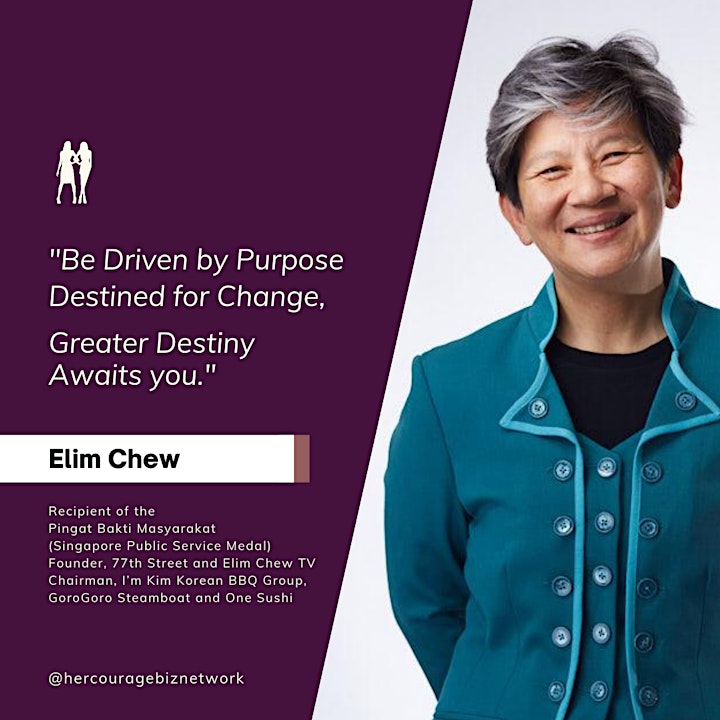 Recipient of the Pingat Bakti Masyarakat (Singapore Public Service Medal)
Founder, 77th Street and Elim Chew TV
Chairman, I'm Kim Korean BBQ Group , GoroGoro Steamboat and One Sushi .
Elim is an advocate for Entrepreneurship and Social Entrepreneurship in Singapore, a movement of using business models to solve social issues to bring about sustainability to the marginalized. She believes that businesses can do well and do good at the same time to create a more sustainable, inclusive and a better world.
Ian Gan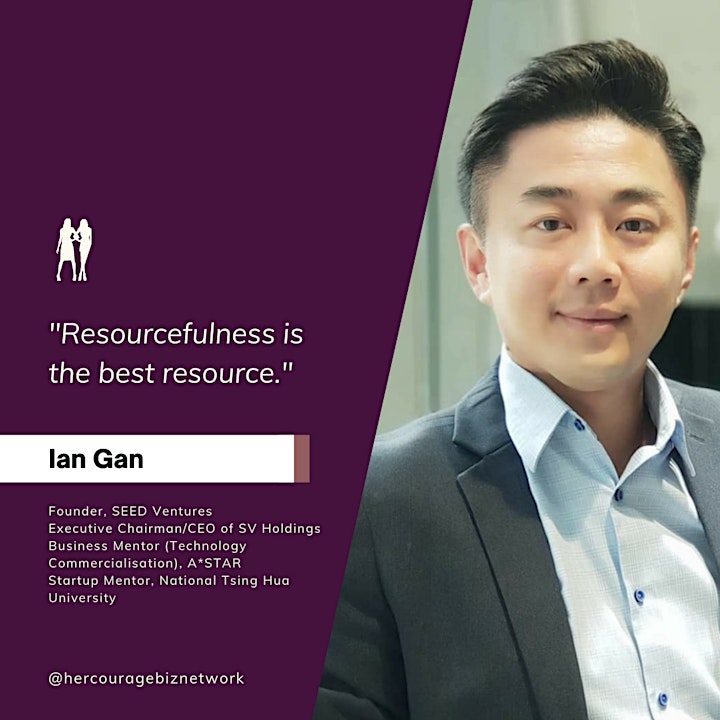 Founder and Owner of SEED Ventures(SV), an investment company that bets on Small & Medium Enterprises. It holds a Capital Markets Services License (CMSL, Venture Capital Fund Management) from the Monetary Authority of Singapore (MAS). He is also Executive Chairman/CEO of SV Holdings, the holdings company for SV's investments.
Ian started his business career in the private education-franchise space in 2001 and SV was founded in 2013. Since then, it has invested into a gamut of companies in the spaces of Compliance, Retail and Edutech. It goes through hundreds of investment pitches per month. It is co-General Partner to a fund "Venture Debt Fund 1" domiciled in SG in 2020.
HQ-ed in Sg, SV currently has rep-offices in Ho Chi Minh City, Manila and Kuala Lumpur.
Ian has attended as guest panelist in G-level E-ship conferences for governments such as Philippines' Department of Trade and Industry(DTI), Cambodia's National Institute of Entrepreneurship and Innovation (NIEI) and Japan's Tokyo Metropolitan Government. As part of SV's CSR efforts, he guest-lectures in Singapore's top universities such as National University of Singapore(NUS), Nanyang Technological University(NTU) and Singapore Management University(SMU). He is a frequent guest-judge in global research think-tanks such as INSEAD & Singapore-MIT Alliance for Research and Technology (SMART; Massachusetts Institute of Technology(MIT)'s largest international endeavour). www.seedventures.biz/support-for-society
In 2018, Ian was appointed Business Mentor (Technology Commercialisation) at the Agency for Science, Technology and Research (A*STAR), Singapore's leading agency for scientific discovery and technological innovation. He was appointed Startup Mentor in National Tsing Hua University in Nov 2020.
Moderator - Lilian Ong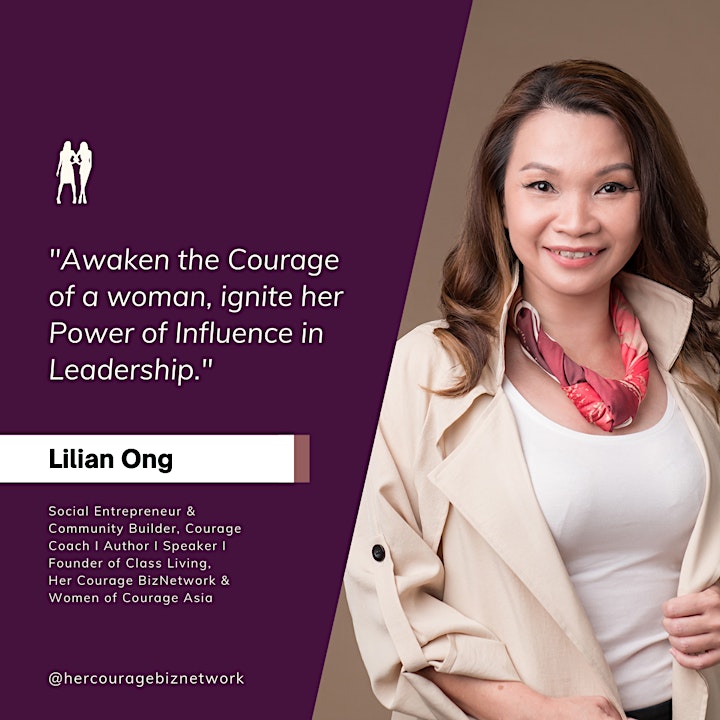 REGISTER NOW!
Your TIME is NOW!!!
It's time to share your BRAND & BUSINESS story!
It's time to impart your knowledge and experiences to help others!
It's time to scale your businees to the next level with a power team!
It's time to inspire and empower the next generation of movers and shakers!
*NOTE:
IN ORDER TO RECEIVE THE LINK & DETAILS, PLEASE MAKE SURE YOU SUBMIT YOUR ACCURATE PARTICULARS.