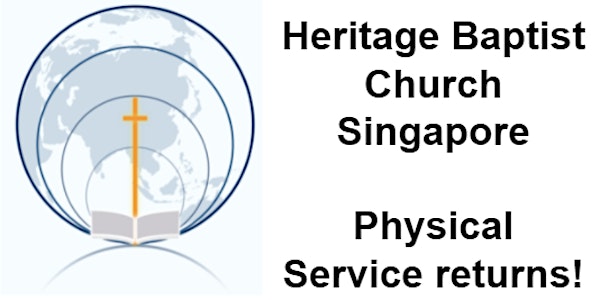 Heritage Baptist Church Sunday 11.30am Open to All Service - 24th Oct 2021
Location
71 Ubi Crescent, Excalibur Centre
71 Ubi Crescent
Singapore, 408571
Singapore
Heritage Baptist Church Sunday Morning Service (Open to ALL) Start Time: 11.30am
About this event
Heritage Baptist Church Sunday Morning Service is conducted in English.
Note: This service is open to all Vaccinated and Unvaccinated attendees.
Addres is at 71 Ubi Crescent, Excalibur Centre, #05-03, #05-04, S408571
Only one zone which will be Zone 1, located in #05-04
Booking Rules: 1) Each individual is allowed to book a maximum of 5 seats.
2) If you need to cancel, please do so via your account . Tickets booked but not used will be seen as depriving others from attending the service.
3)The second service will be the same as the first service. Do not book for both.
4) Booking confirmation will be sent to your email.
5) Acceptance to the venue will only be allowed if the safe check-in rules are adhered to.
6) Failure to attend the service after booking for consecutive services could see your future bookings being cancelled.
Excalibur Centre has a basement carpak with public access. The carpark rates are similar to HDB parking prices.