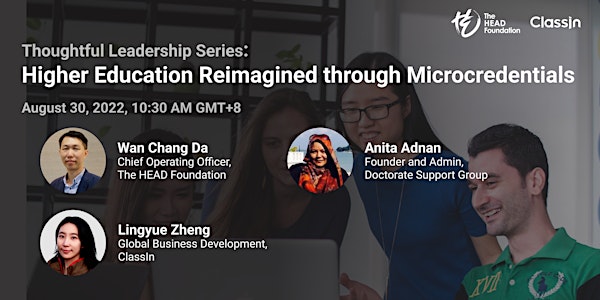 Higher Education Reimagined through Microcredentials
Education leaders in Southeast Asia are coming together to discuss the development, benefits, and implications of microcredentials.
About this event
Microcredentials, short and skill-based programs often delivered through online learning, are quickly changing the landscape of higher education. For in-school students, microcredentials offer employment oriented training that speaks to changing skill needs in the workplace. For working professionals and lifelong learners who look to upskill and reskill, the bite-sized courses grant significant flexibility for time and cost.
Particularly in SEA, "we've witnessed an explosion of short training and digital learning during this COVID period in many ways," Pedro Moreno Da Fonseca, ILO Technical Specialist on Lifelong Learning, shared at a conference held by the Philippine Commission of Higher Education. Our honorable speakers include:
Wan Chang Da, Chief Operating Officer, The HEAD Foundation
Anita Adnan, Founder and Admin, Doctorate Support Group
At this webinar, our distinguished speakers will address:
- What are microcredentials and their current development in higher ed in SEA?
- What are the benefits and implications of the rise of microcredentials?
- Where are we when it comes to quality assurance and recognition of microcredentials?
- How do employers evaluate microcredentials, especially in hiring and promotion?