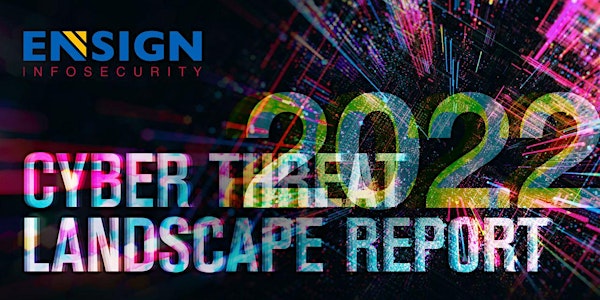 Highlights of the Ensign Cyber Threat Landscape Report 2022
.
When and where
Location
Ensign InfoSecurity 30A Kallang Place, #08-01 Singapore, 339213 Singapore
About this event
Ensign has released the Cyber Threat Landscape Report 2022. In this third edition, we expanded our coverage to include our unique insights into the observed global, and regional threats in 2021. We also leveraged our presence in Singapore, Hong Kong S.A.R., Malaysia, and South Korea to provide perspectives on territory-specific threats.
We adopted the Threat-informed Defence approach, using the MITRE ATT&CK Framework (Version 10) and MITRE Engage Framework (Version 1.0) to harmonise the taxonomy of the observed threats, and the defensive engagement activities.
Join our event to learn more about:
• Top cyber threat trends
• Territorial threat profiles
• Outlook of the threat landscape in 2022
• Cyber defenders' course of action
• Key recommendations for leaders
Remarks:
All registrations are governed by the following terms and conditions.
By submitting your registration to Ensign InfoSecurity (Singapore) Pte Ltd (hereinafter referred to as "Ensign"), you agree that you have read, understood, agreed and accepted all the terms and conditions stipulated herein.
a. Registration & Admission
Registration must be submitted to Ensign by 18 August 2022.
Admission to the event is strictly by registration or invitation only.
Ensign reserves the right to refuse or revoke entry to participants who do not meet the admission criteria for the event, or these terms & conditions.
All registrations must be made using work/company email. Incomplete registrations will not be processed.
An invitation is non-transferable unless otherwise stated or approved by Ensign.
b. Event Change/Cancellation
Ensign reserves the right to change or cancel the event due to unforeseen circumstances.
c. Data protection
By registering, the participant agrees to Ensign's collection, storage and use of his/her personal information for the purposes of contacting the participant and in accordance with Ensign's Privacy Policy at https://www.ensigninfosecurity.com/privacy-policy. The participant also agrees that all personal information provided to Ensign will be collected, stored and used by the event contractor(s) or co-organiser(s)
d. By participating in the event (whether by way of voice or video communication or conferencing or by way of physical attendance), you consent to the following: (1) Our use of your photograph, video, voice, likeness, and image in any broadcasts of this event and in subsequent productions drawn from video or audio recordings of this event. (2) The photographs and recordings from the event may be published or broadcasted in the official Ensign and affiliates' publications and in publicity materials, including Ensign and affiliates' websites and social media. (3) All recordings and photographs obtained from the event shall be the sole property of Ensign InfoSecurity (Singapore) Pte Ltd.