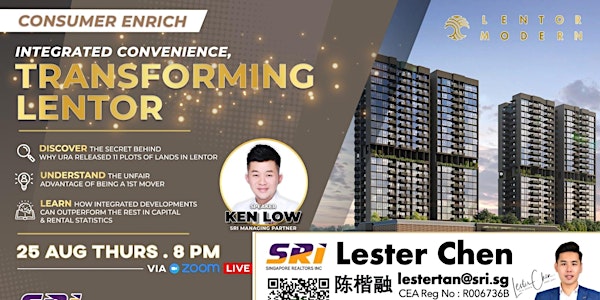 Highly Recommended of YEAR 2022! Transforming Integrated 1st Mover Buying
Discover the secret behind URA's release of 11 plots, Understand the Unfair Advantages, How Integrated outperform others.
About this event
HIGHLY RECOMMENDED of YEAR 2022! *INTEGRATED CONVENICENCE, TRANSFORMING LENTOR "CONSUMER SEMINAR"
As we draw closer to 2022's most anticipated mega launch - Lentor Modern, we would like to extend an invitation to join us for this enriching webinar to learn what's in it for you!
⭐️ Discover the secret behind URA's release of 11 residential plots in Lentor_
⭐️ Understand the unfair advantage of being a 1st mover_
⭐️ Learn how integrated developments can outperform the rest in capital & rental statistics_
*WEBINAR DETAILS*
- Date: Mon, 25th Aug 2022
- Time: 8pm
- Keynote Speaker: Mr Ken Low (Managing Partner, SRI)
Register Today‼️
🔹 Zoom Registration Link:
https://bit.ly/consumerseminar2022
We will get in touch with you soon.
Invited by
Lester Chen
91017777
R006736B
Senior Group District Director
Singapore Realtors Inc
About Speaker Mr Ken Low
Ken Low joined the real estate industry after graduating from the National University of Singapore, and has more than 12 years of experience in this trade.
In the past 10 years, he has been a key figure in the new homes scene, having worked closely with many renowned developers and successfully led numerous high-profile launches, such as J Gateway, North Park Residences, High Park Residences, Hundred Palms Residences, Riverfront Residences and many more.
Ken is also a popular property seminar speaker in Singapore because of his ability to analyse deep into the Master Plan of Singapore, and piece together news and trends to successfully uncover potential in many areas.
About Lester Chen
(Senior Group District Director of SINGAPORE REALTORS INC)
Lester's excellent track record and worthwhile experience in the property industry gave him an edge in his abilities to lead and train his team of more than 280 consultants in early 2008.
His extreme dedication, perseverance and passion have made him the man he is today.
As with every aspect of his life, lester is always aiming for greater heights.
With more than $1.2b worth of real estate transactions since 2005 under his belt, Lester is definitely a force to be reckoned with,
1st 100 pax to the live zoom session at no cost, absolutely no selling !
Contact us 91017777 or whatspps to
https://bit.ly/consumerseminar2022 to register for the seat to the zoom session now.
Thank you and we see you at Zoom.