Location
Dance Nucleus
Goodman Arts Centre, Block M, #02-53
90 Goodman Road
Singapore, 439053
Singapore
An interactive series of installations inviting you to listen
About this event
homotopy is a deconstruction of the body into its axes — a reduction simmering at absolute zero.
An excavation of the soma as an acoustic artefact, the project is an exploration of sound that dives deep into the intersections of cognitive neurobiology, cosmology, particle physics, and the (un)conscious body in performance. Through tactile experimentations with site-specific data, and immersive musicology, homotopy will be an intimate study of human modalities — all within a communal act of listening.
Can you travel through time with an ear to your heart?
Join us as we endeavour to map what's hidden below the surface, and trace personal topologies. Three months' worth of research will culminate in an interactive exhibition-in-progress, where the audience is invited to discover in a raw, introspective world.
More information 🎨
Our process will be open to the public on:
24th March 2022: 6 pm - 9 pm
25th March 2022: 6 pm - 9 pm
26th March 2022: 7 pm - 9 pm (Artists' Talk / Presentation at SCOPE#13: 2 pm - 3:30 pm)
27th March 2022: 6 pm - 9 pm
It is a durational event, which allows for movement in and out of the space in your own time. We would recommend setting aside 30 - 45 minutes for the exhibition-in-progress. Visitors are encouraged to come alone, or bring a companion (or two) along with them for different experiences of the live installations.
All artefacts on display are suitable for ages 16 and above. The space is unfortunately not wheelchair accessible (4 flights of stairs with no lifts available). Please contact outreach@fromabasement.co if there are any access requirements that you'd like us to be aware of.
To ensure a good estimate of numbers for each day of the event, we'd like to ask all visitors to indicate their attendance for specified time slots by booking tickets on Eventbrite. We would love to hear your feedback / thoughts on the work!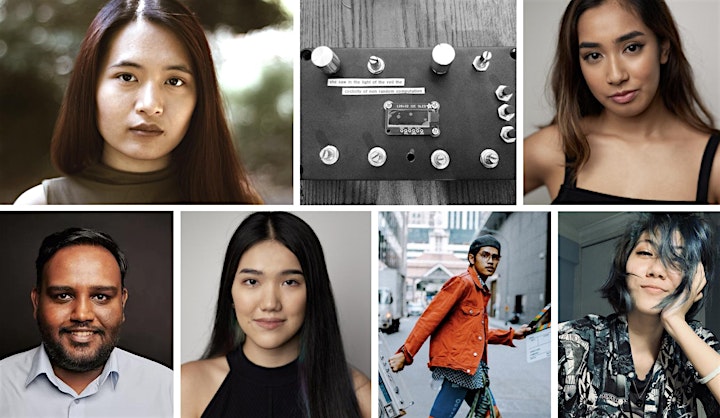 About the team behind homotopy:
Rebecca G (Director / Artist-Facilitator)
Rebecca is an interdisciplinary theatre director, dramaturg, and critical practitioner. They are currently the artistic director of from (a)basement theatre collective, a company that aims to celebrate minority voices in multidimensional conversations. An award-winning Drama and Philosophy graduate of Royal Holloway, University of London, their work straddles borders and cultures; including international collaborations with creatives / organisations in Poland, Germany, Singapore, India, the Czech Republic, and the UK. With empathy and experimentation at its core, Rebecca's diverse practice is based on hybrid processes of extraction, excavation, and empowerment — with a particular focus on site-specific physicality, documentary theatre, and expressionist multimedia performance.
madam data (Composer / Artist-Facilitator)
madam data no longer provides information about what they do. They have settled on two ways of interfacing with the outside world:
Artist-Collaborators:
Melva is a young, aspiring, actress who is currently based in Singapore. Previously, Melva spent many years abroad in the United States and Australia, identifying strongly with the third-culture model. After returning, she completed a Diploma in Performance and her Bachelor's Degree in Acting, both from Lasalle College of The Arts. Highly-energetic and passionate, she strongly believes in collaborative ensemble based work. Melva fervently believes in representation in Singapore's diverse theater industry and is drawn to explore the unconventional and untold stories of theater and performance. She is also a keen teacher, utilizing speech and drama and her theatrical background to build confidence in children and adults. Some of her recent acting credits include: Anna in Vassa directed by Daniel Jenkins, Viola in Twelfth Night directed by Prof. Michael Earley, Li Ting in Subtitled1.0 directed by Alvin Tan. Melva also ventures into commercial work on TV and Film.
Coming from a family where English language and literature are a strong suit, Ness started taking an interest in theatre, due to their passionate interest in literature and analysis of literary text. Currently, they are a student in LASALLE College of The Arts, Diploma in Performance. They are interested in the concept of breathing techniques, how breathing changes the intentions of a character. In a similar fashion, they are also keen in researching further on physical techniques and elements when it comes to performance. They have exemplary experience in stage managing during Bangsawan with Firdaus Bin Faisal and movement based work in Talking Bodies with Leela Alaniz during their studies in LASALLE. Their wish in the future is to be able to challenge people's ideologies and hopefully make their audience realise that things aren't always one dimensional.
A visual creator both on the dance floor and through the lens, Ammar spends most of his time creating magic. Driven by adrenaline, Ammar loves pushing and transcending boundaries and believes in experiences more than certificates. He was born hearing but due to a high fever when he was an infant, he gained deafness. Growing up in both Deaf and Hearing worlds, he has witnessed and identified many differences and similarities. Being part of the Redeafination dance crew since 2011, the experience has taken his passion for dance to greater heights. As an artist, Ammar's focus is to integrate the relationship between the Deaf and hearing to spread a message that both worlds can work together.
Su is an actor, theatre practitioner, educator and access worker of Burmese-Chinese descent. She graduated from LASALLE with first-class honours in BA (Hons) Acting. Besides acting, Su is a budding theatre researcher whose work explores minority representation and the integration of the D/deaf and persons with disability. She strongly advocates for representation and accessibility in theatre. She recently worked as a creative captioner for Singapore Repertory Theatre and an Accessibility Intern with The Necessary Stage for M1 Fringe Festival.
Raj has worked in both the English and Tamil theatre scenes in Singapore and has undergone training Edith Podesta as part of Young & Wild by Wild Rice. His notable stage credits include: The Outsiders (Ravindran Drama Group); Encounters on a Crowded Island (Tapestry Playback Theatre); And Then There Were None, 12 Angry Men (Avant Theatre); Anything Can Happen / Something Must Happen (Wild Rice); and To Speak Quietly (Pink Gajah Theatre). Raj made his debut as a playwright in 2019 with Chandramukhi (Avant Theatre) and Ashes, Ashes (Toy Factory Productions). He is currently a member of the Brown Voices playwriting collective. His short story, "The White Lotus: Sinking to the Bottom" was recently published in the anthology In This Desert, There Were Seeds by Ethos Books and Margaret River Press.
homotopy is made possible with the generous support from Dance Nucleus, and the YCM Grant (NYC). We can't thank them enough.