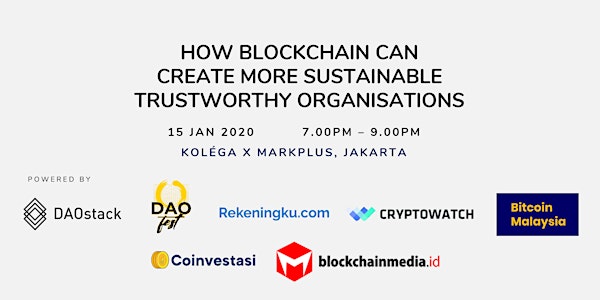 How Blockchain Can Create More Sustainable Trustwo
This is a 2-hour introductory workshop on DAOs. Made simple for business owners, tech entrepreneurs, developers and enthusiasts.
Date and time
Wednesday, January 15, 2020 · 7 - 9pm WIB
Location
Koléga x MarkPlus, Satrio Co-working Space Jalan Professor Doktor Satrio Setia Budi, Jakarta 12940 Indonesia
Refund Policy
Contact the organizer to request a refund.
About this event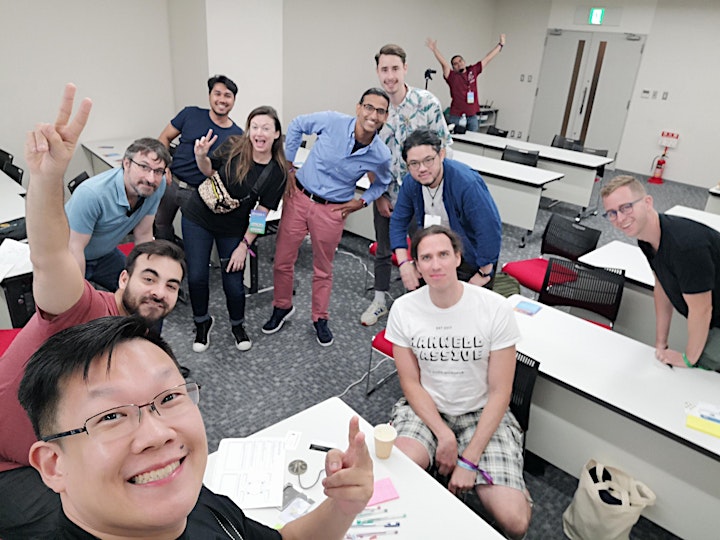 Imagine a chain of shops that is manless, which customers can buy items off the shelf and the costs instantly remitted to the suppliers and profits directly into the pockets of the investors/shareholders.
Also imagine it being transparent, corruption free and frictionless.
These are the possibilities of DAOs - decentralised autonomous organisations.
Blockchain enables new forms of human association that combine the scale and efficiency of free markets with the alignment and coherence of startups. Thanks to smart contract protocols like Ethereum, it is now possible to construct networks that are self organizing around shared goals and interests, and a new economy where cooperation is the winning strategy.
Fresh from Devcon V in Osaka, Jason Chew (the speaker) will cover:
- What are DAOs
- History of DAOs - the infamous DAO hack and aftermath
- Why are DAOs important
- Notable DAO experiments of 2019
- How to build your own DAO using a framework called DAOcanvas
Our mission? To inspire you kickstart your baby DAO experiment.
Venue:
Koléga x MarkPlus, Satrio Co-working Space
https://maps.app.goo.gl/Tov9Q4pn5GqEobbm7
Time:
7.00 pm Workshop Begins
9.00 pm Workshop Ends
Limited to max 40 people only.
Indonesia Contact: Robby 08126010111
About the organizer
Introducing our new Telegram channel:
Blockchain Technology Events in Malaysia
https://t.me/blockchainmyevents
PM us for services and rates -
@COLBERTLOW or
@JASONCHEWYL at TEL +60163143113
Email:
admin@bitcoinmalaysia.com or jason@bitcoinmalaysia.com