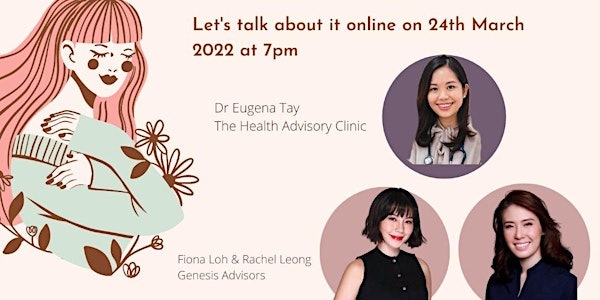 How Can I Reduce My Risk of Cervical Cancer
This International Women's Month, we present you an info session about reducing the risk of Cervical Cancer and advise on treatment coverage
About this event
Event Outline
Introduction and information about Cervical Cancer by Dr Eugena Tay (30min)
When should I go for a pap smear?
Is cervical cancer preventable?
When should I get my HPV vaccination?
Fiona Loh and Rachel Leong are joining us from Genesis Advisors to talk about treatment options, cost, and coverage.
Questions and Answers (15min)
About Dr Eugena Tay
Dr Tay is a family physician with a special interest in Women's Health and Sexual Health. She is passionate about providing individualised medical care in a confidential and non-judgmental environment.
Her field of interest includes contraception counselling, menstrual disorders, fertility screening, genital infections, and sexually transmitted illnesses.
Zoom Link: https://zoom.us/j/99836110159