How Is COVID-19 Affecting You And Your Contractual Obligations?
Event Information
Refund Policy
Contact the organiser to request a refund.
Eventbrite's fee is nonrefundable.
Get a clear understanding of commercial contract law, the application and the aspects of commercial contract law for non- Legal professional
About this Event
The corporate climate is full of organization and individual agreements. Contracts nowadays represent a tool that companies use to safeguard your resources. Written contracts offer a legal document to individuals and companies outlining the parties' intentions and how adverse issues are to be resolved.
Course Content:
Learners will gain an in-depth understanding of:
✔️ Pre-contractual Considerations.
✔️ Offer and Acceptance.
✔️ objective ascertained intention to be bound.
✔️ How offers may be terminated by various ways of withdrawal prior to acceptance.
✔️ Acceptance communication to offeror and certainty.
✔️ Completeness of an enforceable contract.
✔️ General understanding of the Electronic Transaction Act ('ETA') and its application.
✔️ When does the promissory estoppel apply?
✔️ The necessity and the intention of creating a legal relationship and what is the presumption of intention to be legally bound in a commercial arrangement.
✔️ Terms of the contract.
✔️ Distinction between term and representation.
✔️ Implied terms, classification of terms and exception clauses.
✔️ Unfair contract terms and the unfair contract terms act.
✔️ The third party enforcement of contract rights and its application.
✔️ Contract risk prevention and early intervention. <---- NEW TOPIC
✔️ Boilerplate Clauses. <---- NEW TOPIC
Note: In the course of the event, photographs of participants/videos or interviews of the participants could be conducted by the company, or its appointed vendors, for the purpose of post event publicity of the respective event, either in the Company's official publications/website or any third party's publication/website approved by the Company.
Disclaimer: The course and materials used in delivering the webinar are only intended to provide a brief overview of various topics relating to contract law in the commercial context, and solely for educational and training purposes. For this reason, the contents should not be relied upon in substitution for proper legal advice for specific individual cases.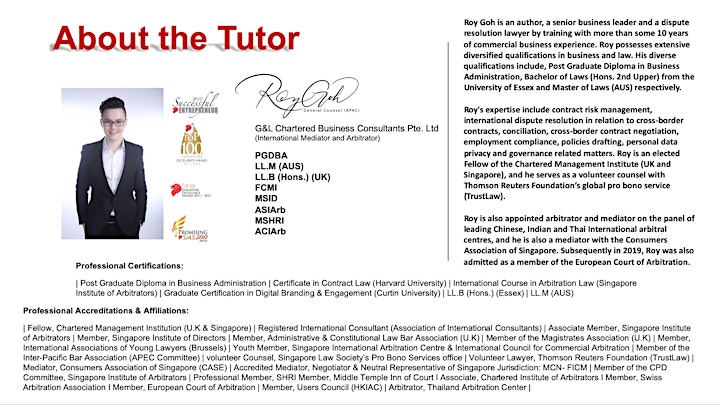 Date and Time
Location
Refund Policy
Contact the organiser to request a refund.
Eventbrite's fee is nonrefundable.