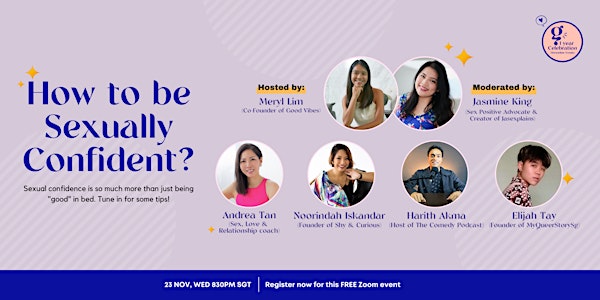 How to be Sexually Confident
Sexual confidence is so much more than just being "good" in bed.
About this event
At its core sexual confidence is about feeling comfortable in your skin, knowing you deserve pleasure and being able to articulate what you enjoy. Join our diverse panel discussion to learn some tips!
📌 Date: 23 Nov (Tue)
📌 Time: 830pm SGT
📌 [FREE] Registration: Register now to reserve your seat and receive your Zoom invite
Guest Speakers:
Jasmine King, Sex Positive Advocate & Creator of @jasexplains
Andrea Tan, Sex, Love & Relationship Coach @theathenarising
Noorindah Iskandar, Founder of @shyandcurious_com
Harith Akma, Host at @thecomedypodcast_
Elijah Tay, Founder of @myqueerstorysg