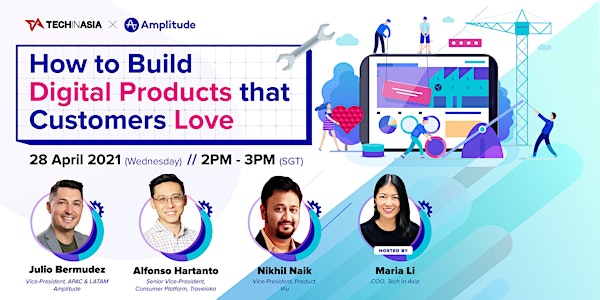 How to Build Digital Products that Customers Love
In today's digitalized world, how can you stand out from the crowd and build a product that customers love?
About this event
In today's digitalized world, it's easier than ever to create and launch a product. But building one that customers will love is a different task.
What makes or breaks a product is its user experience. It's about understanding your customers and implementing changes quickly enough so that they will keep coming back.
But this is easier said than done - it takes efficient cross-functional teams, having the right analytics tools, and making data-driven decisions to create something truly amazing.
If you want to learn how to bring your product to the next level, join our upcoming panel discussion with Julio Bermudez (vice-president, APAC & LATAM at Amplitude), Alfonso Hartanto (senior vice-president, platform at Traveloka), and Nikhil Naik (vice president, product at Viu).
They will be sharing the strategies their companies have used to create winning products. Discover how you can best visualize your customers' user journey and help your business/product achieve digital success.
Topics covered:
How digital teams and their customers influence one another
Tips and tricks on building a high-performing product team
Recommended processes for building great products at high speed
How other businesses in today's world achieve digital success
Who should attend?
Product managers
Product developers
Product marketers
Product/data analysts
UI/UX designers
Details
Date: Wednesday, April 28
Time: 2PM - 3PM SGT
Venue: Virtual
Agenda
Opening remarks: 15 minutes
Panel discussion: 30 minutes
Q&A: 15 minutes
Speakers
Julio Bermudez, vice-president, APAC & LATAM at Amplitude
Alfonso Hartanto, senior vice-president, consumer platform at Traveloka
Nikhil Naik, vice president, product at Viu
Maria Li, chief operating officer at Tech in Asia (moderator)
Limited seats available, so make sure to RSVP before April 27!
----
About Tech in Asia
Tech in Asia (TIA) is the largest English-language technology media company that focuses on Asia. From the latest news and hottest trends to the boldest startups and strongest titans, TIA covers everything tech in the region. The company aims to build Asia's tech and startup community by bridging the gap between businesses and the information, talent, and connections they need.
About Amplitude
Amplitude is the #1 Product Intelligence platform helping companies build better products, powering over 40,000 digital products from 180+ countries around the world. It has tracked over 28 trillion user actions to help digital product and growth teams instantly understand user behavior, build engaging experiences, and grow their business.
----
By registering, you're giving your consent to receive marketing and promotional emails from Tech in Asia and its partners.