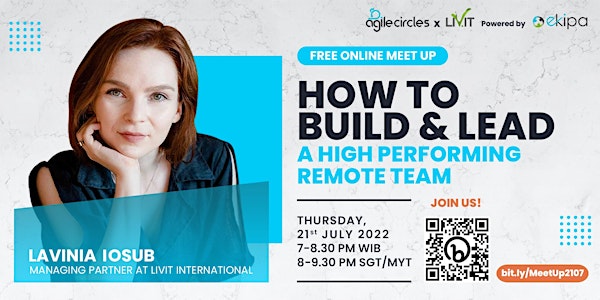 How To Build & Lead A High Performing Remote Team
Are you working as a leader of a remote team? If the answer is yes then you should join this event to gather some key concepts from Lavinia!
About this event
How to lead and build high-performing teams with a specific X factor - how to do it with a remote team.
For some of us, we are now back in the office, for a growing number of businesses, it's BAU to be distributed across Indonesia, the region or the world.
So how can we work better together and enjoy our work together more - remotely.
Lavinia Iosub from Livit - along with the team from Ekipa Indonesia, Malaysia and Singapore are working together remotely to bring you this special free event through our Agile Circles network.
This event will cover some of the key concepts she shares in her three-day training course, so we can get started improving how we work together straight away.
Are you ready to take your remote teams to the next level? Join us now!