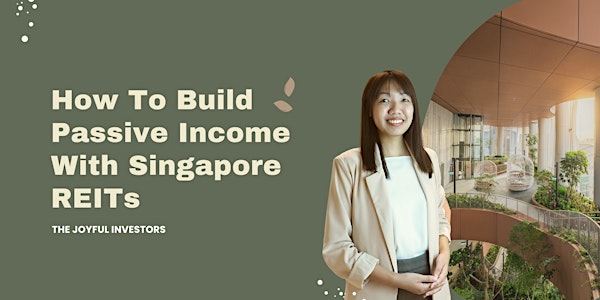 How To Build Passive Income With Singapore REITs (4 June 2023)
Find Out How You Can Earn Additional Income Through S-REIT Investments
Date and time
Sunday, June 4 · 1:30 - 5pm +08
Location
City Gate 371 Beach Road Singapore, 199597 Singapore
About this event
In this session, we will be guiding you on how you can build your own regular stream of income through S-REITs investing.
Here are what you will gain from this session:
Discover how REITs work and how you can grow your wealth through S-REITs investing.
Apply the framework to cherry-pick S-REITs to invest in. (Learn it once, and you will be able to repeat the selection process on your own!)
Learn how to buy S-REITs at reasonable prices which the majority of retail investors are unable to.
Find out the important areas to take note during trade order execution.
We will walk you through the key considerations when deciding between REIT ETFs and S-REITs stocks to invest in, and learn which is more suitable for you.
Join us in this value-packed seminar to kickstart your journey in building passive income! Seats are limited, so reserve your seat now. See you there!
Who is this session for?
New to dividend investing and looking to learn how to build an investment portfolio of S-REITs to generate cashflow
Seasoned investor looking for a different perspective of the markets and improve your portfolio performance
What do I have to prepare for this session?
Come join us with a learning mindset and we will settle the rest!
Do bring along a laptop or tablet as there are hands-on activities for you to put your learning into practice.
Event Venue:
The event will be held at 371 Beach Road, City Gate, Singapore 199597.
About The Joyful Investors
The Joyful Investors believes that investing can be made a pleasant endeavor. Everybody can make money in the market. Investing is not for the frightful and is a science that can be taught. We empower investors to make smart decisions. With well thought-out investment strategies and techniques, you will be able to multiply your income and achieve financial freedom.
www.thejoyfulinvestors.com
www.youtube.com/c/thejoyfulinvestors
Disclaimer: By registering for this event, you consent to the collection of your personal data and agree to receiving updates, reminders, newsletters and marketing materials relating to products and/or services offered by The Joyful Investors. To read more on our Privacy policy, please refer to our website at https://thejoyfulinvestors.com/privacypolicy