Does 2021 still feel like 2020?
About this Event
Does 2021 still feel like 2020?
Were we secretly hoping things would magically change on New Year's Day and everything unpleasant would just be a really bad dream?
While 2020 may indeed be behind us, 2021 has already had its fair share of challenges. So much continues to happen around the world and we can't help but feel helpless sometimes.
Whether it's the pandemic, lockdowns & stay-at-home orders, the same jobs or new opportunities, or even if we are confined to our homes - how do we deal with all this uncertainty?
How do we continue to be resilient despite so many difficult moments?
Sometimes it just feels like the whole world is out to get us or the system is against us – no matter what we do!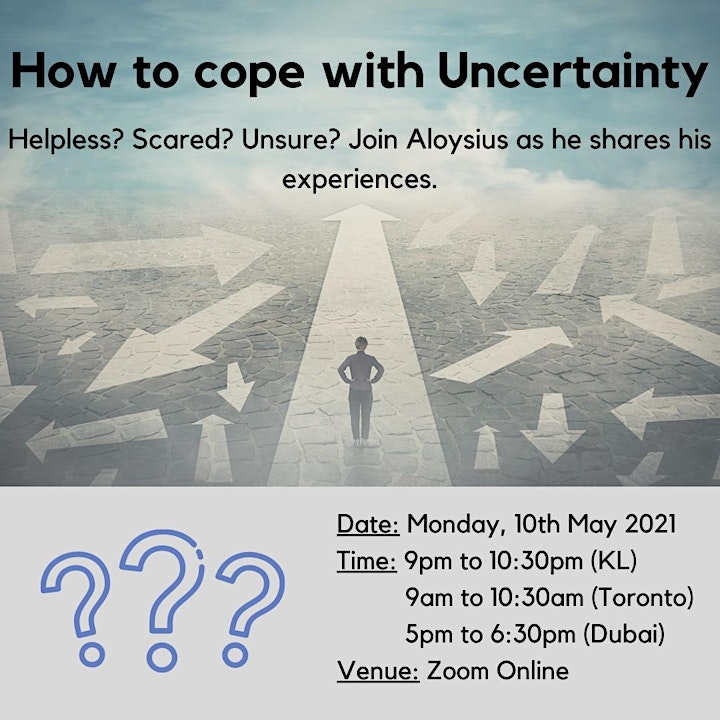 From moving countries during a global pandemic, to changing careers or living away from home, NLP Trainer and Master Coach Aloysius Gregory is no stranger to dealing with challenges and uncertainty.
What does he do? How does he cope?
Join him as he shares his experiences about dealing with uncertainty.
Billy Kueek International is inviting you to a scheduled Zoom meeting.
 Topic: How to Cope with Uncertainty
Time: May 10, 2021 09:00 PM Kuala Lumpur
Join Zoom Meeting
https://zoom.us/j/94910935496
Meeting ID: 949 1093 5496
Passcode: Register for Passcode