Sales Have Ended
Ticket sales have ended
Hi Thanks for taking the interest in this session. The session is fully sold or ended. If you like to attend the same session in the future, do write to me: raman@ramankattri.com. regards (Dr) Raman K. Attri | Speed To Proficiency Research: S2Pro© Singapore raman@ramankattri.com | http://ramankattri.com/ | LinkedIn: https://linkedin.com/in/rkattri | Twitter: https://twitter.com/rkattri | YouTube: https://youtube.com/RamanKAttri | Facebook: https://facebook.com/DrRamanKAttri | Books: https://amazon.com/author/raman.k.attri
Sales Have Ended
Ticket sales have ended
Hi Thanks for taking the interest in this session. The session is fully sold or ended. If you like to attend the same session in the future, do write to me: raman@ramankattri.com. regards (Dr) Raman K. Attri | Speed To Proficiency Research: S2Pro© Singapore raman@ramankattri.com | http://ramankattri.com/ | LinkedIn: https://linkedin.com/in/rkattri | Twitter: https://twitter.com/rkattri | YouTube: https://youtube.com/RamanKAttri | Facebook: https://facebook.com/DrRamanKAttri | Books: https://amazon.com/author/raman.k.attri
2-day intensive workshop for aspiring authors with an author of 20 books to get started with your first world-class book
About this Event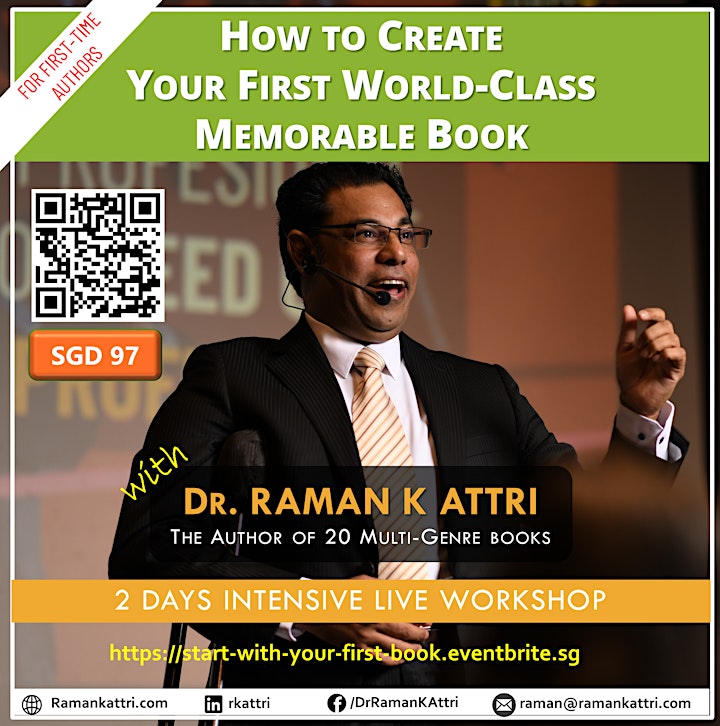 WHY THIS
Imagine writing a great book yourself, with your mind, your soul, your fingers – containing your life's experience in your words. A book you can proudly show to your son, daughter, mother, father, or spouse and thank them to allow you time and encouragement to complete this best work of your life. Wouldn't it be great?
This 2-day workshop (not a webinar), conducted by an international author of 20 books, a professional speaker, and a recognized global training design specialist with unmatchable experience in speeding up professional learning.
This workshop is for experienced professionals, executives, speakers, trainers and leaders who are aspiring to be first-time authors. This workshop is specifically suited to you if you have never written a large piece of publish-worthy text before.
Before you sign-up, do read and listen to the testimonials from previous participants. This workshop is a one-time rare opportunity you won't get anywhere else. It is far from what you may have attended previously in the market. By the end of the workshop, if you are not genuinely blown away by the level of thought process, insights or tools shared in the workshop, you can simply ask for a refund (minus taxes).
WORKSHOP
A real, intense, training workshop
Not a webinar designed for upselling
100% live, real-time, Interactive zoom session
Online live via zoom
2 days of intensive training with process, blueprints, tips, and guidance
8 hours of start-to-end training spread over 2 weekends
Shows a complete start-to-end process
Participants will be required to join with cameras and microphones
A world-class mix of mentoring, training, coaching, and guidance
Taught by an international learning leader and author of 20 books
DATES
Over 2 consecutive Satursdays
27th Feb batch (11 am to 3 pm on 27th Feb and 6th March)
24th April batch (11 am to 3 pm on 24th April and 1st May)
26th June batch (11 am to 3 pm on 26th June and 3rd July)
YOU WILL ACHIEVE
You will get an overall understanding of what it takes to get started systematically and step-by-step to produce and publish a book which is:
- THOUGHTFUL
- WELL-WRITTEN
- WELL-STRUCTURED
- INTERNATIONAL QUALITY
- MEMORABLE AND PRIDE-WORTHY
- PUBLISHING READY
- SET YOU APART AS A TRUE (NOT PERCEIVED) AUTHORITY
- MAKES YOU FEEL GENUINELY PROUD OF IT
WHAT THEY SAY…."I was blown away by Dr Raman's online webinar on writing and publishing a book. His ideas and methods challenge the general notion of book writing. This totally resonated with me. As an author of 18+ books, Dr. Raman shared top secrets from his book writing philosophy to tools. What differentiates him is both breadth and depth in knowledge. His presentation was not only rich in valuable information and insights, but also inspiration and motivation!"
– Dr Lakshmi, Senior Program Manager & Keynote Speaker. NUS-DUKE Medical School. Singapore.
YOU WILL LEARN
You will learn to:
Identify what should be your first book
Decide and narrow down the key idea, topic and title of the book
Total path to develop, write and publish your first book
Book market in general and how it works
How to get started with developing your first world-class book
Avoid a low-quality, self-publishing trap
Leverage external research and writings in your books
Avoid legal, copyright and plagiarism issues
Capture millions of ideas and thoughts
How not to let any thought go waste
Organize tons of your ideas and thoughts as a verifiable work
Translate your thoughts into a professional book structure
Develop and create a book (not writing)
Convert your development into world-class writing
Quality writing for a memorable work
Structural pieces, features to include in your book
Different tools, resources and software for book writing
Automation vs outsourcing vs delegation protocols
Content research and increasing authenticity
Different routes for review, editing and formatting
Routes for publishing the first book
WHAT THEY SAY…."Raman's session was extremely valuable and informative. Raman is a prolific author and a multifaceted professional (scientist, corporate leader, thought leader, and so on - to name a few). This session had a lot of very specific and useful takeaways for aspiring authors. It is proof of Raman's love of learning that he has taken the time to share his expertise freely with others."
- Sriman Venketesan, Senior Manager, Xilinx Corp, Singapore.
IT IS FOR YOU IF
If you feel strongly about your idea of the first book
If you have never written a large piece of literature or manuscript before
If you want your first book to be memorable
If you want to produce world-class quality content right the first time
If you want to feel proud of the content and idea of the first book
If you don't want to produce a less-than-perfect book
If you don't want to be one among millions of authors
If you feel you need a highly practical pathway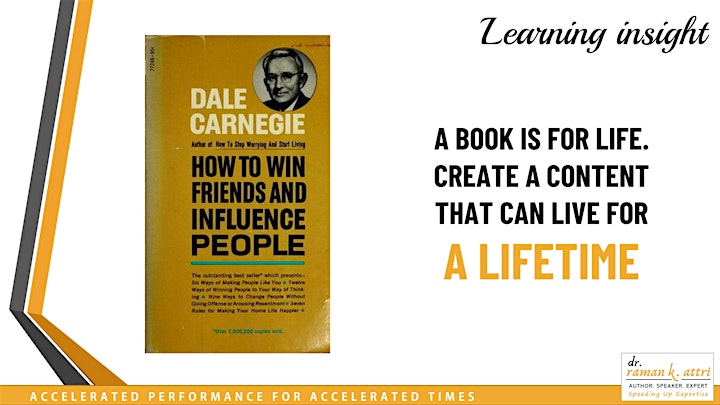 WHAT THEY SAY…."Dr Raman gave us a truly insightful and engaging session on how to write and publish a book. Not only did he share with the audience "what" you need to do, he showed us "how" to do. Possibly the most valuable conference session I have participated in. Thank you Raman."
- Consultant, Singapore.
WHY DR RAMAN K ATTRI
An author of 20 multi-genres books in multiple domains
Lived through hundreds of iterations with leading publishers
Mastered the science of developing a world-class book in the fastest time
Top training design leader who can design mind-blowing live training
Proven, tested, and result-oriented system to master book writing
Two doctorates in learning to get you on an accelerated learning path
Versatile experience in coaching you on developing books on subjects as varied as poetry, arts, science, business, leadership and engineering among others
Highly developed analytical skills and strategic visions to guide you through the process
International learning leader with a $40 billion US corporation to put you on the path of differentiated leadership through authorship
A global authority on speeding up learning and performance who can help you learn faster
Global corporate management professional
Check out Dr Raman K Attri's books at https://amazon.com/author/raman.k.attri. To find more about Dr Raman at http://ramankattri.com/ or explore some of the social media profiles https://linkedin.com/in/rkattri, https://twitter.com/rkattri, https://youtube.com/RamanKAttri and https://facebook.com/DrRamanKAttri or simply search Google.
WHAT THEY SAY....
"Dr. Attri delivered a thoughtful, insightful, enjoyable and practical sharing session on writing your first book."
- Peter Morgan, Crisis Management Expert, Hong Kong.