Description
Since the beginning, we have all been told that we should study hard, work harder and then our future will be guaranteed. But in reality is it really the case? I am sure we all know the answer; it is absolutely not the case!
We have seen many high-flying graduates who can't get a job or some who can't convince their boss for their well-deserved promotion.
A study done by the World Bank shows that Singaporeans with tertiary education now face the highest unemployment!
So then what is the problem? The problem lies in our in-ability to convince and connect with people, especially to people who matter towards our success in life.
While I have learnt how to do that through the hard way myself. My name is Lusi Lim and I came from a kampong in Indonesia to Singapore when I was just 15 years old. Not knowing a word of English didn't help me. I still remember me going around looking for a job while holding on to an Oxford dictionary. The lady boss of my first job was not kind to me either, knocking her knuckles on my head whenever she deemed fit.
Zooming forward 20 years to the present, I had already retired and was recently awarded as the Top 10 Outstanding Young Person Awards representing Singapore.
Women's Weekly Magazine also voted me as the most inspiring woman and below shows their article featuring how I made my first million by the age of just 27!

I truly believe that my success in life is because of my ability to even out differences and win votes. You will learn just that in this 1.5 hours seminar. You will find out more about the following, which are based on my personal practical experiences.
How to make sure your points are really being heard and understood?

How to win votes despite facing many objections?

How you can tap into individual differences and turn them to a powerful teamwork!

How to manage workspace competition and create a win-win relationship?

How to make the right but un-popular decision and yet winning hearts?


And so much more!
Below shows what people have to say after attending my course.
"Hi Lusi, my MD just offered me a full time position. I was initially worried because I didn't seem to get along too well with my DD. I would like to thank you so much as your course has helped me dramatically!"
Joshua Lee, Graphic Designer
"Thank you Lusi! I got my best ever performance grading in my company! I achieved all this because I apply what you taught me."
Zhen Xian, Engineer
"I used your 8 steps on my elder son to pack away his takeaway boxes after his meal. To my surprise, he totally agreed to my request. Your teachings work like magic!"
Joyce Ong, NUS Admin Support Staff Member
"By using the techniques taught in class, I managed to convince my supplier to provide me with the ice-cream box rental, which normally is not possible. Thank you so much!"
Bing Hui, Crepe Business Owner
"After learning and applying soft skills, I am extremely happy to announce that I just got my promotion! My manager is giving me more opportunities than before and I've been tasked with more challenging jobs! Big thank you!"
Lim Siew Mei, Account Executive
"I have learnt much more than I could ever imagine! There are many practical tips on how to handle many difficult work situations! Thank you!"
William Tan, Engineer
So what are you waiting for? Take action and signup this seminar now! Note that this seminar is based on a very well-received course that I conduct regularly. It is worth S$4,688!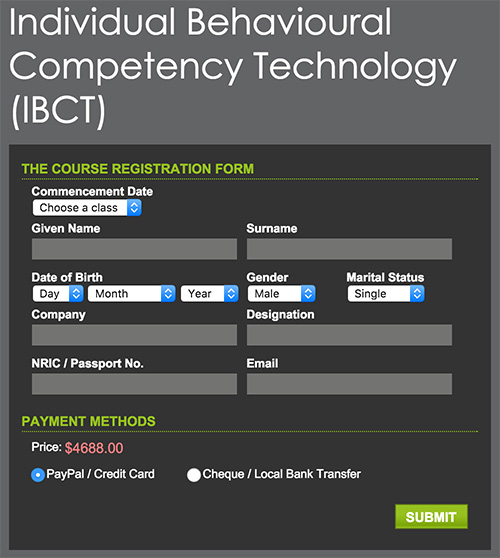 Payment screenshot from our website
How about if I tell you, for a limited period of time, this seminar is valued at only $19.90? Yes! You have heard it right; it costs less than your average monthly handphone bill. In exchange, you will learn soft skills that can help you win hearts and influences people. You will learn specific skills that are based on a four thousand dollar workshop! Only if you sign up right now by clicking the "Register" button above.
You can choose to leave this website right now, waste the last 10 minutes of your time reading and go back to your same old life. Take the same old actions and see the same old results. Nothings going to change!

OR

You are truly committed to bring huge success in your life and truly enjoy the happiness it brings you. Then I sincerely urge you to take the next small step in signing up this seminar.
Take action now and start winning votes that matter!
PS: Sign up this seminar where you will learn how to convince people to your side.
PSS: Why are you still reading this? This means you are damn serious about your success in life. I mean who else will read till the very last line. If so, I urge you to register right away and start influencing and seeing results.
Please take note that availability of seats in our seminar room will be on a first-come, first-served basis. So as to avoid disappointment, please come early or on time, as Lusi Group reserves the right to deny entry for late-comers.
Lusi Group values your privacy. In accordance with the DNC regulations, by and upon registration, you are consenting us, where necessary, to contact you with regards to the seating reservation and arrangement for this event only.