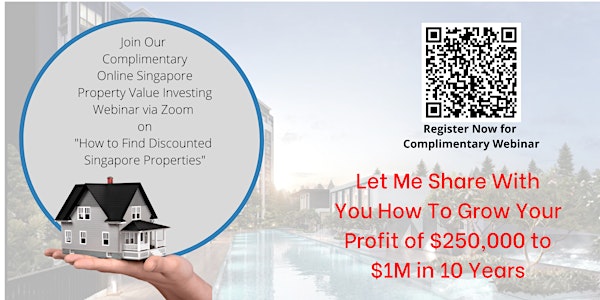 Multiple dates
How To Find Discounted Properties in Singapore
How To Find Value Properties in Singapore
Date and time
Wed, 12 Oct 2022 04:30 - Wed, 27 Dec 2023 06:30 PDT
About this event
Date & Time
Every 2nd & 4th Wednesday of the Month @ 7.30pm
Are you looking for Singapore discounted properties? Want to know how to grow your profit of $250,000 to $1M in 10 years? This is the webinar for you
Topics for Discussion
• Singapore Property Market
• Why is it that people who buy properties in "good" locations, but still lose money
• How do Government Policies Affect Singapore Property Prices
• Intrinsic value – Every property has an intrinsic value. If you buy above the intrinsic value you will suffer heavy losses. If you buy below intrinsic value, you will make supernormal profits.
• Every Financial Crisis in the World was a Currency Crisis. How did it affect the Singapore Property Prices.
• Take Action
Who should attend?
• Those who want to buy/invest in Singapore Property
• Those who want to make supernormal profits on their property purchase
• Those who want to know about the Singapore Property Market
• Those who have burning questions and want some answers related to their properties
• Those who are lost & don't know what to do regarding their properties
To know you better
• What attracted you to sign up for this workshop?
• What do you expect to be your takeaway after attending this workshop?