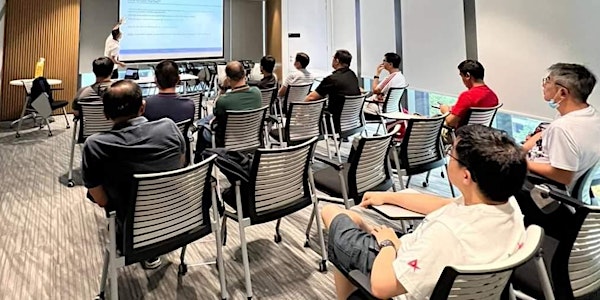 How to Instantly Start Trading Crypto Safely!
It is the HOW that you need to know to trade crypto safely and profitably. To learn more, you can register yourself for the workshop.
When and where
Location
VisionCrest Commercial 103 Penang Road, Level 8 Singapore, 238467 Singapore
About this event
IMPORTANT: This is NOT a sit and listen, hoping that you will know how to trade crypto after the workshop.
For each part being taught, you will instantly put into practise with proper guidance, to ensure you have digested well on what you have learned.
"Tell me and I will forget, show me and I may remember; involve me and I will understand." ~ Confucius
********************************************
Who am I?
My name is Mr K L Chua, was formerly the Founder of MATHS SPECIALIST, a multiple award tuition centre.
Since 1995, I have been giving maths tuition and started my MATHS SPECIALIST in 2003, just after my NS.
And eventually, in 2017, I closed my centres since I can afford to retire after I have gotten my two pots of 'gold' from bitcoin and ethereum.
Since then, I only taught maths to selected students privately.
More details can be found @ https://www.SgCryptoTrading.com
*******************************************
"𝘛𝘩𝘪𝘴 𝘸𝘰𝘳𝘬𝘴𝘩𝘰𝘱 𝘪𝘴 𝘴𝘱𝘦𝘤𝘪𝘢𝘭𝘭𝘺 𝘥𝘦𝘴𝘪𝘨𝘯𝘦𝘥 𝘵𝘰 𝘮𝘢𝘬𝘦 𝘴𝘶𝘳𝘦 𝘢𝘭𝘭 𝘢𝘵𝘵𝘦𝘯𝘥𝘦𝘦𝘴, 𝘦𝘷𝘦𝘯 𝘪𝘧 𝘺𝘰𝘶 𝘩𝘢𝘷𝘦 𝘻𝘦𝘳𝘰 𝘬𝘯𝘰𝘸𝘭𝘦𝘥𝘨𝘦 𝘪𝘯 𝘵𝘳𝘢𝘥𝘪𝘯𝘨, 𝘺𝘰𝘶 𝘤𝘢𝘯 𝘴𝘵𝘪𝘭𝘭 𝘢𝘣𝘭𝘦 𝘵𝘰 𝘳𝘦𝘮𝘦𝘮𝘣𝘦𝘳, 𝘶𝘯𝘥𝘦𝘳𝘴𝘵𝘢𝘯𝘥 𝘢𝘯𝘥 𝘢𝘱𝘱𝘭𝘺 𝘸𝘩𝘢𝘵 𝘺𝘰𝘶 𝘩𝘢𝘷𝘦 𝘭𝘦𝘢𝘳𝘯𝘦𝘥 𝘪𝘯𝘴𝘵𝘢𝘯𝘵𝘭𝘺, 𝘦𝘷𝘦𝘯 𝘪𝘧 𝘺𝘰𝘶 𝘥𝘰𝘯'𝘵 𝘸𝘢𝘯𝘵 𝘵𝘰 𝘵𝘢𝘬𝘦 𝘥𝘰𝘸𝘯 𝘢𝘯𝘺 𝘯𝘰𝘵𝘦." 
During this workshop, you will learn ...
(1) How to Read Charts Fast AND Accurate Even if You Are a Beginner
(2) Know Exactly When to Enter AND Exit the Market
(3) How to Know if there is a BULL Trap AND Make a Profit Out of it
(4) 3 Types of Candlesticks You Must Know to Start Trading
(5) How to turn a LOSS into Profit Strategically so that You Can Smile Again
..... and many more.
[𝗙𝗥𝗘𝗘 𝗕𝗢𝗡𝗨𝗦𝗘𝗦:]
BONUS #1: Join our Private Telegram Group for Free (Worth $10/mth) to continue learning, get update on Crypto News that will influence the market, what crypto you should look out for and etc.
BONUS #2: After the workshop, you will still be guided privately through whatsApp till End of December 2022, to ensure that you can start your first few trades safely with ease.
BONUS #3: As long as I am still running such workshop, you are always welcome to re-attend for NO extra charge.
*******************************************
For enquiries, feel Free to whatsApp 90-70-40-25
Website: https://www.SgCryptoTrading.com