How to Manage & Emcee Virtual Events Successfully
It's time to learn how best to manage and emcee virtual events successfully with on-the-spot practice in a Green Studio. HRD CORP CLAIMABLE!
About this event
Virtual or online events, with help of technology were slowly picking up progress when the pandemic hit us and many of us, especially Event planners, managers and organisers are thrown head-on to learn, use and apply these technologies at once. Many of us muddle through and we learn along the way as we apply these new technologies to our events, regardless if we want to or not.
Many of us thought we had time to learn, to explore and see how others do it
Well, we were caught…Some managed to catch up fast...but some of us struggled!
You will also get the chance to experience on-the-spot practice in a Green Studio with live simulated exercises with instant review & assessment
Now is the time to take this seriously and learn how best to manage and emcee virtual events successfully. You may not be the actual person doing it, but as a leader or the manager, you need to supervise your team. Even if you outsource to external parties, you need to understand the concepts and have some basic knowledge of virtual events.
So this is the best time, best place to learn...a place to learn, practice, make the mistakes and correct them before we go LIVE!
This introductory training workshop will provide you with the base info to help you get started!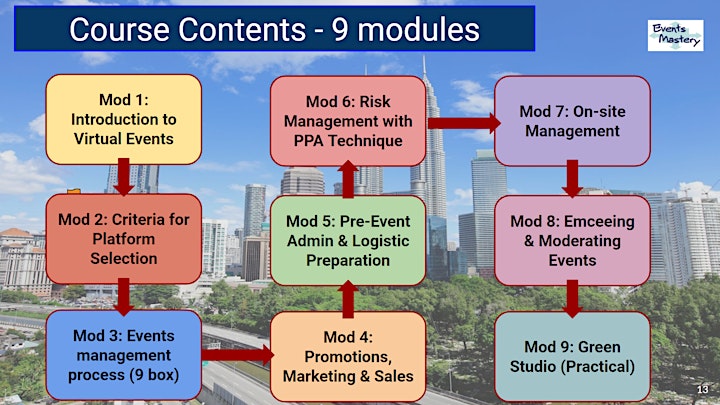 Next Workshop Dates: 28-29 Oct, 1, 2 & 12 Nov 2021
Time: 9:00 am - 1:00 pm
Venue: Virtual LIVE (via Zoom Meeting)
Please email support@eventsmastery.com to confirm your participation and for in-house (in-company) training needs. Thank you.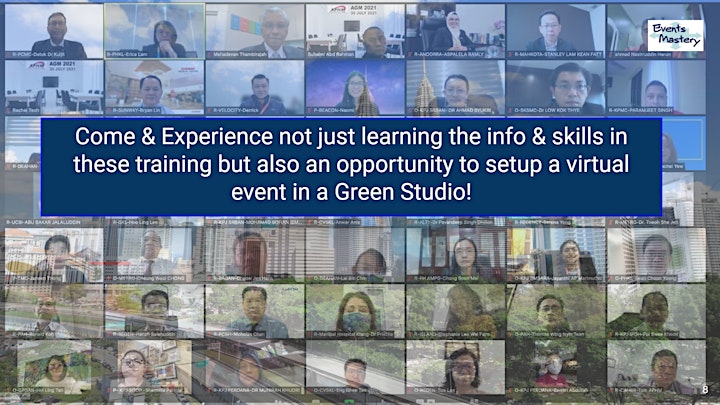 Organizer of How to Manage & Emcee Virtual Events Successfully
Our vision is to productize and provide quality and useful informative contents to individuals and corporations to help enhance their quality of life and for higher performance; through knowledge and skills enhancement programmes (events/products); in partnership with contents owners (authors) leveraging on both online and offline technologies, including events, training & coaching, elearning, books & publications and other infopreneuring products & solutions.
We work with contents experts to develop and promote more professional training and coaching programmes and help the content owners to provide such programmes to the local market especially in the areas of events management, branding, investment/ wealth creation, professional training, digital marketing/ social media/ mobile apps, wellness, and publishing/infopreneuring. We also help them to productize their expertise into formats that can be shared, including books, training materials, elearning, online products etc
Some of our current projects include
- Events Management & Master of Ceremonies programmes, products and services (with Quest Learning, Bright Consulting & Beacon Synergy). 
- The Certified Professional Trainer's programme is promoted on behalf of MasteryAsia/Quest.
- The SoLoMo workshop is promoted on behalf of NetProfitQuest Sdn Bhd
- Investment Talks on behalf of Dawnstar Pte Ltd (Singapore)
- Digital & Online Marketing on behalf of ClickEvents/World Internet Academy (SG & Mal)
- Wellness talks (SAB, Peace Clinic, Medical Qigong etc)
- Programmes on behalf of Institute Marketing Malaysia and many more
For more info, email marketing@eventsmastery.com or go to www.eventsmastery.com