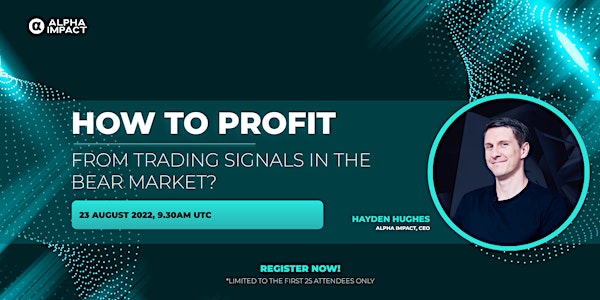 How to profit from trading signals in a bear market? | AMA
Join us in the launch of Alpha Impact's first monetization product - Signals Monetization.
About this event
This AMA is to introduce our newest feature on the Alpha Impact platform; Signals Monetization. Signals Monetization is Alpha Impact's first monetization product, allowing our traders to sell their trades and insights. Signals Monetization allows users to use our FOLO token to get access to updates, trades, and analysis from expert traders. To make this easier, we're excited to announce the launch of our token on the Polygon network. This means users will enjoy lower gas fees and increased utility.
Monetization
Signals Monetization will allow users to set a price for access towards a traders' portfolio, where subscribers can pay a small monthly fee to access expert traders' portfolio, charts and analytics, trades and other insightful data. We're hard at work on copy trading, the upcoming feature that will allow users to automatically copy the trades of our expert traders.
Event Details:
5.30PM: Introduction to Alpha Impact
5.45PM: Introduction to Signals Monetization, Tokenomics
6.00PM: Signals Monetization Demo
6.30PM: Future Outlook & Q&A
6.45PM: Networking Session
7.00PM: End