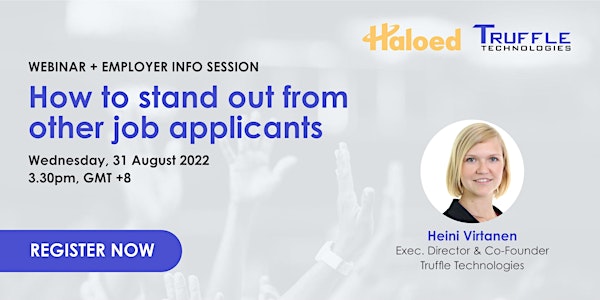 How to stand out from other job applicants – webinar & employer info sessio
Learn how you can increase your chances to stand out from the competition and get shortlisted by recruiters.
About this event
This is a learning and employer info session for university and polytechnic students and fresh grads in Singapore.
If you're looking for an internship or a job, join us to get tips how to stand out from other applicants with videos.
In this live webinar, you'll gain:
Insights into what recruiters are looking for in resumes and interview replies.
Knowledge about how to make a professional video resume.
Tips about how to answer interview questions.
We are also hiring and welcoming applications for various internship roles that are presented during the webinar. During the session, our previous summer intern will be sharing her experience of working as a Back-end Developer Intern for Truffle Technologies.
The link to the live webinar will be sent to your inbox within the confirmation email.
Learn more about the speaker, Heini, via her videos on Haloed.