How to talk so your kids will listen? Come & explore the pitfalls when we communicate with our children and take home useful & easy tips.
About this event
Synopsis
Coping with life's demands and helping your child achieve important milestones is a challenging process. It requires a great deal of patience, plenty of love as well as a good understanding of your child's needs. Often, frustration and conflict may arise when there is insufficient understanding and expectations aren't met. This talk will explore some of the pitfalls we should look out for when we communicate with our children and will also provide valuable advice on strengthening the bond between parents and children.
Speaker Profile
David Seah is a qualified Family Life Educator and Resource Speaker for Fei Yue's Family Central. He is also an Associate Counsellor at Lakeside Family Services (Jurong East Branch) and at St. Andrew's Cathedral Home for The Aged.
David has conducted several talks and seminars in private and public organisations, schools and childcare centres. David has a good sense of humour and his ability to engage and motivate his audience in a fun and humourous way has made him a very much sought-after speaker.
Fees: $10 (public); $8 (AJ parents/friends)
Sign up by 14 Jan 2020.
Quote "AJ#1" when you sign up for free ticket.
Contact us to sign up now!
6266 0422 / 8218 8650
info@amityjuniors.sg
Organiser of How To Talk So Your Kids Will Listen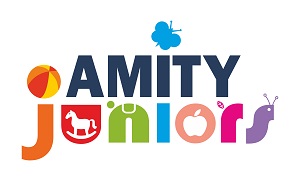 Amity Juniors offers both Full-Day and Half-Day programmes for children aged 18 months to 6 years old. 3-hour flexi-care programme is also available exclusively to the playgroup (aged 18 months to 2.5 years old).
At Amity Juniors, we believe that children are active learners and learning should be a 2-way process. Teachers act as facilitators in the children's learning and provide them with an enriching and meaningful environment for them to flourish. Learning is tied to real world connections, field trips and projects.
Amity Juniors is also part of the Amity Education Group is a leading global education group offering globally benchmarked education right from preschools to PhD level.