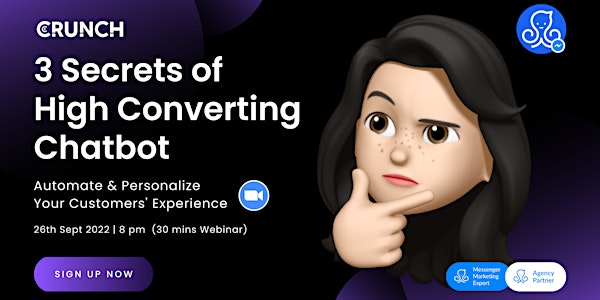 How to Use Automation & Chatbot for B2B Industry
In this sharing, you will learn the latest 3 strategies on how to use chatbots to scale your business online with lower operating costs.
About this event
Get more leads & sales with Chatbot Automation
Business is hard.
People are hard to manage.
Everything are increasing cost.
And it's hard to hire people now.
Automation is the only solution for all businesses.
Scale your business faster & better without relying on human
No more painful management.
No more headaches of your team missing in action.
Keep your team lean with automation & chatbot.
Get more leads and close customers with a reliable 24/7 automated sales machine.
Let the chatbot handle your common inquiries at night, so that your team can have the energy to focus on selling high-value products or services.
Come to our 1 hour online sharing, where we will share with you the latest PROVEN chatbot formula for the Malaysian market.
Where you will learn 3 tips:
#1 Proven HUMAN Formula - How to build a high-converting chatbot that converts cold leads to customers?
#2 Let the chatbot answer 70-80% of your common questions
#3 Chatbot copywriting secret that sells like crazy
All participant who attended the event will get a 94 pages FREE High Converting Chatbot eBook, which covers everything we used to generate over 7 million sales.
You will discover the secret of chatbot funnels that 98% of business owners ignore.
BONUS!
If time allowed, we will have a Chatbot Review session, where we will go through your chatbot flow and give some suggestions on how to improve it.)
Register now, limited for the first 99 sign up.