HOWDEN/AXIS: An interactive cyber table-top webinar - PREPARED FOR IMPACT?
An Interactive roleplaying tabletop exercise to illustrate the full dimensions of a cyber incident and the role of cyber insurance!
About this event
The pandemic year 2020, without a doubt, has helped accelerated business digitalization like never before. This has become the new normal for all businesses. No matter which sector these businesses are from – they are now bound into digital supply chains for their survival. With this in mind, the brazen hacker exploits of such supply chains over the last 12 months have left companies (large and small) scrambling for answers and solutions to mitigate potential technical and financial impact of cyber incidents (which more than ever can happen to any company) This webinar is designed to give the audience a "taste" of the struggles and choices various company departments could face - when responding to an actual incident - in an interactive role-play. We then unpack this scenario along with real world examples to discuss how cyber insurance has helped provide a realistic last line of cyber-defence for companies.
Designed for
• Audience: Busy Executives in Finance, Insurance, Risk, Compliance, Legal, IT security, or other CXOs concerned about what happens during a cyber incident and how cyber insurance steps in.
• Non Sector specific (although example used will be from manufacturing)
• Non-technical (well mostly)
• SHARE this invite with someone who could benefit from this webinar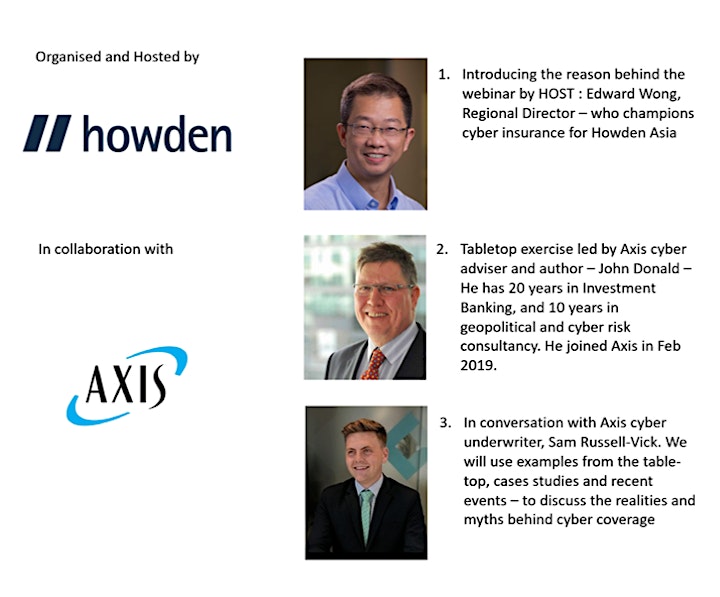 Organiser of HOWDEN/AXIS: An interactive cyber table-top webinar - PREPARED FOR IMPACT?