How's your Relationship with TIME? How You Spend Your Time, Tells You What You Value Most.
About this Event
HOW'S YOUR RELATIONSHIP WITH TIME?
Have you feel that you don't have enough time or wonder where did the time go?
How do you value time? Are you a good steward of your time?
How you spend your time, tells you what you value most.
"Your time is limited, so don't waste it living someone else's life."
"If today were the last day of your life, would you want to do what you are about to do today?" ~ Steve Jobs ~
WHO IS THIS FOR?
- Women who are good at multi-tasking but still find that you don't have enough time.
- Women who are tired of spiralling further down in the cycle of self-neglect.
- Women who would like to manage your time effectively so you can do the things you are passionate about.
- Working moms who are struggling to find quality time for your family and loved ones.
- Stay@Home moms who are so busy with taking care of the children and household matters that you find that you're losing your self-identity, your passion and dreams!
- Women who want to know how to plan and leave a legacy for your family and loved ones to ease their burden.
WHAT YOU WILL LEARN: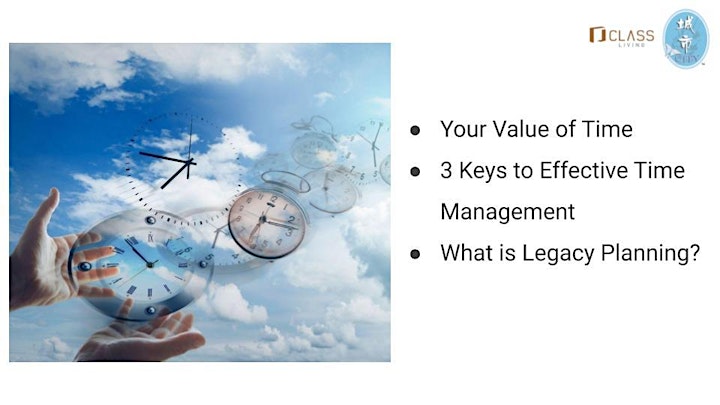 Better perspective of the value of your time
Be mindful of the time you spend for all your activities
Better management of your time
Start planning about leaving a Legacy for your family and loved ones
Know the basic instrument to plan for your Legacy.
THE SPEAKERS: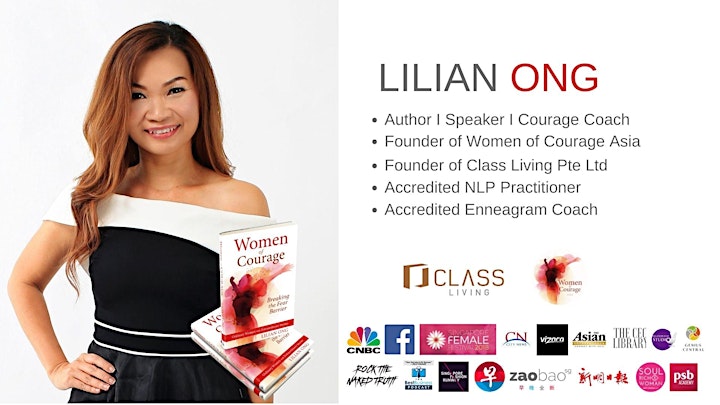 LILIAN ONG is the founder of Class Living Pte Ltd and Women of Courage Asia, which are women-empowering platforms. She is also an author, social entrepreneur, life coach, and speaker who has touched thousands of lives through sharing her story of Awakening Courage and Breaking the Fear Barrier.
She has volunteered in many projects around the region, including the Singapore Girls Home and Mercy Team Cambodia. But what most don't know is that for many years, Lilian struggled with self-doubt & fear; battled with postnatal depression, had body image issues and attempted suicide a few times.
Now Lilian focus her time in inspiring & empowering women by awakening their courage to live a life of Significance through Coaching, Mentorship and Community Support.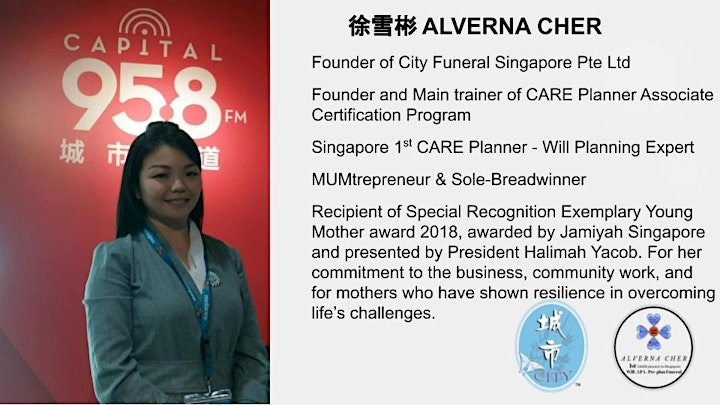 ALVERNA CHER is the Founder of City Funeral Pte Ltd and a Community Leader of Women of Courage Asia. She started her journey as an entrepreneur when she was 25 years old. After failing twice in business partnerships, she is now running two businesses and raising two daughters single- handedly.
Alverna Cher's motto of "Always Invest in Yourself," empowers her to continue upgrading herself. She is an accredited Facilitator with the "Focus on Family" in 2012, Certified Will Writer and Certified Grief Counsellor.
She is the 1st funeral director in Singapore to provide holistic CARE planning. She has been conducting Talks sharing Topics such as "What is a Will, LPA and Funeral Preplanning? What are the cost of the last journey and how to help ease the pain of the next of kin? as well as The Importance of Creating a Legacy.
She has also launched the CARE Planner Certification program in November 2018, to certify affiliate CARE planners on Will planning, LPA and funeral planning, helping more people to plan a legacy and earning a second income.
Alverna has also received a Special Recognition in the Exemplary Young Mother Award 2018 by Jamiyah Singapore, presented by President Halimah Yacob and was a Guest Speaker with Radio Love 97.2FM.
REGISTER NOW!
Enough being so busy like a bee but not being productive or wondering where did all the time go or feeling guilty for not spending quality time with your family and loved ones!
Let's set aside TIME to invest in yourself, to reflect and evaluate your relationship with Time. Take ownership of your time and know what you truly value. Start taking back the control of your Time! Start putting your Love in Action, for yourself and your loved ones!
*NOTE:
IN ORDER TO RECEIVE THE LINK & DETAILS, PLEASE MAKE SURE YOU SUBMIT YOUR ACCURATE PARTICULARS.