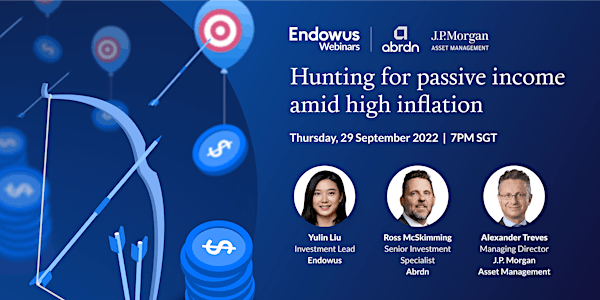 Hunting for passive income amid high inflation
Join Endowus at this webinar to find out how you can generate passive income in a steady way through our product suite.
About this event
Global inflation rates have been spiking with no end in sight. The Federal Reserve has also signalled its resolve in curbing higher prices through raising rates, and has done so aggressively in recent months.
In these times of uncertainty, those seeking out passive income may be stuck on choosing their investing options.
Join Endowus at this webinar to find out how you can generate passive income in a steady way through our product suite.
We've also gathered seasoned fund experts from J.P. Morgan and Abrdn to discuss how the rising rate environment will impact your current and future investments. Learn more about:
1. Why saving everything in cash is actually risky
2. How the latest Fed rate hike will impact your investment plans
3. The opportunities and risks of dividend equities in this environment
About the speakers‍
Alexander Treves, Managing Director, J.P. Morgan Asset Management 
Alexander Treves is the Head of the Investment Specialist team in Asia within the Emerging Markets and Asia Pacific Equities team, based in Hong Kong.
Alexander has 25 years of experience in the asset management industry. His previous roles include Head of Japanese Equities (Tokyo), Head of Indian Investments (Mumbai), and Head of Japanese Research (Tokyo) for Fidelity International. 
He also served for several years as an equity analyst and portfolio manager in London and Singapore for Merrill Lynch Investment Managers (formerly Mercury Asset Management). Alexander obtained a B.A. in History of Art from Cambridge University and is a CFA Charterholder.‍
Ross McSkimming, Senior Investment Specialist, Abrdn‍
Ross McSkimming is the senior investment specialist for the abrdn equity fund range, and is responsible for the commercialisation and development of the equity asset class. 
Ross works alongside the equity investment team and his primary role is to ensure that clients and consultants have clarity on the philosophy, process, and investment positioning of this growing asset class. By understanding the changing needs of different groups of investors, he is responsible for developing new equity strategies and customised investment solutions for wholesale and institutional clients globally. He has recently been involved in the development of the global equity franchise as well as the smaller companies business. 
Ross joined the company in 2000. Previously, Ross worked as the Head of Research at Scottish Life.‍
Yulin Liu, Investment Lead, Endowus
Yulin Liu is the Investment Lead at Endowus. Yulin focuses on investment due diligence and portfolio construction, and coordinates with other departments on investment-related matters. She is a member of the Investment Committee and is passionate about making investing more accessible and easier for individuals.
Her most recent role was with AQR Capital Management, where she served major institutional investors across Asia in their investment and portfolio monitoring needs.
Yulin holds a Masters in Financial Analysis (Distinction) from London Business School, and a MEng in Engineering, Economics and Management (First Class Honours) from the University of Oxford.