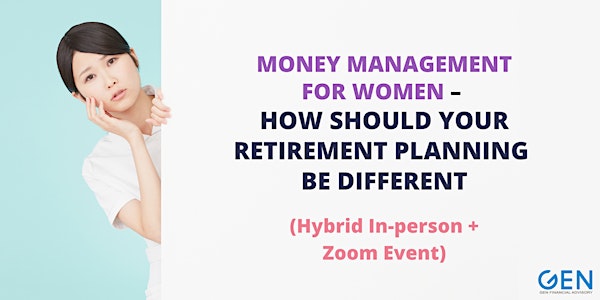 Hybrid Event For Women - How Should Your Retirement Planning Be Different
Retirement planning for women should be different.
When and where
Location
GEN Financial Advisory @ Capital Tower 168 Robinson Road #13-03 Singapore, 068912 Singapore
Refund Policy
Contact the organiser to request a refund.
Eventbrite's fee is nonrefundable.
About this event
Money Management For Women – How Should Your Retirement Planning Be Different (Hybrid In-person + Zoom Event)
Retirement planning for women should be different.
A recent study found that on average, women will accumulate less retirement assets than men yet a woman is likely to live longer and by default, needs more assets than the average man.
How can you be confident of your retirement future if you use standard retirement planning strategies that will likely leave you with less funds to provide for a longer life?
Retirement planning goes beyond buying just savings and investment products and buying (or paying) more does not mean that your plan is better. The way you plan (i.e. how you customise the products available for your unique circumstances) is key for you to have a retirement that you can financially enjoy.
How should a woman's retirement plan be different?
I specialise in retirement planning for women and these are the 3 specific areas in the planning process that I've adapted for women clients:
• Planning For Major Financial Risks Unique To Women
• Using A Strategy Based On Having Balance In Different Phases Of Life
• Setting Up The Retirement Plan To Suit Women's Preferred Retirement Lifestyle
This program is designed to help women kick-start their personal retirement planning by packaging learning, planning and organisation of retirement planning matters into one blended experience.
Specifically, this program will cover the following topics:
- Understanding The 5 Major Financial Risks for Women
- An Introduction on How Retirement Planning Should Look Like in Singapore
- The Unique Retirement Strategies for Women
- Retirement Clarity Checklist (For in person attendees only)
- Q & A
You have the option to attend this program in person at our GEN office (limited to first 8 only). If you are attending in person, I will personally lead you through a retirement clarity checklist worksheet to help you navigate through the 10 most important decisions to get right in retirement planning.
All in person attendees will also receive an exclusive GEN door gift.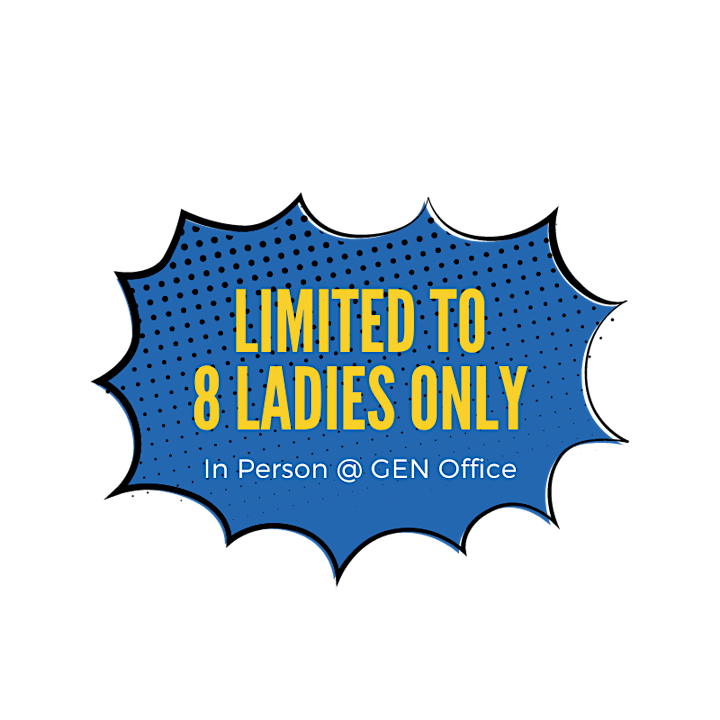 Personal Note from Speaker:
Why am I doing this webinar?
From my observation, the awareness of financial products and services has increased and people are more aware of what is available in the market. But if financial literacy is defined as having the skills and knowledge to make effective financial decisions, I think that women display less financial literacy than men.
It is not because financial concepts are so difficult to understand but rather, it is because most women don't have the time to do all the required learning as our lives are getting more complex and time-starved. Only when there is a trigger such as major change in life situation such as getting married, buying a property, having children or nearing retirement will they then have the urgency to do research or seek advice.
Even then, it is not uncommon for me to see them "skip the planning and go straight to the product" approach because they want to get it done and move on. This is something that I can very much relate to, being a woman myself.
One potential implication is that we end up making the wrong investment or buy the wrong product not because the investment or product is not good but because it does not fit our own unique financial situation. Hence, I am doing this webinar for women during their pre-retirement phase to start on their financial planning journey by being educated on practical and real-life retirement planning concepts and issues.