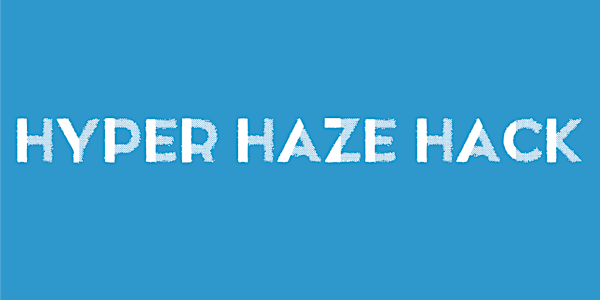 Hyper Haze Hack
By WAN-IFRA, Newsplex Asia, Online News Association (Singapore), Hacks/Hackers Singapore Chapter
Date and time
Tue, 13 Oct 2015 09:00 - 18:00 +08
Location
Google Singapore Auditorium 8 Marina View, Level 29, Asia Square 1 Singapore, 018960 Singapore
Description
Dear potential participants,
As we have reached the maximum capacity of the venue, we have stopped ticket sales for this event.
Thanks for your support and see you on Tuesday!
Singapore's Pollutant Standard Index (PSI) hit its highest point in two years recently, with many schools cancelling outdoor activities and people staying indoors. So we are looking to build novel and practical applications on the seasonal haze situation that blankets Singapore every year.
We are bringing together developers, bloggers, environmental organizations and media associations in an unprecedented civic hack to enhance our media reporting and response to the haze through the use of data.
Key Objectives
Participants in the one-day haze-a-thon, on October 13, will be challenged to develop solutions, tools, widgets or apps that will enhance media reporting and citizen's responses to the haze. Proposed solutions could address some of the following challenges:
●Forecast weather movements
●Deliver objective, trustworthy PSI figures
●Send timely alerts to residents
●Help citizens to take adequate decisions and actions
●Improve public education
Who Should Attend?
●Developers
●Designers
●Data visualizers
●Students
●Bloggers
●Media
●Environmental experts
●Governmental agencies
●Non-governmental agencies
Check out http://www.hackathon.io/hyper-haze for the rules of this hackathon!
About the organiser
WAN-IFRA
The World Association of Newspapers and News Publishers, or WAN-IFRA, is the global organisation of the world's press, representing more than 18,000 publications, 15,000 online sites and over 3,000 companies in more than 120 countries.
The organisation was created by the July 2009 merger of the World Association of Newspapers and IFRA, the research and service organisation for the news publishing industry. The two organisations have a 110-year history between them as the global representatives of the world's press.
 WAN-IFRA Asia Pacific is the wholly-owned subsidiary of WAN-IFRA. Established in 1998, it aims to bring WAN-IFRA's expertise and services closer to its members operating across the vast Asian continent as well as to serve as the neutral and open platform for suppliers wanting to highlight their products, technology, solutions and services.
Newsplex Asia
Newsplex Asia is the result of a collaboration between Nanyang Technological University (NTU) and the World Association of Newspapers and Publishers. It is the first Newsplex in Asia and the third in the world, after South Carolina (USA) and Darmstadt (Germany).
 Located at the Wee Kim Wee School of Communication and Information in Nanyang Technological University, the 160-square-metre media lab brings the various media platforms together in one convenient, collaborative space. The culmination of careful planning and state of the art technology, it enables and empowers journalists, editors, designers and developers to create and communicate in the most efficient ways possible in order to deliver content speedily and seamlessly.
Online News Association (Singapore)
The Online News Association is a leader in the rapidly changing world of journalism; a catalyst for innovation in story-telling across all platforms; a resource for journalists seeking guidance and growth, and a champion of best practices through training, awards, community outreach.
 Since 1999, ONA has been at the forefront of a truly revolutionary age in digital media. The programs and services we provide help digital journalists in news organizations around the globe and across the corporate, independent and non-profit sectors adapt to the changing environment. Our mission, inspiring innovation and excellence among digital journalists to better serve the public, has never been more important.
Hacks/Hackers Singapore Chapter
The worlds of hackers and journalists are coming together as reporting goes digital and Internet companies become media empires.
 Journalists call themselves "hacks," someone who can churn out words in any situation. Hackers use the digital equivalent of duct tape to whip out code. Hacker-journalists try and bridge the two worlds.
 This group is to bring all these people together -- those who are working to help people make sense of their world. It's for hackers exploring technologies to filter and visualize information, and for journalists who use technology to find and tell stories. In the age of information overload, all their work has become even more crucial.