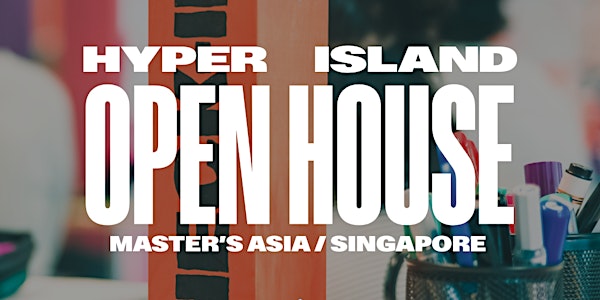 Multiple dates
Hyper Island Master's in Digital Management | Open House
Unlock the potential of a Hyper Island Master's degree, and explore how it can prepare you for future success - no matter what.
Date and time
Mon, 5 Dec 2022 19:00 - Thu, 15 Jun 2023 19:00 +08
Location
Hyper Island in Singapore 991B Alexandra Road #03-08/11 Singapore, Singapore 119970 Singapore
About this event
"In times of change the learners will inherit the world, while the knowers will be beautifully prepared for a world that no longer exists." - Eric Hoffer, Philosopher
In this 60-minute information session, you will find out how a Hyper Island Master's in Digital Management is a transformational learning experience and can help you thrive in the future.
Our Asia's Master's Programme in Digital Management is an open invitation for those willing to form a robust and holistic response to this new age, embracing the possibilities of the future and making work, well, work for everyone. This an executive level, part-time accredited programme designed by Hyper Island and awarded by Teesside University UK.
The Master's programme is designed for you to transform, explore and adapt to these challenging times. This is your opportunity to become a new kind of leader, shift into a new career and widen your field of knowledge in innovation, leadership and digital technology.
You will:
Get a complete overview of the Hyper Island Master's programme and what it entails
Understand your eligibility for funding under the IBF Standards - Training scheme (IBF-STS*)
Meet with Programme team and Alumni, who will be happy to answer any questions you have about the programme and their experience studying at Hyper Island
Gain insider tips about making the most of your time at Hyper Island
Seats are limited! Save your place early.
Starts at 18:00 SGT time. Doors will open at 17:30. Light refreshments will be served.
See you there!
* Funding eligibility for Singaporeans and Permanent Residents only. Subjected to IBF funding criteria. T&Cs apply.
About the organiser
Hyper Island is a creative business school that combines design, technology and business.  Our mission is to empower individuals and organisations to learn, adapt and lead in a world of constant change. 
We offer public programmes which are certified & funded as well as a part time Masters in Digital Management.  We deliver many of these programmes for our global clients inhouse.  We offer consultancy services and deliver other bespoke, blended learning journeys for a company's sepecific training requirements around human capital and business transformation.

We're building a new learning community for the digital world in Singapore and globally in our other campuses in Stockholm, Karlskrona, Manchester, New York and Brazil.   Come and join us!