HypnoMothering for Mothers with age 0-18 months
About this event
What Moms Say . . .
"It was superb and just at the right time. I had been feeling burnt out and overwhelmed by parenting. The HypnoMothering class taught me relaxation techniques that I was able to use immediately."
"I love knowing that I now have the tools and resources in my mommy tool belt to deal with little sleep, frustration, feelings of inadequacy, and exhaustion! This was a wonderful course and I would suggest it to anyone whether they were expecting their first or fourth child."
"I really really enjoyed it. The all-female environment allowed us to let our guard down, and provided a certain intimacy that is lacking in parent groups."
HypnoMothering for Mothers with age 0 -18 months
The Best Self-Care Gift for Moms on this coming Mother's Day.
This wellness and mindfulness workshop is designed to help mothers find calm, balance and energy in motherhood.
Fun, relaxing and practical classes that teach moms easy and fast techniques to navigate through motherhood blissfully.
✅ find calm, balance and energy in motherhood even on challenging days
✅ learn techniques to navigate through parenting blissfully and make the most of your limited sleep
✅ find focus and mindfulness amidst the myriad of feelings that mothers face especially during this COVID-19 period.
Give yourself a treat. Reconnect with yourself this Mother's Day.
Class Format: 2-weekly sessions x 1.5 hours per class
Participants: Mothers Only
Fee: $150 (regular price $200)
Min 4 to start
May Sessions
May 19, 26 (Wed)
7.00pm-8.30pm
June Sessions
June 18, 25 (Fri)
7.00pm-8.30pm
What will you bring home?
Parent Handouts
Exclusive series of audio tracks for relaxation, stress reduction, and child bonding exercises.
Easy and fast techniques to navigate thru motherhood daily with ease.
Mindful Space
97837313
https://www.mindfulspace.com.sg/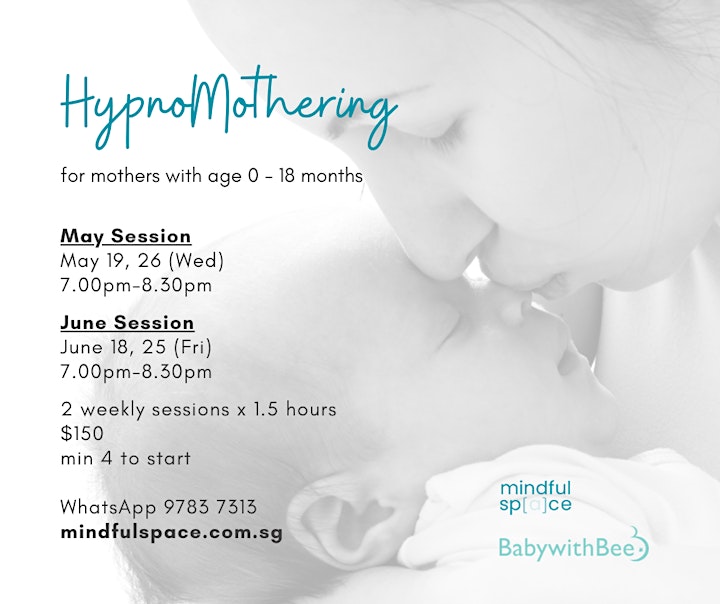 Organiser of HypnoMothering for Mothers with age 0-18 months
Holistic and inclusive space to empower parent & child with life skills - develop & balance the mind (IQ), body (PQ), emotions and behaviour(EQ).
We believe in order to support the child, we must first support the parent.
1. Parent's Well Being
2. Parenting Knowledge & Skills
3. Parent's bonding & learning with their child
OUR SERVICES:
Parent & Child Classes
Kids Enrichment
Yoga & Fitness
Life Coach
Business Coach
Family Consultation 
Parenting Workshops 
Teacher Trainings
Corporate Events
Holiday Programmes