i2i Series: Journey from Ideas to Innovation
Event Information
Location
Ngee Ann Polytechnic
Block 58, Level 1, Lecture Theatre 58A
535 Clementi Rd
Singapore, 599489
Singapore
Description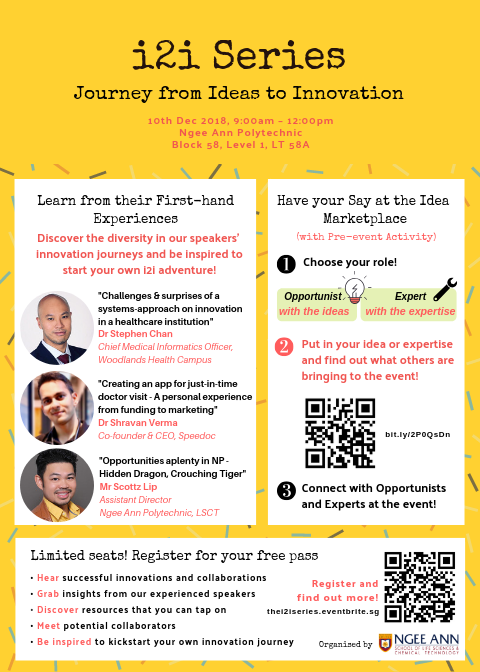 LEARN FROM THEIR FIRST-HAND EXPERIENCES
Why is innovation necessary? How do we get the big ideas? How can we overcome obstacles? Where are the resources we can tap on? Tune in to Dr Stephen Chan, Dr Shravan Verma, and Mr Scottz Lip as they share with us their personal innovation journeys. Be inspired to start your own i2i adventure!
HAVE YOUR SAY (WITH PRE-EVENT ACTIVITY)

Are you an "Opportunist" or an "Expert"? Choose your role, and join us at the Idea Marketplace, where conversations happen!



If you already have an idea that you'll like to collaborate on, you are an "Opportunist"! If you do not yet have an idea, fret not. Just come along and join in the conversations, because you might find others with similar views!




If you have expertise in any field, you are an "Expert"! We want you in our Idea Marketplace to share your knowledge and skills, as Opportunists may benefit from hearing your "Know-Hows"!




Put in your Idea or Expertise on our padlet (bit.ly/2P0QsDn) and find out what others are bringing to the event!


At the event,



Spot the Opportunists (with their red stickers) & ask them what ideas they have!


Look for the Experts (with their blue stickers) & check out their expertise!
REGISTRATION:
This event is free to attend. Seats are on a first come first served basis.
Get ready to mingle with your Idea or your Expertise - RSVP as an "Opportunist" or "Expert"! You can also opt to be "Both"!
BENEFITS OF ATTENDING:

Hear successful innovations and collaborations
Grab insights from the experienced
Discover resources that you can tap on
Meet potential collaborators
Be inspired to kickstart your own journey
EVENT DETAILS:

Date: 10 December 2018, Monday
Time: 9:00am to 12:00pm
Venue: Ngee Ann Polytechnic (535 Clementi Rd, Singapore 599489), Block 58, Level 1, Lecture Theatre 58A (Google pin: https://goo.gl/maps/fP6q4ziBFm62)
EVENT SCHEDULE:

09 00 - Registration & Breakfast

09 30 - Seeing from a bird's eye view: Challenges & surprises of a systems-approach on innovation in a healthcare institution by Dr Stephen Chan, Chief Medical Informatics Officer of Woodlands Health Campus
09 50 - Seeing from a community's perspective: Creating an app for just-in-time doctor visit - A personal experience from funding to marketing by Dr Shravan Verma, Co-founder & CEO of Speedoc
10 10 - Seeing from an individual's angle: Opportunities aplenty in NP - Hidden Dragon, Crouching Tiger by Mr Scottz Lip, Assistant Director of School of Life Sciences & Chemical Technology, Ngee Ann Polytechnic
10 30 - Panel Discussion: Starting your i2i Journey with Dr Stephen Chan, Dr Shravan Verma & Mr Scottz Lip
11 00 - Idea Marketplace - where conversations happen: Connect with Opportunists and Experts during Tea Reception
12 00 - End of session
Date and time
Location
Ngee Ann Polytechnic
Block 58, Level 1, Lecture Theatre 58A
535 Clementi Rd
Singapore, 599489
Singapore