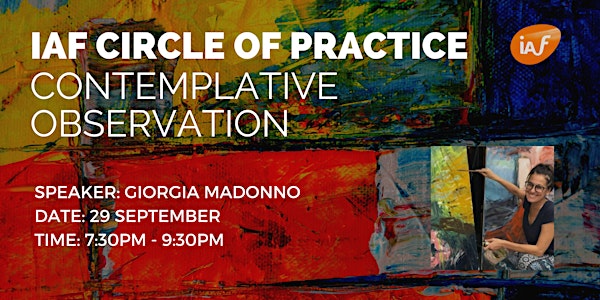 IAF CoP - Contemplative Observation
Train yourself to navigate complexity, develop your emotional intelligence and creativity, connect with your inner self
About this event
In a world and business environment where the problems are complex and not only complicated, the exclusively logical and efficiency-based approach of the left brain is no longer enough and we must begin to take care, develop and use more our right brain and its creative and interpersonal abilities too. Unfortunately, people are not much used to it. That is why we have developed an art-based learning approach where we leverage artistic metaphor to train the right hemisphere of the brain.
In this session you will experience a technique called contemplative observation: a new way of looking at a painting where the artwork is used as a mirror of our inner self and stimulates deep conversations among participants and sharing of insights and different point of views. By doing so participants will develop their empathy and sensitivity, practice generative dialogue and active listening and learn how this can enhance co-creation and interpersonal relationship: all very critical aspects for any facilitator, manager and person.
Intro: Why art exposure can be helpful in a complex environment and how art can help training our right brain
Artistic Check In
Contemplative observation of the painting
Facilitated discussion among participants
Key Takeaways and applications in your profession & life
Checkout
This is a special highly discounted rate session brought to you by IAF Sg Chapter, with kind courtesy of Giorgia Madonno, an accomplished OD practitioner, facilitator and professional painter. She resides in Singapore since 2014 but temporarily back in Italy.
Speaker: Giorgia Madonno
After 15 years in the company as HR Director, she founded Marco Polo Consulting, a consulting company in organizational development, transformation and innovation that operates from Hong Kong all over the world. She has a double degree in communication from the universities of Turin (Italy) and Lyon (France). She was a professor at the EMBA of MIP / Tongji University in China in Organizational Behaviours and Human Resources.
As an artist she creates works that investigate the meaning of "being human" and its transformation process or, she captures the essence of the cities in which she lived and travelled. She is also a Graphic Recorder and teacher of creativity and art and has developed the "Art4Transformation&Creativity methodology for the development of emotional intelligence and creativity."
IAF Singapore
IAF Singapore is a local chapter of the International Association of Facilitators (IAF). IAF Singapore is committed to promoting facilitation as a professional practice, educates on the power of facilitation to harness the greater potential of people to create social change in society, and supports a network of professional facilitators and practitioners in the field within Singapore.
http://www.iaf.sg/