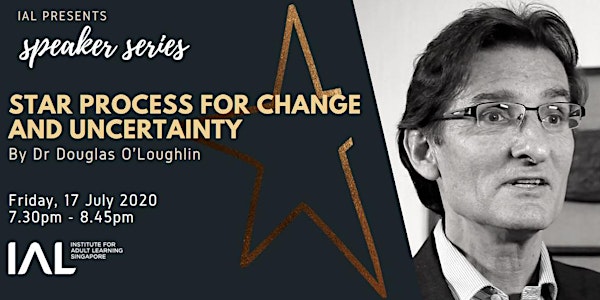 IAL Speaker Series: STAR Process for Change and Uncertainty
Learn how to adapt this approach, founded on principles of organisational development, to prosper in the face of change.
About this event
What is this topic about?
STAR stands for:
Start with Emotions
Take Stock of Current Situations
Aspire for Positive Possibilities
Resources and Support in place
In this session, learners will take a deep dive into the STAR process, a practical and powerful dialogic process, which integrates a number of OD principles and tools they can use when working with people / organisations who are going through times of change or uncertainty. In today's dynamic environment where our living and working environments are presented with unprecedented situations, it is important for people and organisations to have some methods to check in on realities and rethink their viability and possibilities for the future.
The session offers practical tips, with a chance to work through your own STAR process, connect with others during the session, and learn a framework that you can modify and use.
Who is it suitable for?
Anyone who wants to learn a dialogic process they can use to support groups through times of change and uncertainty.
About the Speaker
Dr. Douglas O'Loughlin has been in the field of OD since 1988. His PhD research was on how the frameworks and tools of Adult Developmental, Psychology, Action / Leadership Logics and Action Inquiry, can impact Personal and Organisation Development. He has also written "Facilitating Transformation: 12 Strategies for Creating Breakthroughs with Groups" as a way to share what seems to be working as a consultant/facilitator.
Registrations via IAL Website will also be made available.
Both Eventbrite and IAL Website registrations will close on 16 July 2020, Thursday, 12pm.
Details of the webinar will then be sent to successful registrants on 16 July 2020.