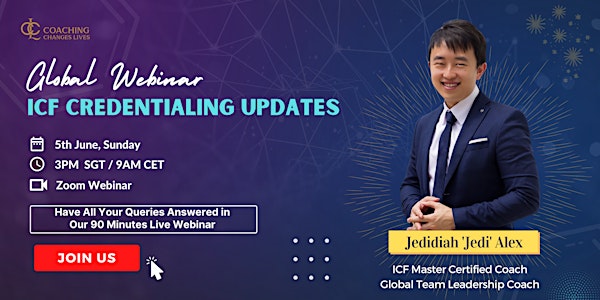 ICF Credentialing Updates led by MCC
Join Us for a 90 mins Live Webinar to Get All Your Questions Answered Regarding the Newest Important ICF Updates
About this event
Dear Coach,
You might have heard that ICF has announced a few important updates to advance their credential process. These updates aim to ensure the highest standards in professional certification practice, support and elevate ICF Credential-holders, and offer important quality assurance for coaching consumers.
At Coaching Changes Lives, a coach education organization that fully supports all the coaches to learn and grow, we have prepared this 90mins webinar led by Jedi, MCC to walk you through all the changes in the three areas below :
1. Updated Credential Application Paths
2. Updated Performance Evaluation Criteria
3. Launch of the New ICF Credentialing Exam
This webinar will be led by Jedidiah 'Jedi' Alex, ICF MCC. Connect with Jedi here.
If you are a coaching practitioner, you can also find a lot of learning resources on our YouTube channel and LinkedIn.