ICF Transformative Neuro Linguistic Programming (NLP)Coaching Certification
ICF Transformative Neuro-Linguistics Programming (NLP) Practitioner Coaching Certification
About this Event
ITA Transformative Neuro-Linguistics Programming Practitioner Coaching Certification
The ITA Transformative NLP Coaching Certification Program that is taking the world by storm!
The program consists of 2 modules spread across 10 days.
Module A: The Communication Advantage: 5 days
Date: 15 - 19 March 2021
Time: 9AM - 5PM (GMT +8)
Module B: The Linguistic Advantage: 5 days
Date: TBC
Both modules are non-sequential and completed in either order. We recommend participants to sign up for the complete program (Module A and B) though this is purely optional.
Just imagine, having NLP tools at your fingertips enabling you to create inspiring and lasting changes for personal excellence. Imagine being able to easily break through barriers and orchestrate and actualize really appealing goals.
You will integrate masterful communication skills to connect and engage effectively with others. Just suppose you could become a fantastic communicator and build rapport for positive influence and inspire meaningful change .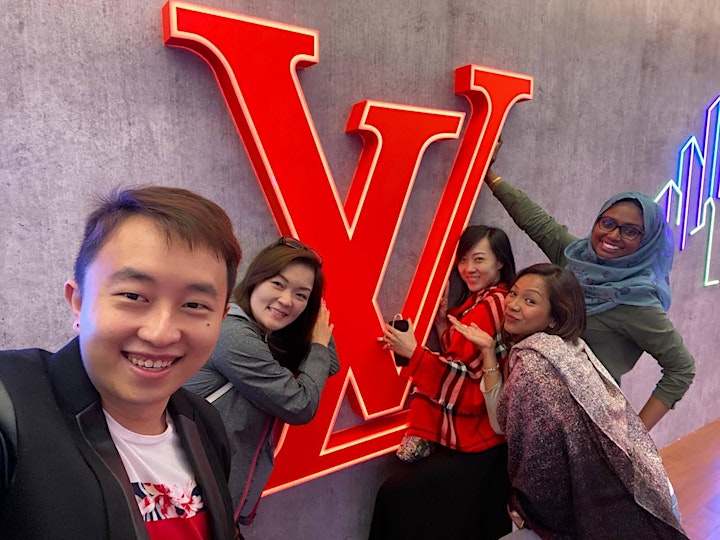 Values of Neuro-Linguistic Programming
1. Personal Growth and Breakthrough
Neuro-Linguistic Programming sets the foundational work for you on your personal development. Through the process, you gain deeper awareness of how you learn and process life encounters. Experience first hand how NLP can be used to form successful habits and patterns of success and excellence.
2. Coaching Process and Journey
Integrate established NLP principles into your coaching process. Discover NLP coaching methodologies, frameworks, and systems to create powerful coaching conversations that are productive and effective for your team and clients.
3. Professional Coaching Standards and Ethics
The certification program follows the professional guidelines established by International Trainer Academy (ITA). The modules are designed as a systematic approach with active and blended learning to empower you to become a certified NLP Practitioner.
This is also an International Coaching Federation ACSTH program where you will get coach specific training hours during the entire program. You may choose from either module or both to work towards the training requirements. There will be a 20hour online group coaching sessions after the live program. 
Receive an ICF Coach Certification after the successful completion of the program. 
4. Grow Your Leadership And Coaching Competencies
As you progress on your journey to becoming a certified practitioner, you will gain deeper awareness and clarity of your leadership and coaching philosophy. We use the 3 'A's approach to help you gain depth of coaching competencies. 1) Awareness – creating awareness in self and coachee, 2) Adapt – creating shifts in beliefs to adapt new solutions, 3) Assess – measure the results and accountability of progress.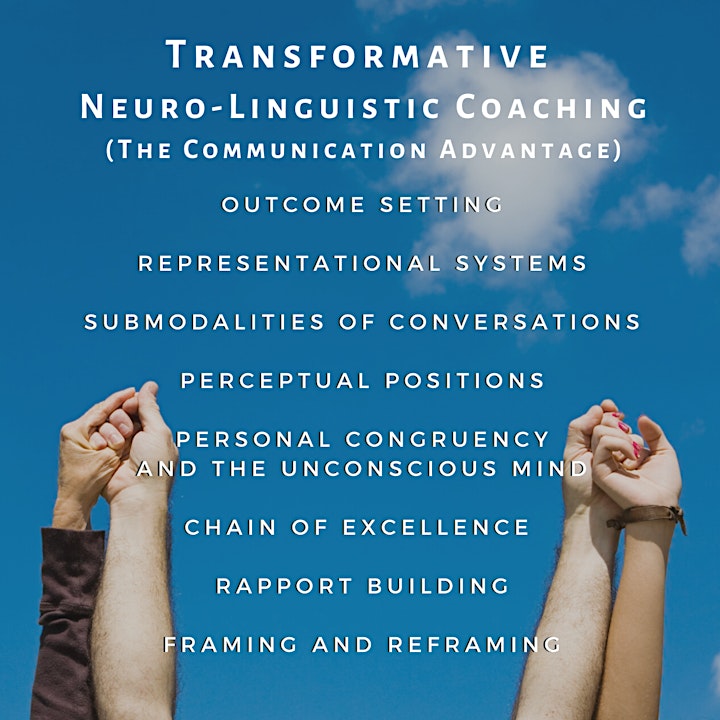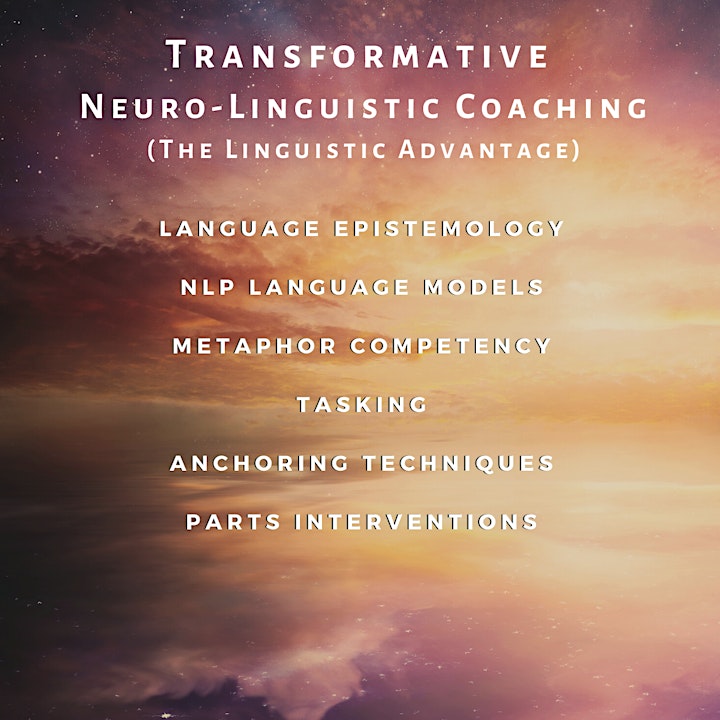 Learning Experience
The program is an inductive learning and coaching experience. The class size is restricted to small groups of 10 – 15 pax to ensure maximum engagement with the participants for quality learnings.
International Recognition
While there are many NLP associations around, the ITA NLP is the gold standard of NLP education, lead by the co-founder of NLP Dr John Grinder. The NLP program is approved and is recognized for its high standard in inductive learning and experience.
International Trainers Academy of NLP (ITA)
The International Trainers Academy (ITA) is the worldwide gold standard governing body in Neuro-Linguistic Programming education. The mission of the ITA is to continually improve the quality of NLP Training industry-wide by ensuring ITA Certified Trainers have received the highest standard of training, passed the most rigorous testing in the industry, and are enrolled in continuing education before offering NLP courses to the public. ITA NLP Trainers are a highly exclusive group who have been trained and awarded certification personally by NLP co-creator Dr. John Grinder and New Code NLP co-developers, Carmen Bostic St Clair and Michael Carroll. Practitioner Certifications issued through ITA accredited Trainers ensure the highest level of excellence in training and will carry the signatures of Dr. John Grinder, Carmen Bostic St Clair, and Michael Carroll.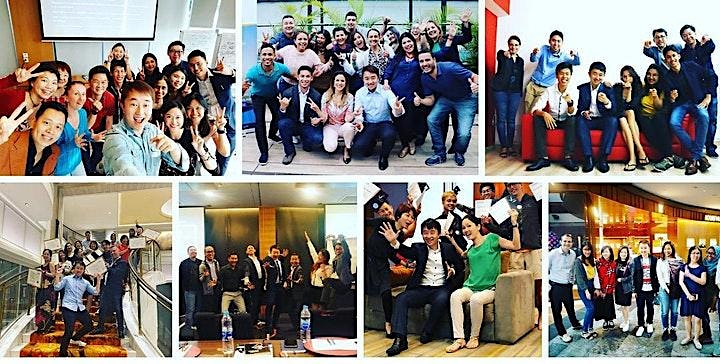 Coaching Changes Lives Advantage
To ensure that all objectives of the course match yours, Coaching Changes Lives' programs are developed after intensive and extensive research within the industry. The programs focus on your immediate working issues to ensure that you are able to apply and deliver immediate results in real work situations. Application and implementation of industry knowledge and experience are the drivers for our course design, not theoretical academic lectures. The training focuses on practical interactive learning tools and techniques including case studies, group discussions, scenarios, simulations, practical exercises, and knowledge assessments during the course. Invest a small amount of your time to prepare before attending the course to ensure maximum learning.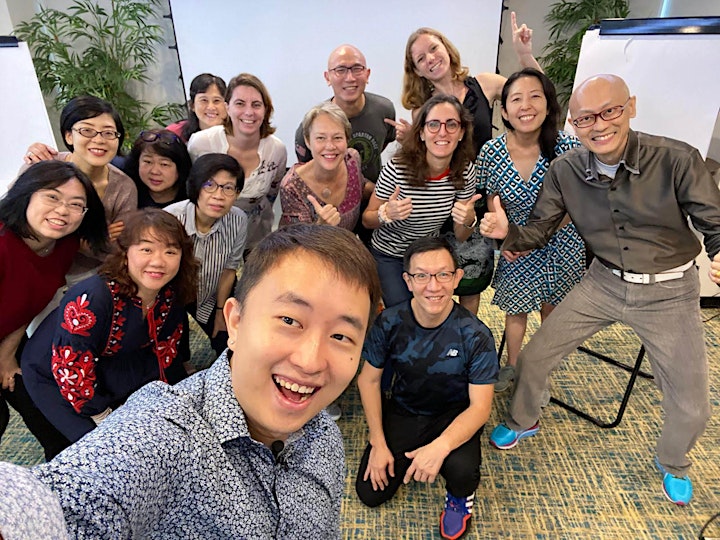 Testimonials
Attending Jedi's program both for Mastery in Coaching and NLP made me realize the heart he has for us, the learners. He truly embodies the commitment to grow each one of us and support our learning in powerful ways. He doesn't hold back in his sharing and demonstrates the power of masterful conversation. He challenges us to rise above ourselves and yet be comfortable with ourselves. It's an experience that will both inspire and transform. The outcome far exceeds what I expected at the beginning of his programmes. My mind is opened and now I am motivated to keep learning.
Roger Poh,
Director and Corporate Advisor, Singapore
Signing up for the ICF Certification by Coaching Changes Lives is by far the most rewarding things I have ever done. I have been always wanted to be a coach and I came across Jedi from Event Bright. Completed the course with lots of awesome knowledge, confident and stronger than ever, equipped with the right tools, and practical tips on how to be a Great Coach. I'm proudly said that this is one of the best training I ever attended in my life. Definitely looking forward to upgrade myself with more training with them. Thank you Master Jedi. Lastly, Thank you Wilson for your amazing support and motivation, without you I won't be joining the training.
Aishah
Professional Life Coach, Dubai
Quality training, professional organisation, awesome and knowledgeable master coach, super friendly approach, best value for money. Definitely the best choice I have made. Highly recommended!! Thank you for changing my life!
Ilona Bruyanszki
Sports Manager, Gymnastics Coach
Jedi demonstrated active learning strategies, effective inductive learning and unique Guru charisma in his training. The transformation journey is simply enjoyable and fulfilling!
Shina Lye
Regional Sales Manager, Siemens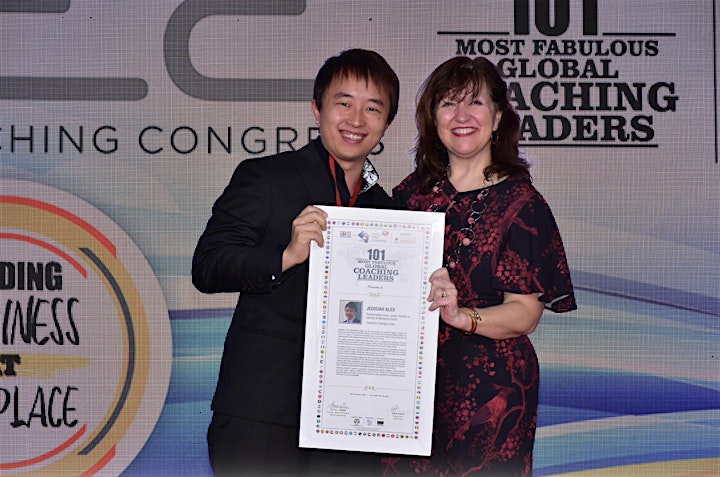 Your Lead Master Certified Coach Trainer
The program will be led by ICF Master Certified Coach (MCC), Jedidiah Alex Koh with a team of  Coaching Specialists to enable you to achieve your credentialing. He has recently been awarded top 101 Global Coaching Leaders at the World Coaching Congress 2020 and is also featured in Forbes Coach Council.
Jedidiah is the Exponential Coach. He has empowered and equipped leaders, coaches, and influencers from across 5 continents with the Art and Science of Conversational Mastery. He is the founder of Coaching Changes lives International with presences in the USA, Latin America, and Asia, focusing on cross-cultural diversity and leadership in a VUCA world. With over a span of 13 years of coaching and impacting lives, he has been actively helping individuals and organizations to build resilience and tenacity for the future economy. 
As a highly sought-after result and transformation coach. He believes that coaching is the key to creating positive and impactful change in people. Having coached clients from around the world, he found that coaching was a key enabler in driving peak performance and creating results. Being a mentor coach to coaches around the world, he constantly seeks to improve his coaching practice and founded The Coach Advantage (a network for coaches to meet up and share best practices) to help connect coaches and empower people. 
He developed the C.O.A.C.H coaching framework build upon the ICF core competencies of coaching to empower coaches with coaching strategies to create breakthroughs for their clients. His coaching process focuses on helping clients gain deeper awareness and clarity, create solutions, establish progress and accountability, and generate the results the client desires. His experience in both the public and private sectors has helped him impact clients across various industries.
https://www.linkedin.com/in/jedidiahalex/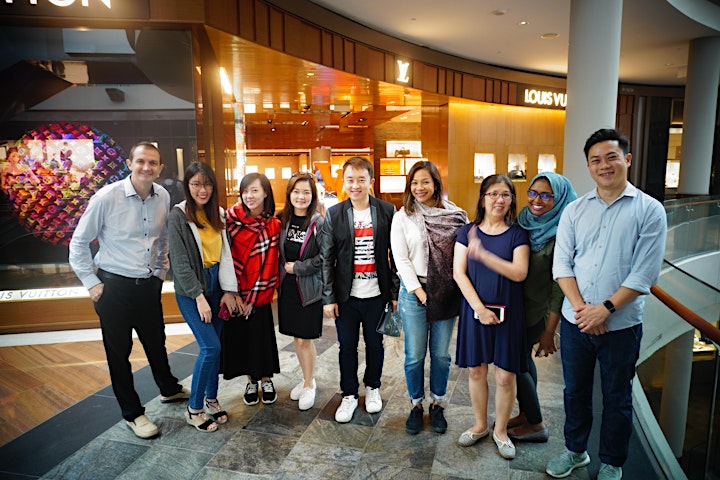 Your Investment 
Individual Pricing Module I or II: SGD 3,500
Complete NLP Training: SGD 4,500 (Nett)
Group Package 2 - 3 pax: SGD 4,250.00 SGD per pax
Corporate Package : (contact us at coach@coachingchangeslives.com)
Continuous Learning and Coaching Community (Bonus Complimentary Access) 
Here at Coaching Changes Lives, we believe in ongoing learnings and engagement with our coaching community. Once you have finished the program, you will gain access to our exclusive coaching community where we will learn, share, and continue to hone your coaching skills. 
Enquiries
For Enquiries, contact the following channels,
Email: coach@coachingchangeslives.com
WhatsApp: +65 87923402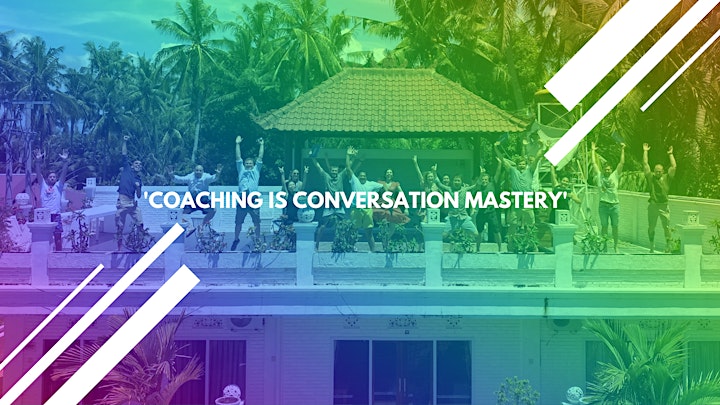 Our Other Coach Programs (ACSTH/ACTP/CCE for your ICF Credentialing) 
1) Coaching Intelligence Mastery Certification (150 Hr ACTP) PCC -> MCC Program
2) ICF Mastery In Coaching Certification (70 Hr ACSTH)
3) Transformative Neuro-Linguistics Programming Coaching Certification (100 Hr ACSTH)
4) Team Leadership Coaching Certification (70 Hr ACSTH) 
5) Leadership Executive Coaching (24 Hr CCE)
6) Exponential Career Coaching (24 Hr CCE)
7)Professional Public Speaking Practitioner (20 Hr CCE)
8) Coaching to Transform Lives (10 Hr CCE)
Enquiries
For Enquiries, contact the following channels,
Email: coach@coachingchangeslives.com
WhatsApp: +65 87923402
For Trainings in other Cities and for more information & Registrations visit:
Or email us at coach@coachingchangeslives.com
We look forward to serving you. #CoachingChangesLives
Subscribe to our Youtube Channel Today!
youtube.com/c/CoachingChangesLives