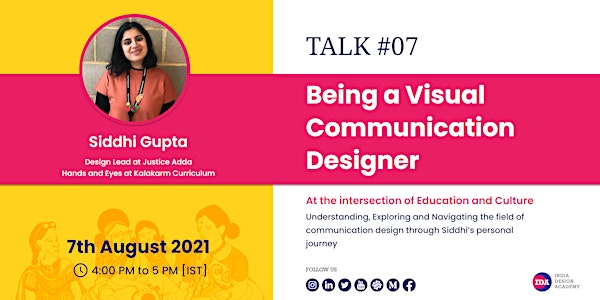 IDA #Talk 07 | Being a Visual Communication Designer
This talk will introduce you to the field of visual communication, its practical implications and its role in education
About this event
Meeting ID: 833 9548 5451
Passcode: QjM48D
About the Talk
Visual Communication has established itself as an important field for many sectors, and is applicable in both commercial and social sectors.
This talk will introduce the audience to the field of visual communication, its practical implications and its role in education through the speaker's particular context and journey, whose practice is centred around Education and Culture.
About the Speaker:
Siddhi Gupta is a visual communication designer. Her work focuses on the intersection of education and culture. She is the Hands and eyes at Kalakarm Curriculum, an initiative that facilitates art in education. Apart from that, she is also the Design Lead at Justice Adda and Design Affiliate with FemLab.co.
Siddhi attained her Master's in Design at the Royal College of Art, London and previously graduated from the National Institute of Fashion Technology, Delhi.
About IDA
IDA #Talk Series is one of the verticals where Team IDA aims to connect with the best Design Leaders in the industry and provide them a stage to connect with the audience and share their experience.
IDA is committed to providing access to Design Education to each individual who is looking forward to mentorship and hand-holding.
IDA Vision and Mission:
Democratize Design Learning for everyone.
Affordable - Design Education.
Best Exposure with Industry Experts and Design Leaders.
Build a Design Community that allows everyone to grow and lead together.
Building a constant experiential learning environment for IDA Members.
Join #IDA Slack Community
https://join.slack.com/t/indiadesignacademy/shared_invite/zt-svsfs4a9-pXwR9d5IBk1k04~YA~LdUg
Book your slots now!✌️