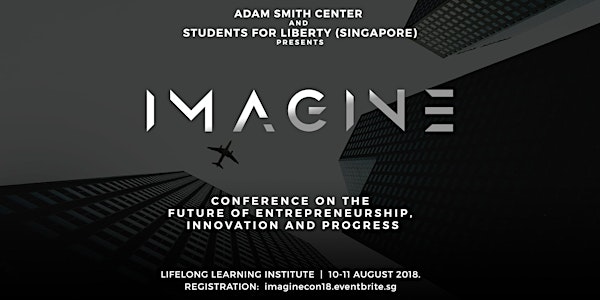 Imagine: Future of Entrepreneurship, Innovation and Progress
When and where
Location
Lifelong Learning Institute 11 Eunos Road 8 Singapore, 408601 Singapore
Refund Policy
Refunds up to 7 days before event
Description
*Tickets are almost sold out! Grab them before they are gone
Imagine Conference is an annual event brought to you by the Adam Smith Center in Singapore. We are an independent organisation dedicated to promoting humanities education in the tradition of Adam Smith. Featuring both local and global thought leaders, our yearly conference explores the big ideas that will shape our future.
In our inaugural conference this year, we are exploring the theme of "Future of Entrepreneurship, Innovation and Progress". We will explore the way entrepreneurs matter in society, how they innovate to solve global problems, and more importantly, how societies can create a supportive environment for such entrepreneurs to flourish.
Our speakers will investigate this through 6 different themes, ranging from the "Future of Work", to the "Future of Finance", "Future of Healthcare" and the "Future of the Developing World". This is not just another business networking event, but one focused on the big ideas! Join us for a robust discussion over issues such as ethics of organ trading, the impact of automation on work, the disruption posed by Blockchain technology & even how to combat poverty in developing countries. You will get the chance to network and learn from academics, local entrepreneurs and business professionals from all around the world.
Our conference is open to all, but are most suitable for current students of all levels, recent graduates, public policy practitioners, young and aspiring entrepreneurs and business professionals from new & emerging industries.
Attendees get to receive free books, and thanks to our generous sponsor from Bitcoin.com, free Bitcoin cash as well.
Our distinguished speakers include Andrew Bryant, a bestselling author, leadership coach and a TEDx speaker, and Prof Razeen Sally from the Lee Kuan Yew School of Public Policy.
Please visit our website at imaginecon18.com for more details!
Note: To register and pay using Bitcoin Cash or Bitcoin , (and get $20 off the public ticket!) please fill in this form instead.
FAQs
Do you sell one-day entry tickets?
No, the tickets sold allow entry for both days.

Is food provided?
Yes, ticket sales proceeds go towards providing for a lunch buffet which will be served on both days.
Who are the speakers at this conference?
Our speakers mainly include business leaders, academics and policy experts in Singapore and overseas. We aim to provide a wide range of speakers who can contribute to the theme of entrepreneurship, innovation and progress in different ways. Speakers will be added along the way and will be displayed in our website at imaginecon18.com
There are numerous other conferences on entrepreneurship. How is this different?
There are many great conferences out there that deal with innovation, deep tech, and entrepreneurship, but ours explores the bigger, macro questions surrounding the future of entrepreneurship and innovation around the world. Each of our panels and themes are joined not only by industry experts, but also academics and thought leaders. We ask questions like how can innovation be fostered in society, how will blockchain impact our financial system, and how can entrepreneurship alleviate poverty in the developing world. As such, anyone interested in the social sciences will find this insightful.
Is this a business-centric conference?
Our conference will feature speakers from the business world who will share their experiences and best practices, and there will be networking opportunities. However, non-business practitioners are especially welcome, especially if you are interested in how global trends are changing our world today.
This is a great conference, I would like to be a speaker or contribute sponsorship.
We are on the lookout for potential sponsors and partners, feel free to email us at enquiries@adamsmith.com.sg
What's the refund policy?
Refunds are only allowed up to 7 days before the event.